No Comments
Travelling to Thailand with a baby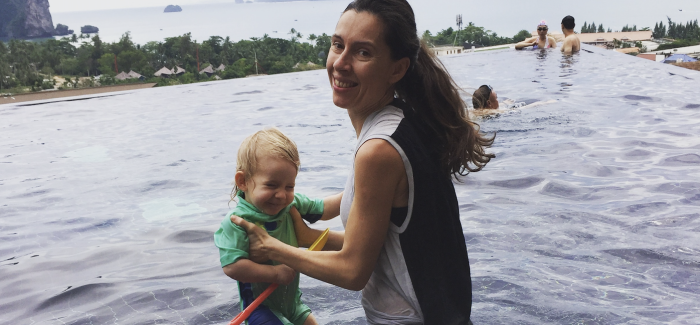 3 weeks of travel experiences in Thailand with our 16 months old daughter and here I am with some travel tips.
The devil is not as black as it is painted – this is how I would summerize our trip from Warsaw/Poland to Thailand. Before flying to Thailand I felt like a crazy mother taking my small poor child till the end of the world. Today I know one thing for sure – maybe I am a crazy mother but I am not the only one – there are many of us on the streets of AoNang, who came to spend amazing holidays with their small children.
I need to admit that I was afraid a bit before we went there. Some questions from our friends came later "and how it was?". Now some of them plan their trips to Thailand. I decided to collect my experiences and share it with you – maybe I inspire at least one person to long-distance travel with a child.
If I have forgotten about something that is very important just let me know in comments or on our facebook.com/intopassion.
PACKING – you need less than you think
When you travel by plane check what are the limits of your luggage. We had 2 flights with Aeroflot (Warsaw-Moscow-Bangkok) and 1 flight with AirAsia from Bangkok to Krabi. Even though our luggage limit was bigger with Aeroflot, the most important was the information from AirAsia – no more than 20kg. For me the biggest problem was the fact that my child could have 10kg luggage but the kg couldn't be added to my luggage (I know it can sound complicated but to make it short: I wanted to pack together with my daughter, as taking 2 suitcases, baby stroller and a baby to carry was enough.
Coming back to packing: I took baby diapers for the first days (they always take a lot of space but I wanted to be sure we have enough for the flight and first 2-3 days), a few baby food jars, 2 packs of baby cereals, milk, clothes and Mustela cosmetics. Except from summer clothes don't forget to take some warmer pieces – it can be really cold in hotels, restaurants, BTS, taxis or shopping malls – they all use air conditioning. You can just imagine that coming in shorts from hot outside to cool restaurant without anything warmer can cause an illness. And this is definitely not something we want for our child and for ourselves. We didn't take many toys and those we took we packed into Natalia's new rucksack to have them in the plane.
I took extra clothing to my hand luggage to change her next day, a few diapers, aand a special  Beaba container foe cereals and milk. We had baby bottle and water not to call the stewardess every time we needed it.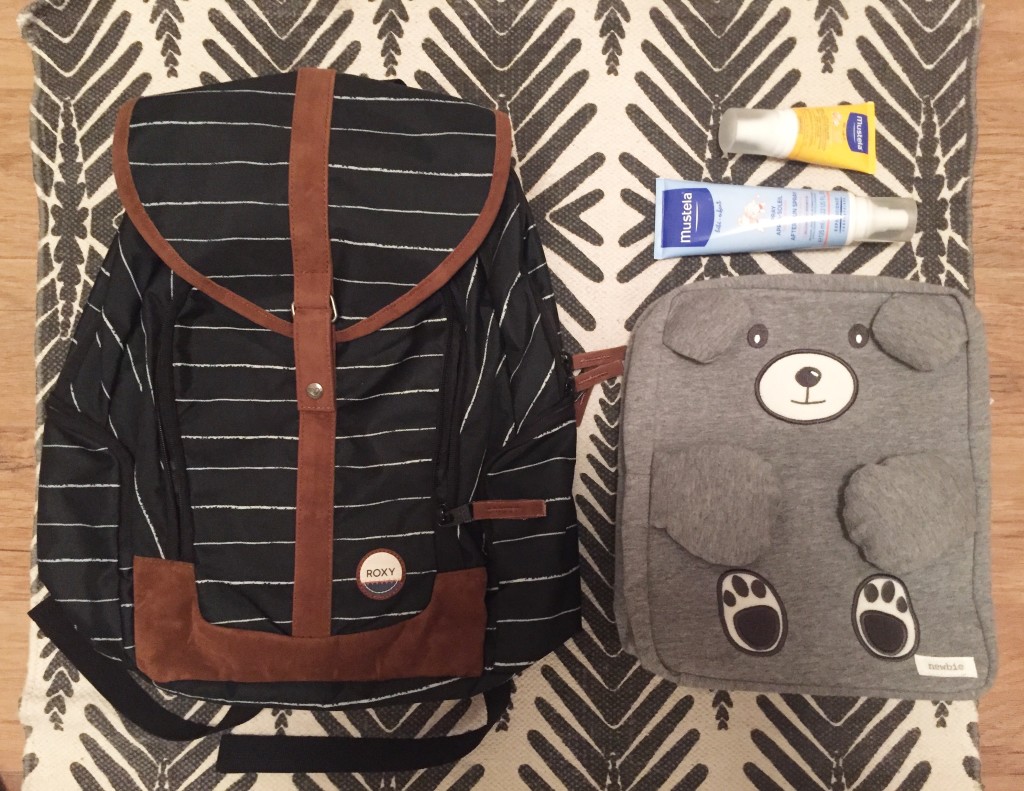 FLIGHTS
I wrote another article about our flight to Thailand and flights with Air Asia, but to summerize it: airports in Thailand are really well prepared for travelling with a kid (special entrances or lines for families, priority check in). However, our connection was through Moscow International Airport and it is the worse airport if you travel with a small child (crowded and they don't give a shit about priority lines). If you choose your flight (and have another option) see if the take off or landing is not in the middle of the night.
It was not so difficult to spend 10 hours with a child aboard (she slept a lot too because big part of our flight was in the night). We also took some toys for her like favourite books (with stickers), toy blocks, cars (she loves playing with small cars) and finally her favourite cartoons downloaded on the ipad.
What we learned and I think this can be helpful for many travelling with a baby is there have special bassinet (you can call the airlines earlier and request one for your baby).
You can read about our flight here – sorry but now it is only in Polish, but I promise to do the translation very soon: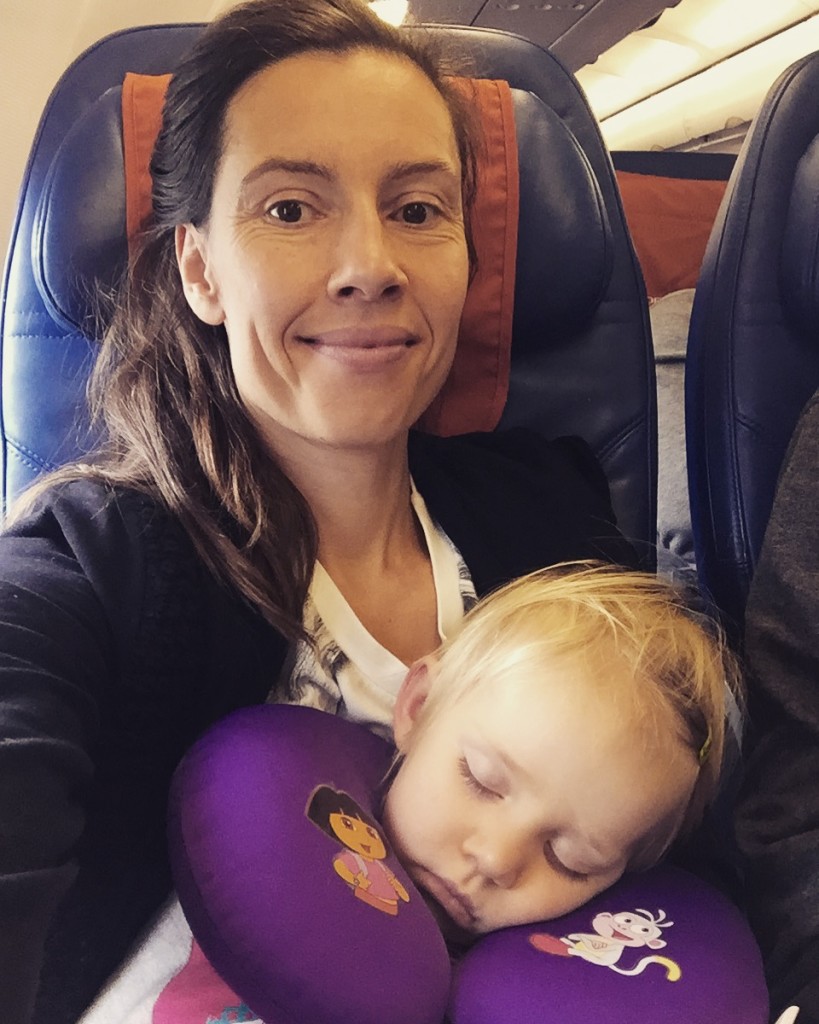 FOOD
"What can she eat in Thailand?" – I think it was the most frequent question I heard. She ate food my dear friends. But being serious I was also a bit frightened as I didn't plan to take jars and cereals for 20 days. I mean I took it to have for my child during our flight (at least Aeroflot doesn't serve food for babies).
I was not afraid about breakfasts as all hotels we booked had breakfast buffet (great hotels if you look for recommendations: X2 Vibe Sukhumvit Bangkok, Aonang Cliff Beach Resort oraz Krabi Resort). Buffet guarantees one thing – smaller or bigger but always a selection. Based on our previous experiences I hoped for eggs, sausages, pastries and fresh fruits and this was how we started the day.
One more thing about Thai food are fresh fruits: in the beginning I gave fresh fruits to Natalia only in the hotel as I was a bit afraid of the cut fruits from the stalls. However we ate them for a few days (so good and sweet) so we started to share them with our small kid.
Here you can see Natalia eating Thai food for the first time in her life:
CHANGING PLACES IN THAILAND
Except from planes we used taxis, tuk tuk and boat when in Thailand. Regarding taxis I totally don't know if they have special baby chairs – I just kept Natalia on my knees. Second thing what is worth to think about when you travel with a taxi is air conditioning – it's good to have something to cover your baby. If you have a lot of luggage you may need a taxi van but with 2 adults, 1 baby, 2 luggages and a baby stroller we managed to pack to the normal taxi.
Another thing – tuk tuk – they are so cool and they are the symbol of Asia (Thailand) but you need to remember about traffic and pollution which is not best for your child. We didn't take a tuk tuk in Bangkok, but we travelled this way in AoNang and Ayutthaya. The advantage is the fact you can put the baby stroller straight to the tub tub and there is also a place for you. That was a nice adventure and Natalia also enjoyed the ride.
Our last mean of transportation was a boat – we didn't have to use it for island hopping but we wanted to see Railay Beach and lovely small islands around AoNang. We rented private long-tail boat, put a baby stroller on so Natalia could sleep comfortably and when she woke up we just admired other boats on the water.
More in our video:
BABY DIAPERS – there are also shops in Thailand
We divided our time in Thailand for Bangkok, Krabi (holidays in AoNang) and Ayutthaya where we went to see the temples and to eat river shrimps . All the places are full of tourists and prepared for them – I would say there is one 7-Eleven or FamilyMart (Krabi) on every corner. These are the convinience stores where you can buy all the necessary things.I don't remember any special food for children like cereals or jars I know from Europe but we bought baby diapers and toys. You can also find baby sun creams, shampoos, fruit juices and even cut fruits or bananas. I don't mention the supermarkets here we saw on the way – I am sure there is much bigger selection but we didn't need a lot.
From my experience I remember that in small thai villages I needed to travel on the bike 10-15 minutes to the closest thai shop and I don't think they had baby diapers there. So think where you go and if the place is ready for tourists. If not prepare yourself earlier.
HEALTH
I believe your child can be sick everywhere – even sitting at home all the time. But according to some "clever articles" I read and the doctor we visited before going to Thailand, the risk is higher if you travel to exotic destinations.
There are no obligatory vaccinations and we didn't do any but I think the most clever thing you can do is to contact your doctor.
Finally not my daughter but I got sick in Thailand (during our stay in AoNang). I was so positively surprised that there was a doctor who saw my throat and that they speak perfect English! The drug dosage was written clearly and was glued to the package. What is more the medicine was successful so I was healthy the next day.
OTHER THINGS:
The sun is strong and during the day is really hot (when you are on the beach or on the boat there is a nice wind). I always had a drinking water for Natalia and gave it to her very often. We also started every day with Mustela sun cream with factor 50.
Another thing that surprised me in the positive way were baby chairs in small local restaurants – so cool 😉
Be careful: The Thai people got really crazy about our blonde hair girl 😉 you can expect more then 1 waitress in the restaurant standing by your table. They also want to play with your child – they sometimes gave fruits or brought toys for our daughter.
Do you think it was helpful? Like it, comment it or share it with your friends travelling with kids.
If you want to see us in action, visit our youtube channel: