No Comments
Visiting Brasov, Romania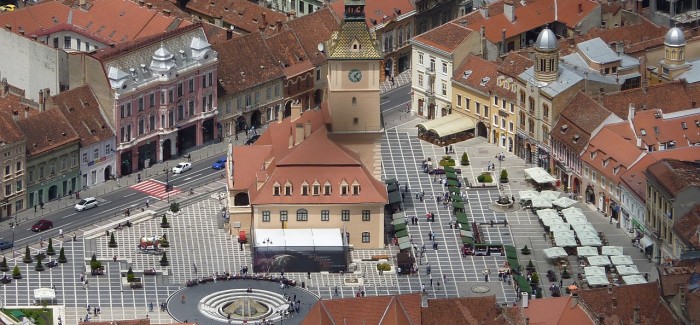 Some of the most interesting vacations you can take in Europe are to authentic medieval towns nestled into countryside or mountain regions. Among these towns, there are few as picturesque or intriguing as Brasov, a Carpathian Mountains city in the Transylvania region of Romania. These are a few of the things you might enjoy on a trip there.
Piata Sfatului
While the name can be a challenge for foreign visitors, Piata Sfatului is essentially the town square in Brasov – and it's a very beautiful one. Indeed, some have referred to it as one of the most beautiful main squares in Romania, and we might actually extend that to include most or all of Europe. The square has large, open pedestrian areas and is surrounded by a combination of old residences and little cafés where you can stop for a drink or a bite to eat. There are also a few main attractions, such as the Old City Hall in the middle of the square, as well as the Romanian Orthodox Cathedral, which is rather impressive to look at. Exploring the Piata Sfatului gives you a sense of the deep history and modern charm of Brasov at the same time.
Tampa Mountain
There's a medium-sized mountain overlooking the city that's hard not to notice, not because it's particularly large but because it bears the name of the town, somewhat like the famous "Hollywood" sign in Los Angeles, California. Truth be told it's sort of a strange look from the city. But if you scale Tampa Mountain (which you can do on foot or via cable car), you can enjoy a breathtaking view of the city beneath you. The red rooftops and varied architecture of Brasov look like a fantasy town from above, and you'll also get a terrific new perspective on Piata Sfatului.
Catherine's Gate
Brasov is a legitimate medieval town, and while much of it has been rebuilt or restructured at times throughout history, there is one old city gate that still stands more or less in its original form. Catherine's Gate dates back to the late-16th century and remains a gorgeous landmark to see (and walk beneath) in Brasov. Visitors will particularly enjoy looking up at the four small turrets (complete with holes for archers) sticking up from its corners.
Bran Castle
When visiting Transylvania it's hard not to think of the legend of Dracula. This is a legend that's gone through all kinds of twists and turns over the years, from the original novel in the late-19th century to more modern interpretations. Most recently we saw a 2014 film called Dracula Untold, as well as an animated slot arcade game made in collaboration with Universal Studios. These latest takes on the legend spin it into more of a fantasy than the gothic tale of old. But visiting Transylvania you can almost go back in time, before special effects, internet games and even big budget movies. You can visit Bran Castle, which is known affectionately as "Dracula's Castle" and has as much to do with the legend as anything in the real world. It's a stunning fortress built in the 14th century and still standing as a monument to the history of the region, as well as the symbol of one of our greatest gothic tales.
The Black Church
The Black Church, also known as the Biserica Neagra, is probably the thing you'll notice first (besides the main square) if you look down upon Brasov from Tampa Mountain. It's by far the biggest building in the city, and in fact is among the largest Gothic cathedrals in all of Europe. The church isn't actually black, though its stone is of a darker shade than many of the buildings in town (while its roof is characteristically red). It's a wonderful, imposing monument to religion in medieval times, as fascinating as it is humbling. Exploring it both inside and out is a must if you're really interested in getting a feel for Brasov.
The Bear Sanctuary
Finally, the bear sanctuary outside of town has to be mentioned. After all, how often as you travel through Europe do you get to enjoy a bear sanctuary? According to another piece on things to do in Brasov, the Libearty Bear Sanctuary was created to provide a place for mistreated bears to have a happy, natural home. You have to visit in the morning to see the bears when they're being fed, but it's a wonderful opportunity to see some of the most amazing animals in Europe, and to support a terrific cause.