No Comments
SEA VIEW KOH CHANG/Tajlandia

The hotel is located on the 25 acres of hills overgrown by tropical flora and constitutes a perfect escape place from the city fuss. New propositions like 'Pool Villa Suites' offers an intimate and luxurious possibilities of relaxation time and 5star hotel provides stylish and deluxe resources containing: 2 spacious swimming pools including children's one with a slide, 2 restaurants, an air-conditioned playroom and a beautiful spa center.
Text: Paulina Grabara-Król, photos: Maciej Król and Paulina Grabara-Król,
Translation: Maja Zalewska
Location on the Koh Chang island is an additional privilege – we can get there from Bangkok easily and pretty fast.
'Pool Villa' – the newest accommodation in the offer is a true paradise on earth. Literally. I could easily live there for the rest of my life.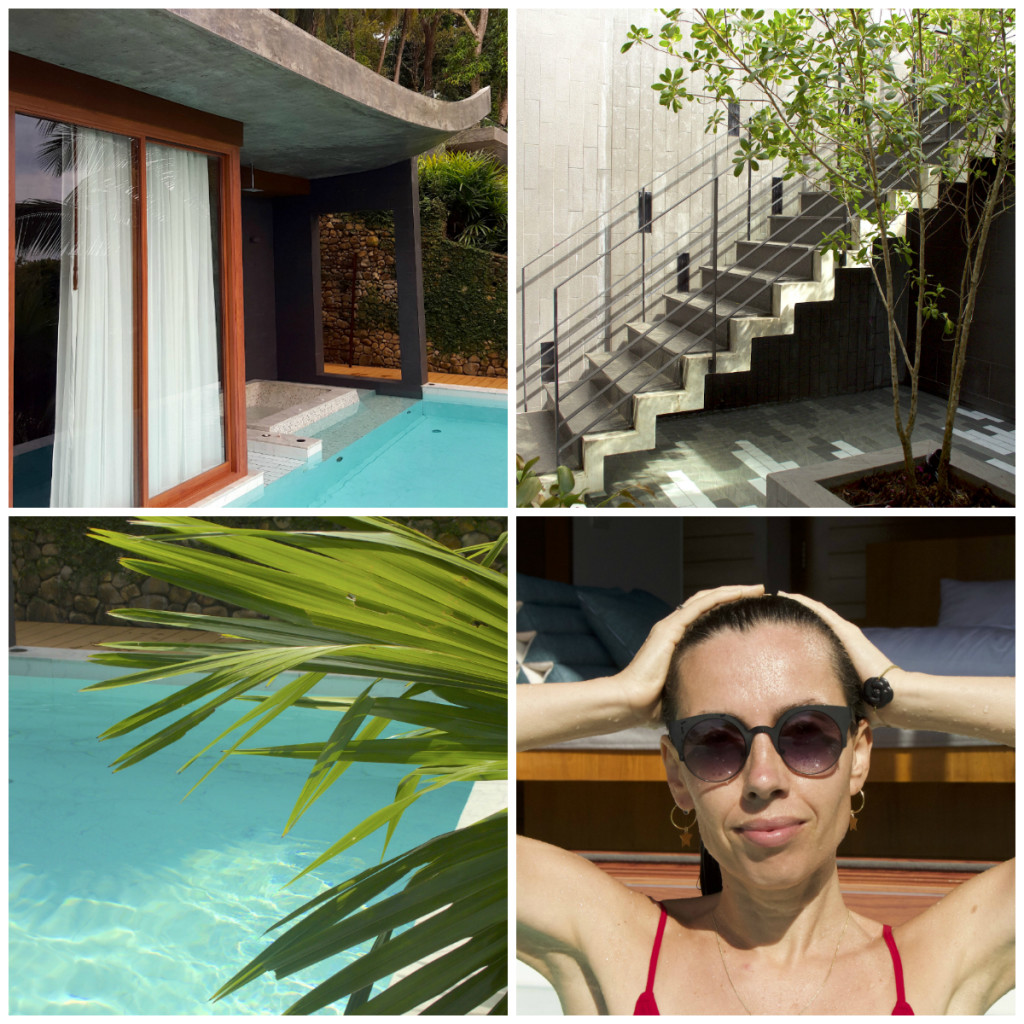 Paulina: Sirene sunglasses, luna mood jewellery earrings, Chanel bracelet, Medicine top
Hotel's architecture and design
Modernity, usage of concrete and minimalism of villas create contrasts with traditional Thai architecture, that can be admired, for example, in the hotel's lobby.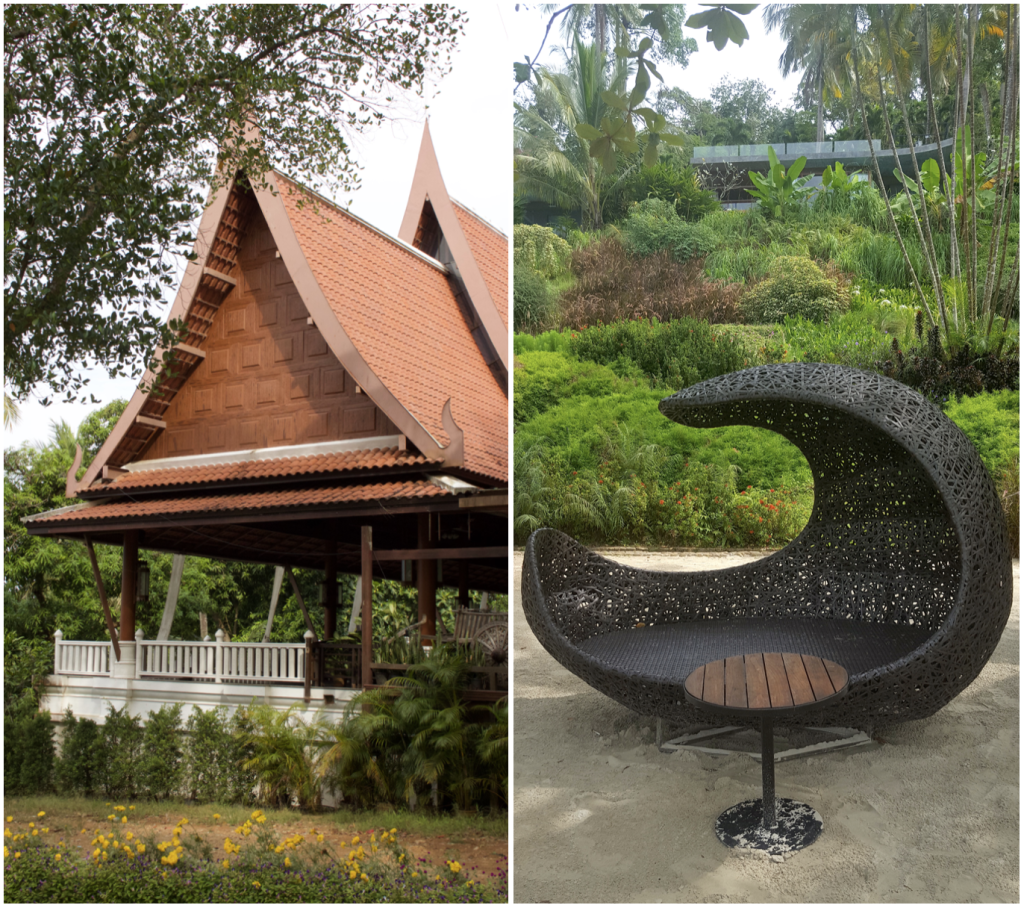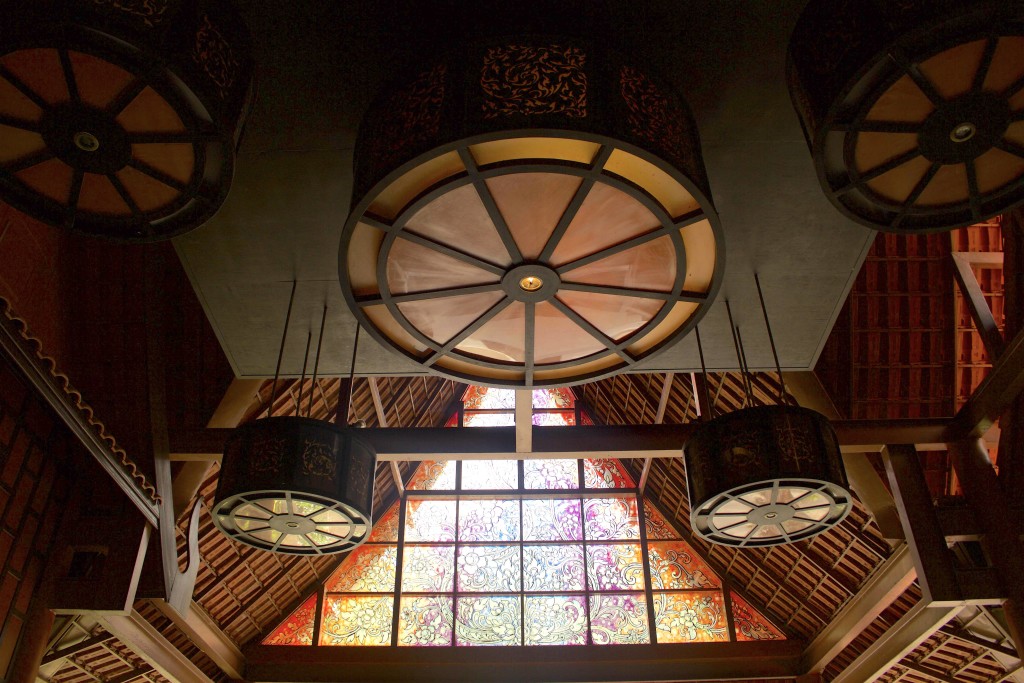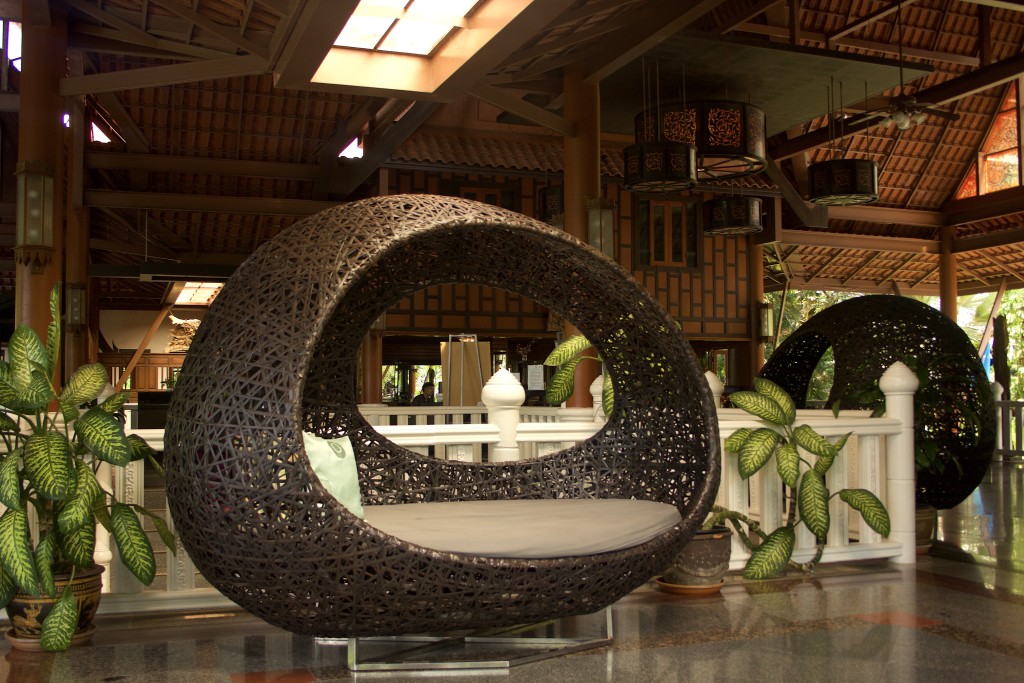 Villas are located on a hill, just above a beautiful sandy beach. All of them have spectacular views of the sea and islets. The hotel looks after holiday's resort atmosphere – a lot of open spaces and glazings ideally harmonizes with natural materials such as – commonly used wood.
On the beach we can find swings and stylish seats, as well as beds for massage. All rooms are sea view rooms.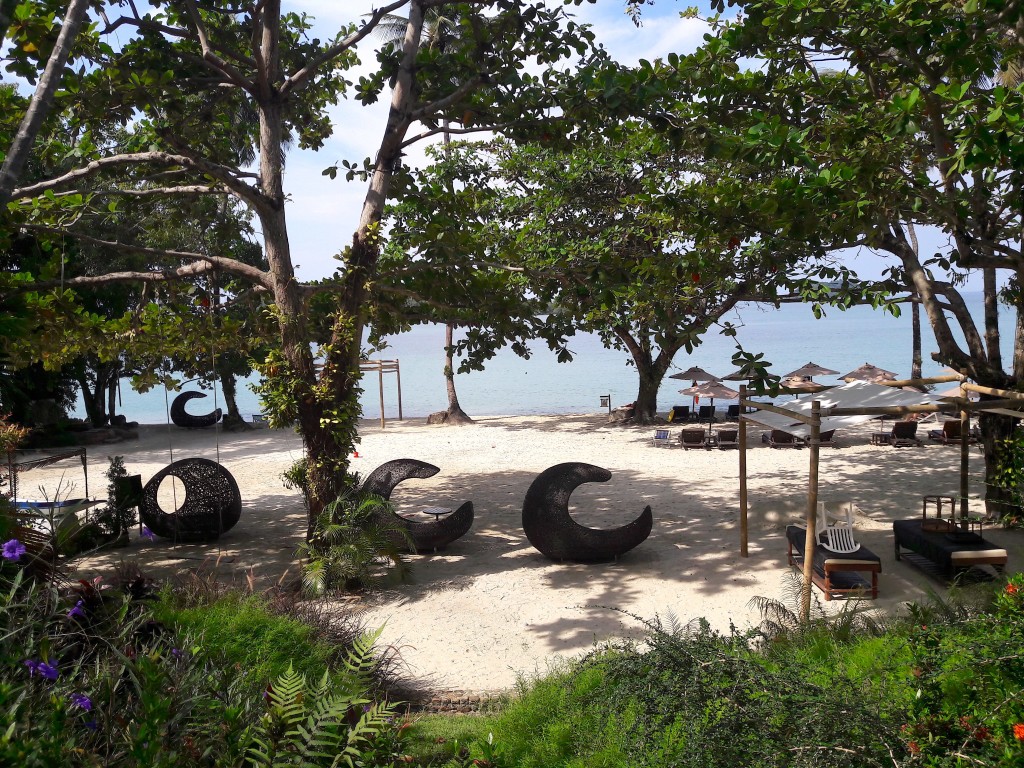 The hotel attaches great importance to all of the eco solutions –hotel has its own garden including herbs, which are used for restaurant dishes preparation.
Villas and other accommodation
The hotel's offer includes stylish rooms, suites and villas.
'Pool Villa' is the most exclusive accommodation of the the Sea View Koh Chang's offer: over 200 square meters of space, roof terrace with sunbeds and table for a romantic dinner during the sunset, while we are able to admire sun melting in the surface of the sea. A private swimming pool that you could dip into after getting up from bed only pushing bedroom's window ahead off… The villa is spacious and modern, water flows in under the glass floor from the bedroom to the bathroom – generally water, concrete and wood are dominants of the whole interior. Bright curtains, as well as comfortable sofa, create contrast with slightly industrial elements situated in the kitchen and the bathroom. The restroom is a champion by itself – except standard shower, we can find here a Japanese inspired wooden bath tube inside and one with flower petals outside, ending up with a heated toilet in the middle of beautifully planned space. 
The entirety seems to be perfectly balanced, and for me it's hard to imagine someone who wouldn't like it in here…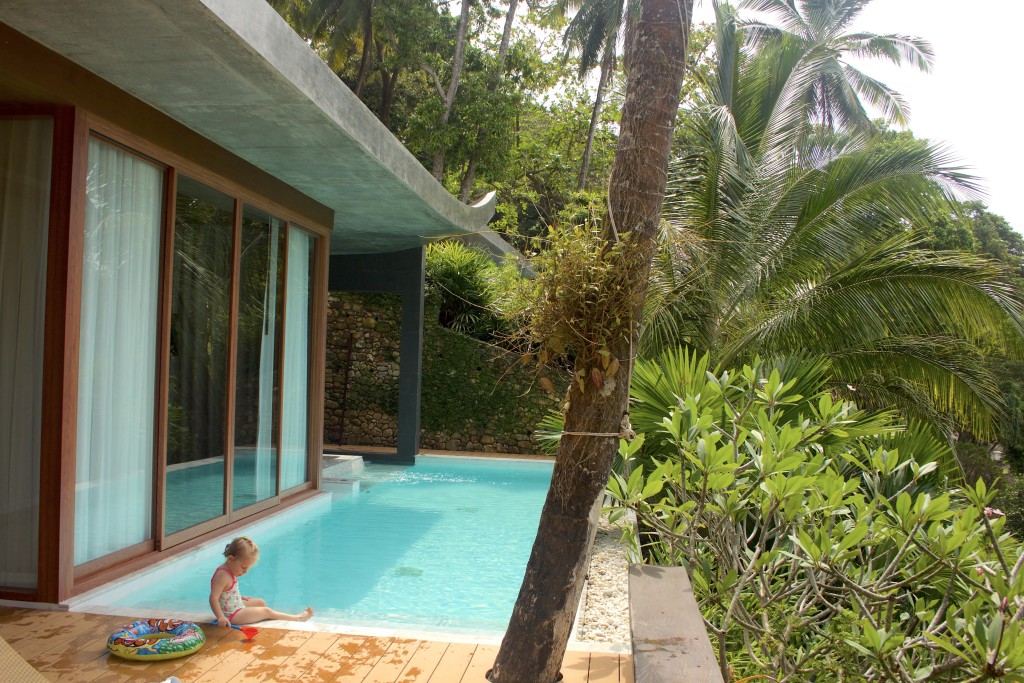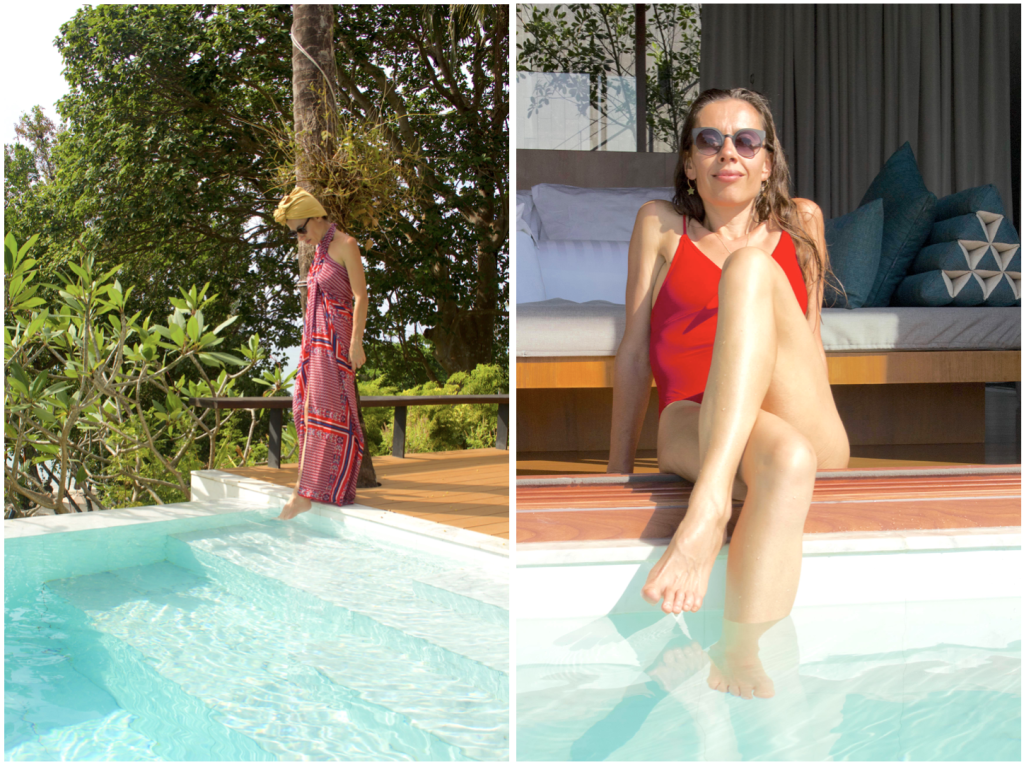 Paulina: photo on the left: Looks by luks turband, Sirene sunglasses, pareo HUGme, photo on the right earrings and necklace luna mood jewellery, Medicine top, Sirene sunglasses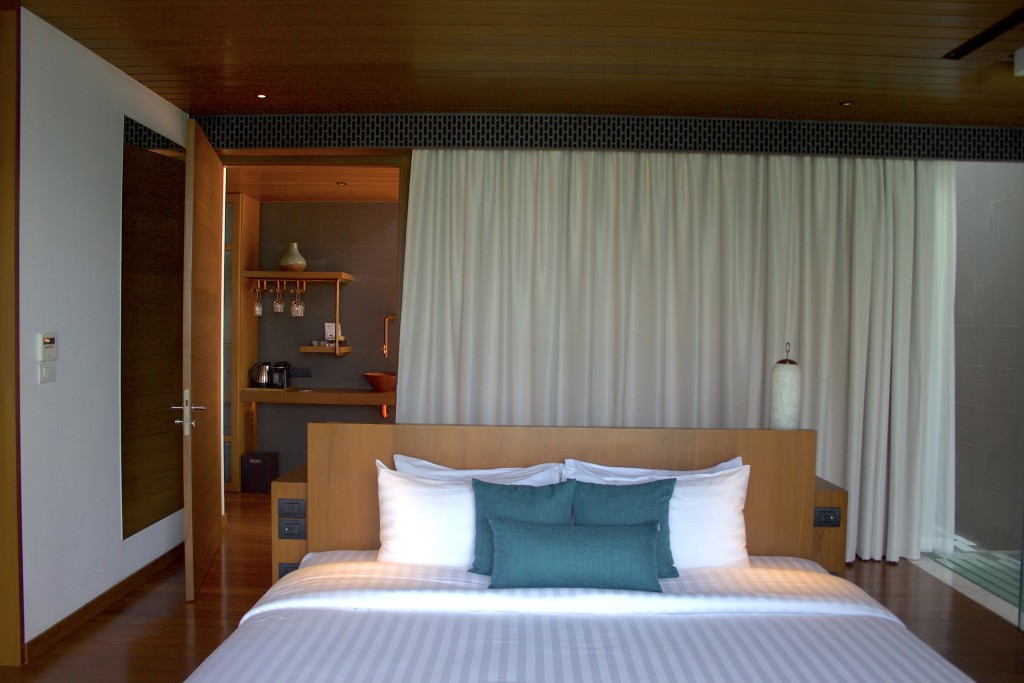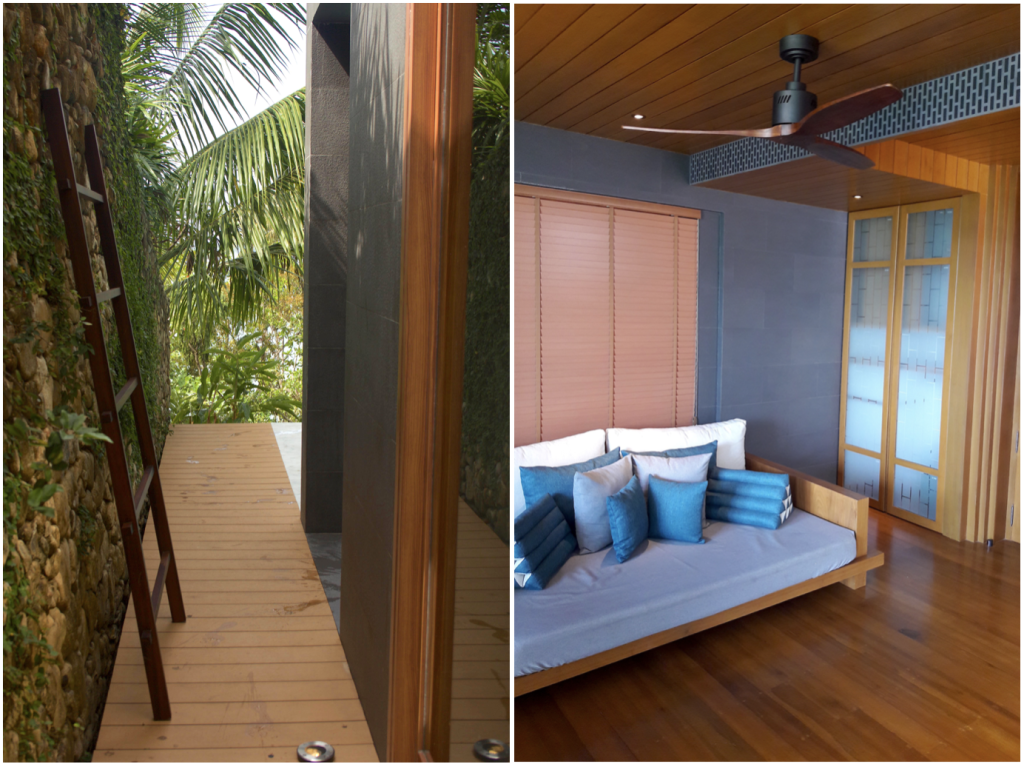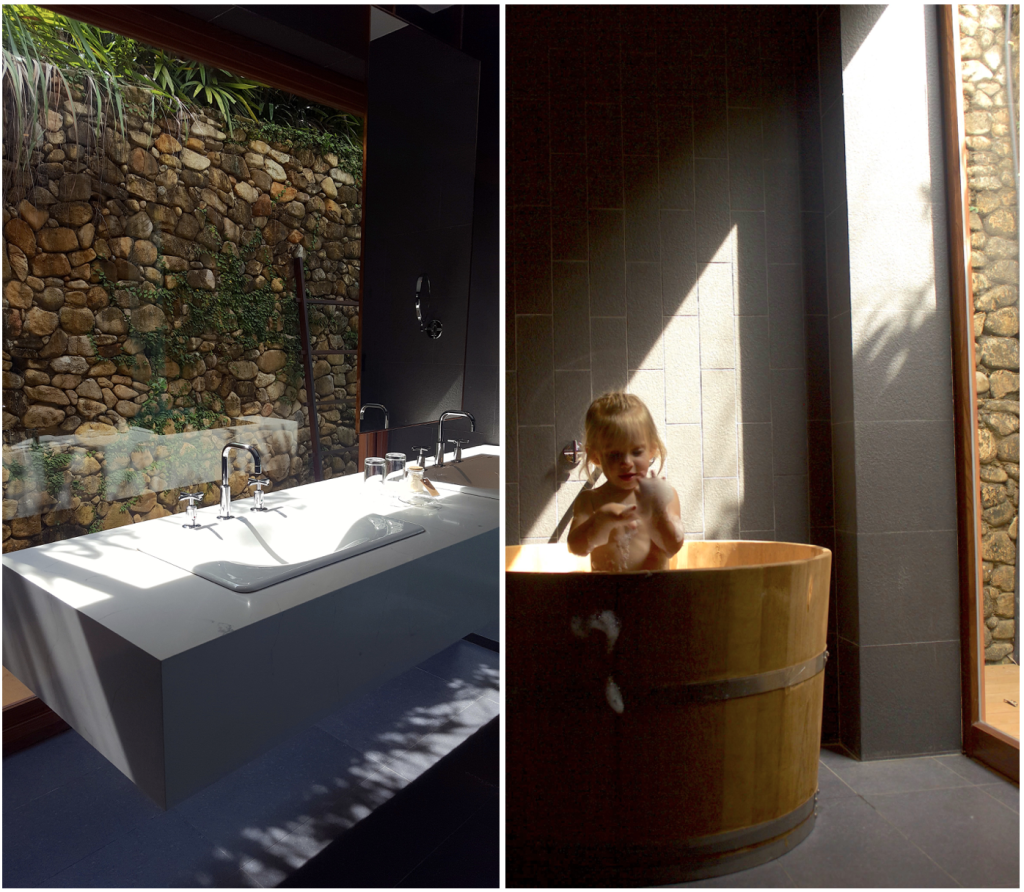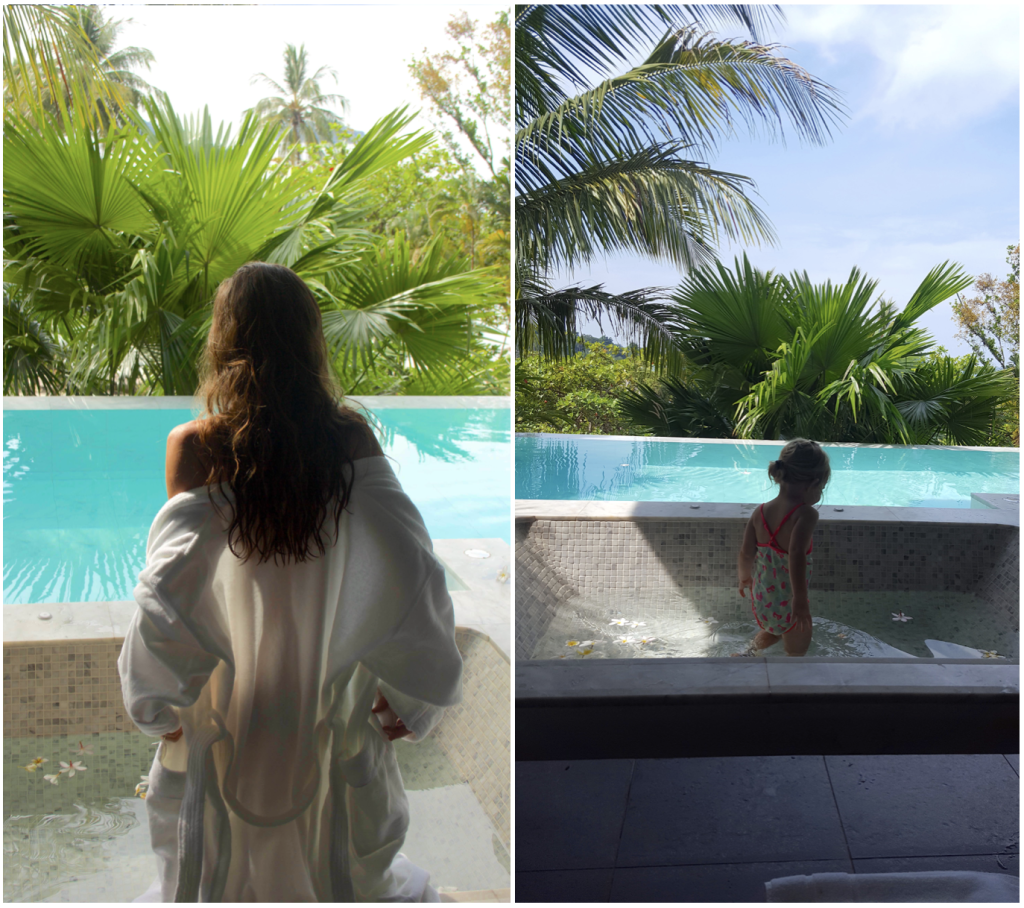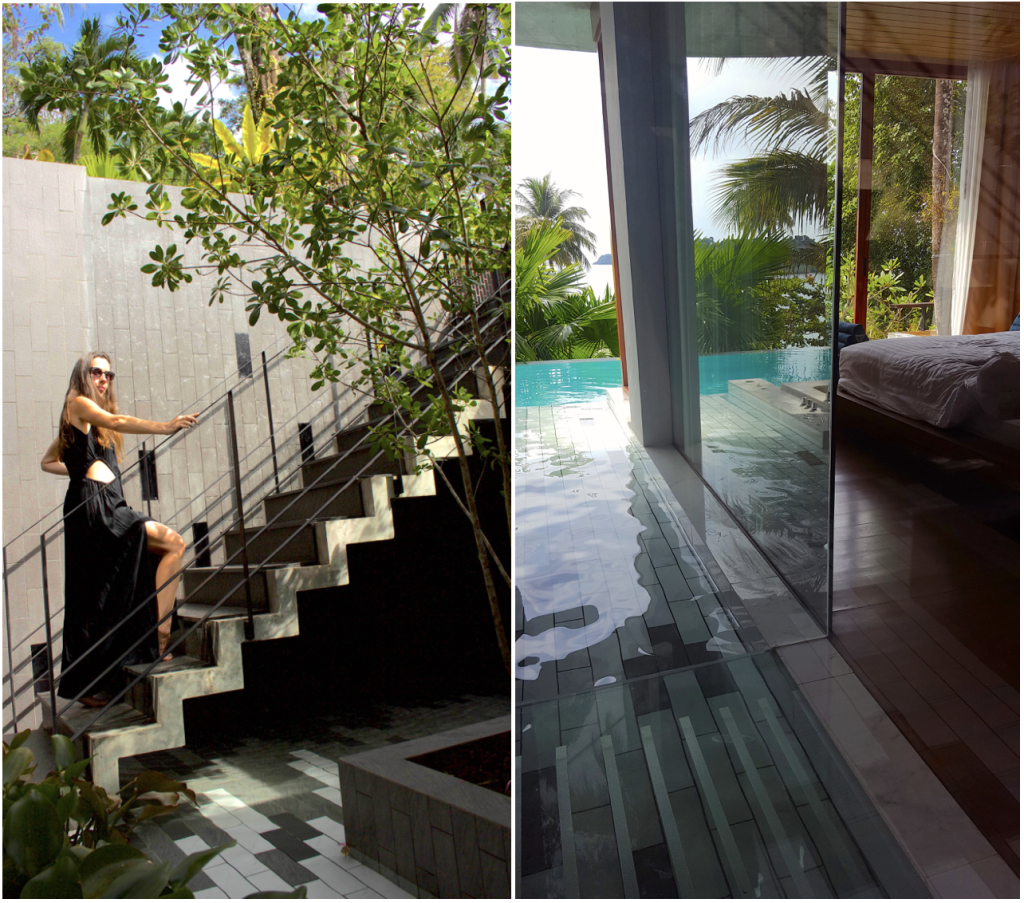 Paulina: Magu Moda dress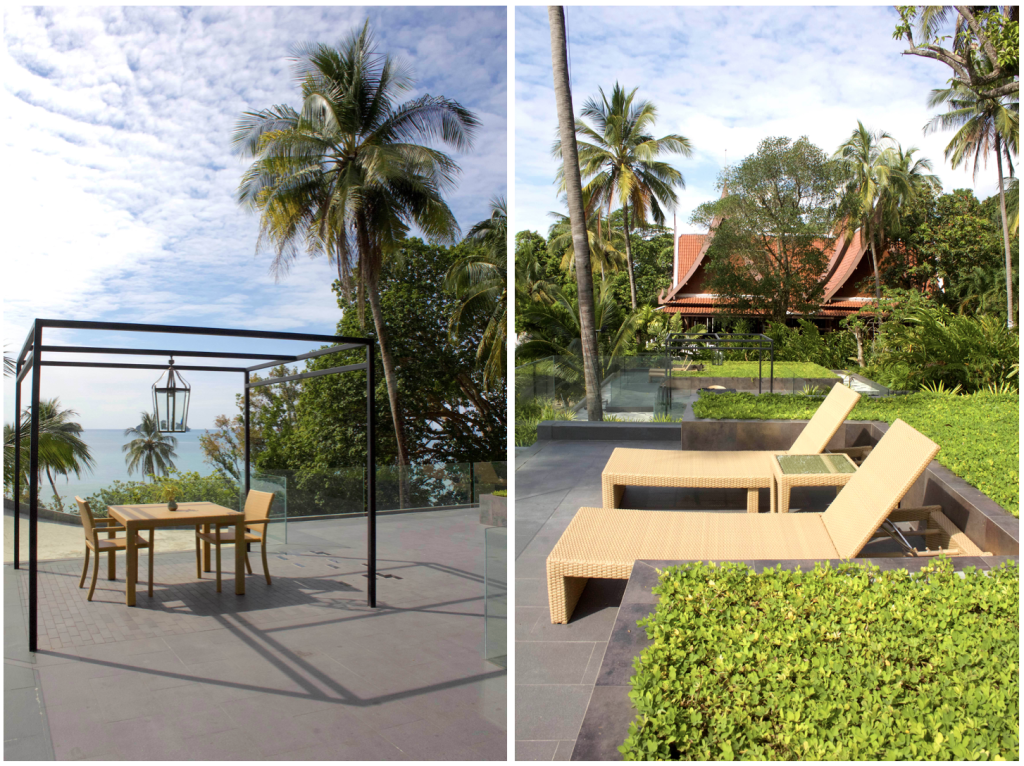 Food
The hotel provides two different restaurants for their guests. In the 'Lighthouse', from where we can adore a magnificent view of the sea and small islands, are served continental breakfasts with an Asian section every day. It's also a great place for cocktail while the sunset or a romantic dinner. During the day and in the evening we are able to eat here an aromatic Thai dishes as well as an international meals. Our choice was the 'Sunset Beach' located on the beach, where guests can enjoy a seafood barbecue, pizza from the oven and traditional Thai dishes. We can have here a lunch menu and exquisite dinner dishes. It's also a perfect place to admire the sunset in the surrounding of stylish entourage. The most traditional Thai's dishes, such as chicken with cashew nuts or pad thai are served with a modern twist –  while tasting dishes with my eyes closed, I could easily distinguished them from the best ones served by street restaurants. We also chose 'Sunset Beach' restaurant to order a delicious food to our villa.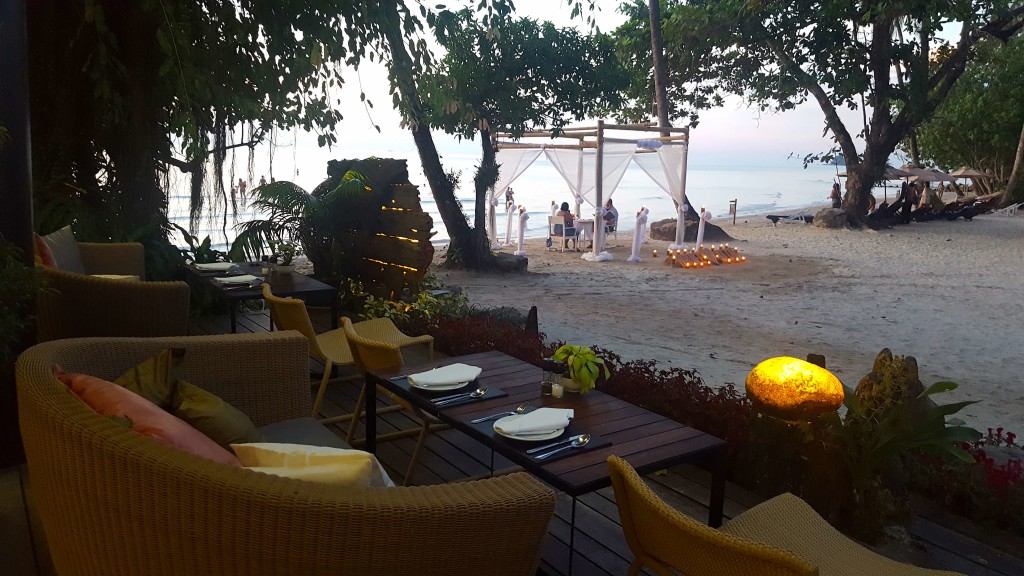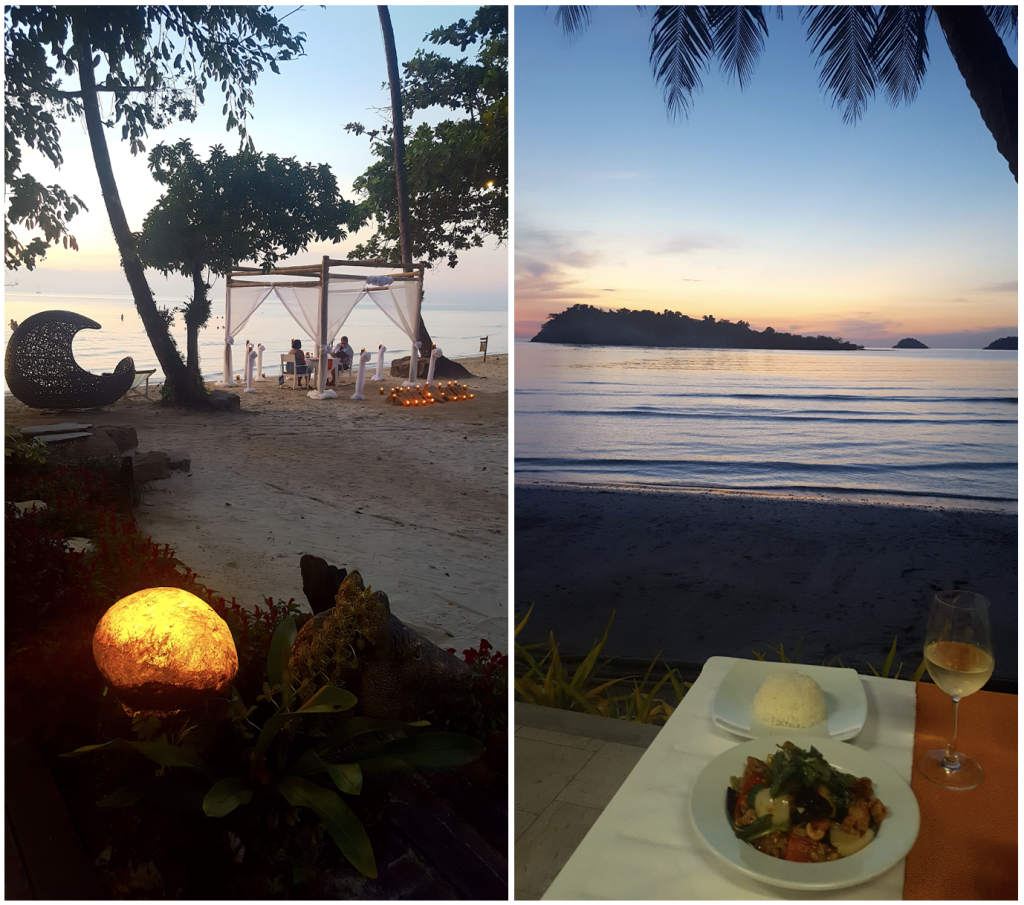 Relaxation and attractions
White sand perfectly favors a holiday laziness, and a blue water is a perfect place for snorkeling or swimming by kayak to one of the 4 unpopulated islands. There are also two swimming pools in the hotel – one at the beach and the other one on the cliff, surrounded by amazing views. The hotel also organizes movie nights under the stars and culinary workshops – where families can, for example, learn how to make pizza together.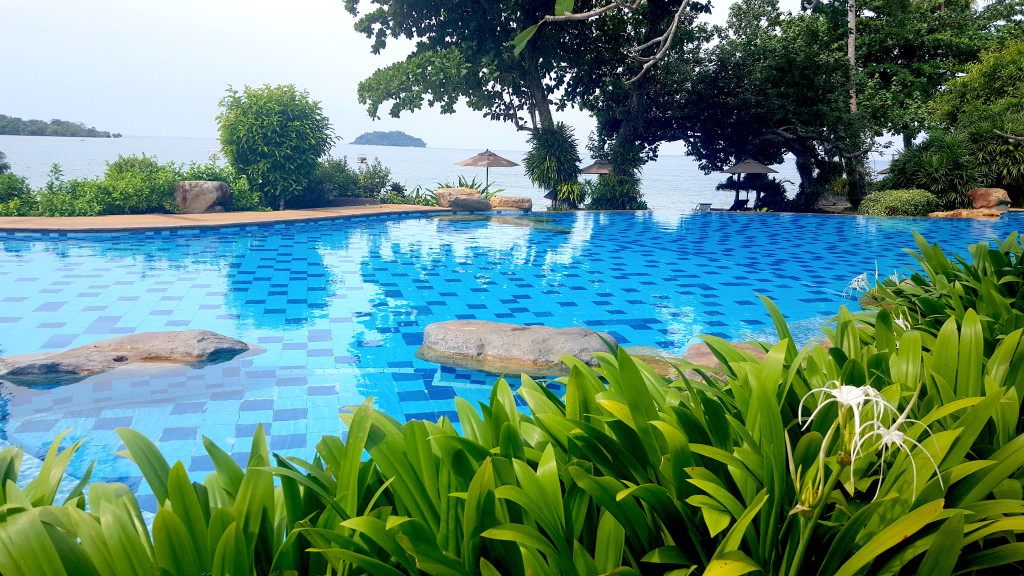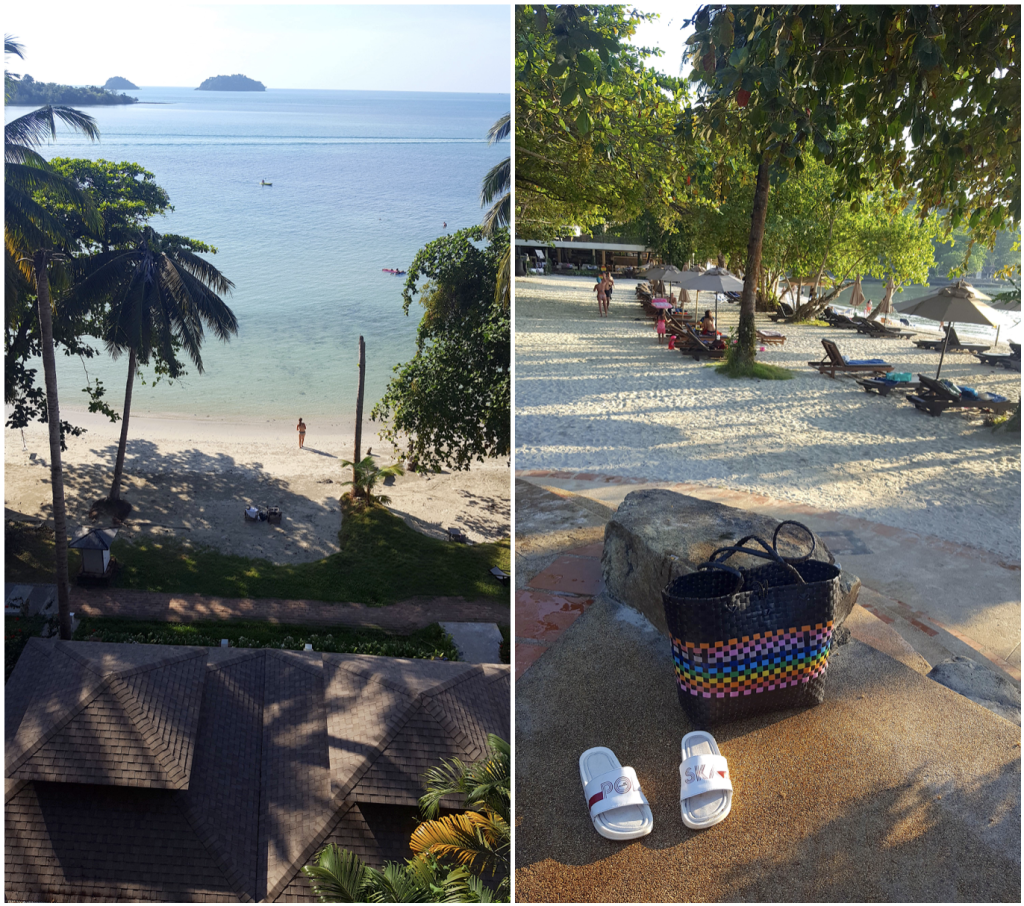 Photo on the right: Kubota Store sandals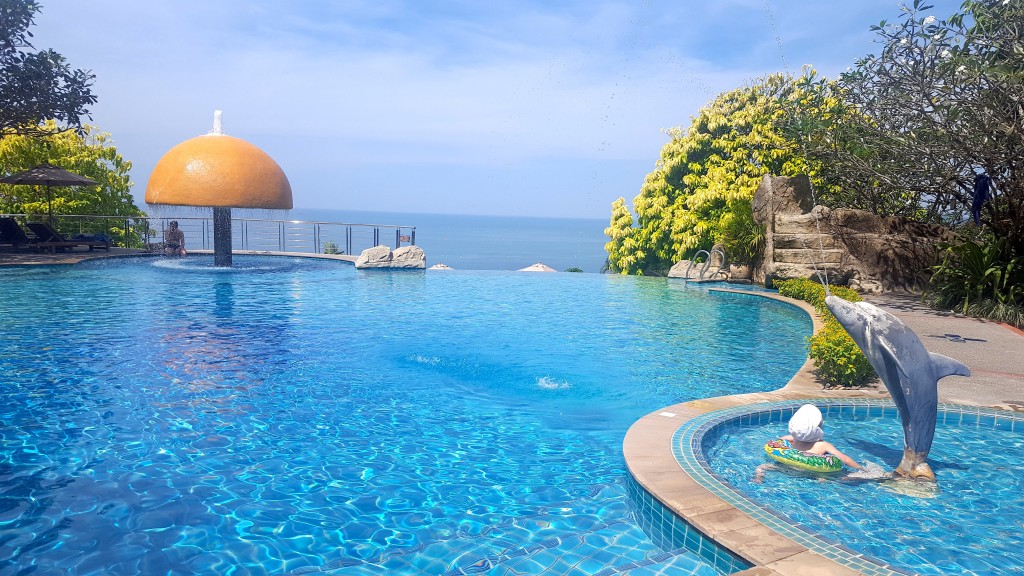 Holidays with children
If you travel with your child (Natalka during our holidays was less than 2.5 years old) then the attractions are waiting for you at almost every corner – apart from an air-conditioned playroom for children near the beach, another one is waiting for your kids in a separate part of the 'Lighthouse Restaurant' – that way we could peacefully eat breakfast, drunk a mango cocktail and enjoyed beautiful views for a long time. Other entertainment is a cable car, which in due to the location of the hotel connects its individual parts – we used it to reach a restaurant for breakfast from our villa/room. Such a trip is a special treat, especially when we could meet monkeys which are another attraction of the hotel. Additionally, there is a children's slide in the upper pool and a mini playground for kids at the beach.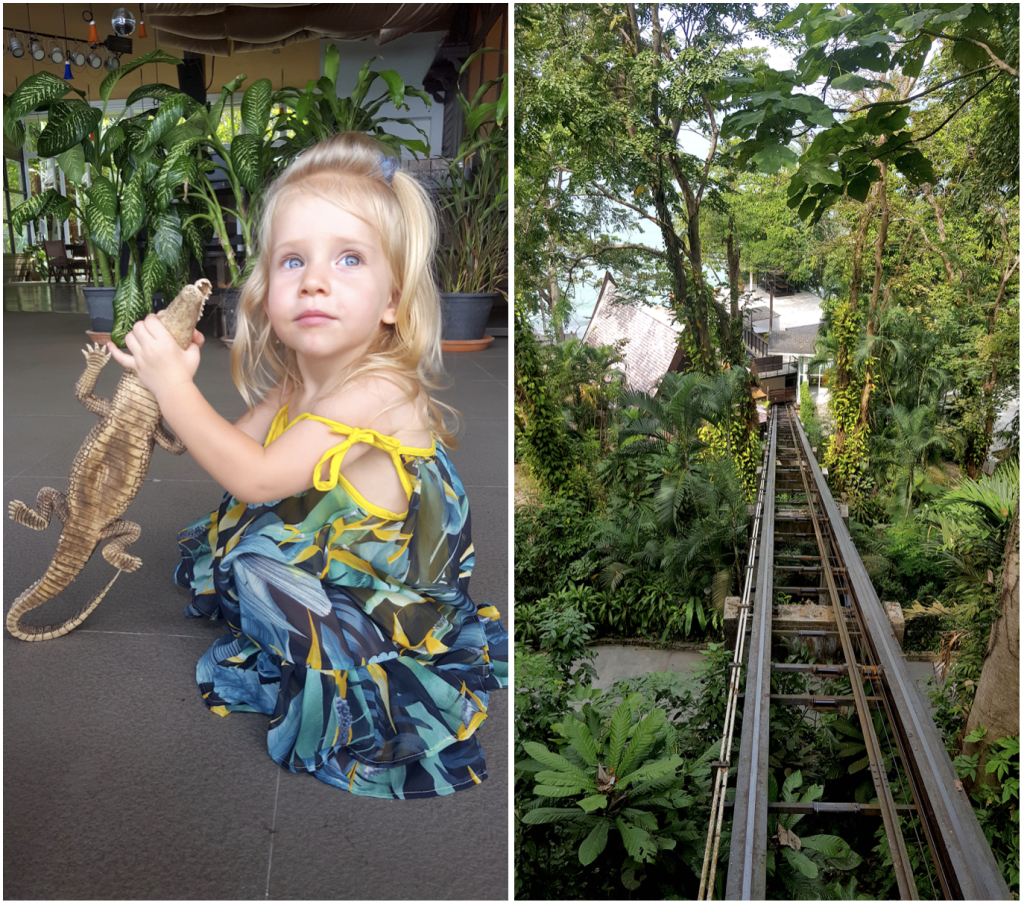 Natalia: dress banana kids
What we've liked:
Pool Villa:
Architecture of the villa: sun beds located on the roof, a bathtub, jacuzzi and a pool forming a whole integrity, combination of concrete, wood and water…
A separate section for breakfast with a reserved table for villa visitors
The private area of villas – you can enter only by using a card (villa key)
Villa equipment – from wine glasses through a wine cooler, to a Nespresso coffee machine and a heated toilet seat with integral wash and dry facility
Silent and effective cleaning service – a few people can clean up the villa and pool with no time
Hotel:
A restaurant located on the beach that combines a stylish design with an open and casual concept
Popular Thai dishes interpreted by chef in an interesting way
A view of the Lighthouse restaurant located on a hill
Uninhabited islands that can be reached by a canoe
Spacious area with beautiful flora with many walking paths