No Comments
FIVELEMENTS/BALI

While traveling, I don't know if there is something better than reaching a place which gives us inspiration. A place which encourages positive changes concerning what is most important, that is our lifestyle.
From the interior of my car, I marvel at the fields of rice. This life-giving plant immersed in water, requiring hard work in heat, has something soothing in itself. We stray off the road and arrive in a small town. We see kids running along winding little streets and the elderly preparing themselves for some special celebration in the temple.
In Fivelements, we are welcomed by Isa. She seems to beam with calm and joy on the one hand, and with strength and firmness on the other. She is sensitive and seems never to get angry.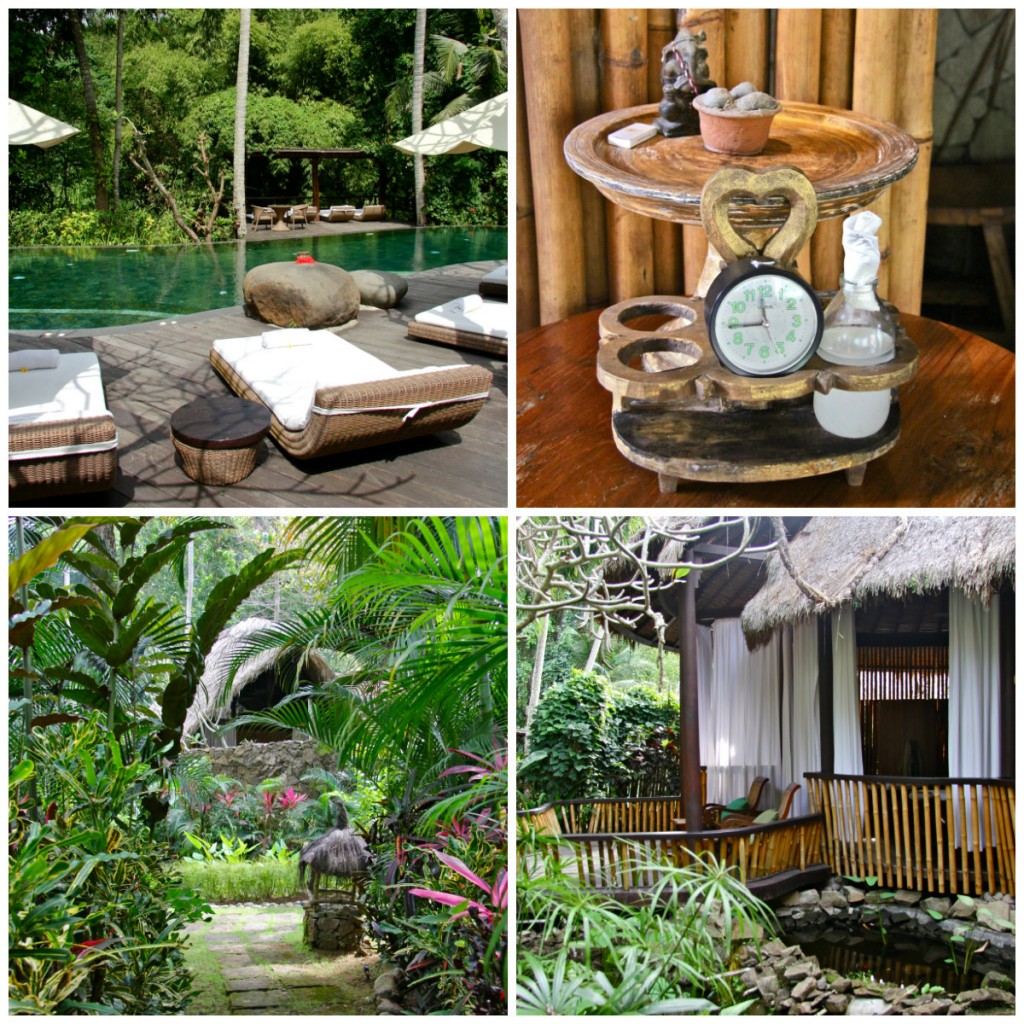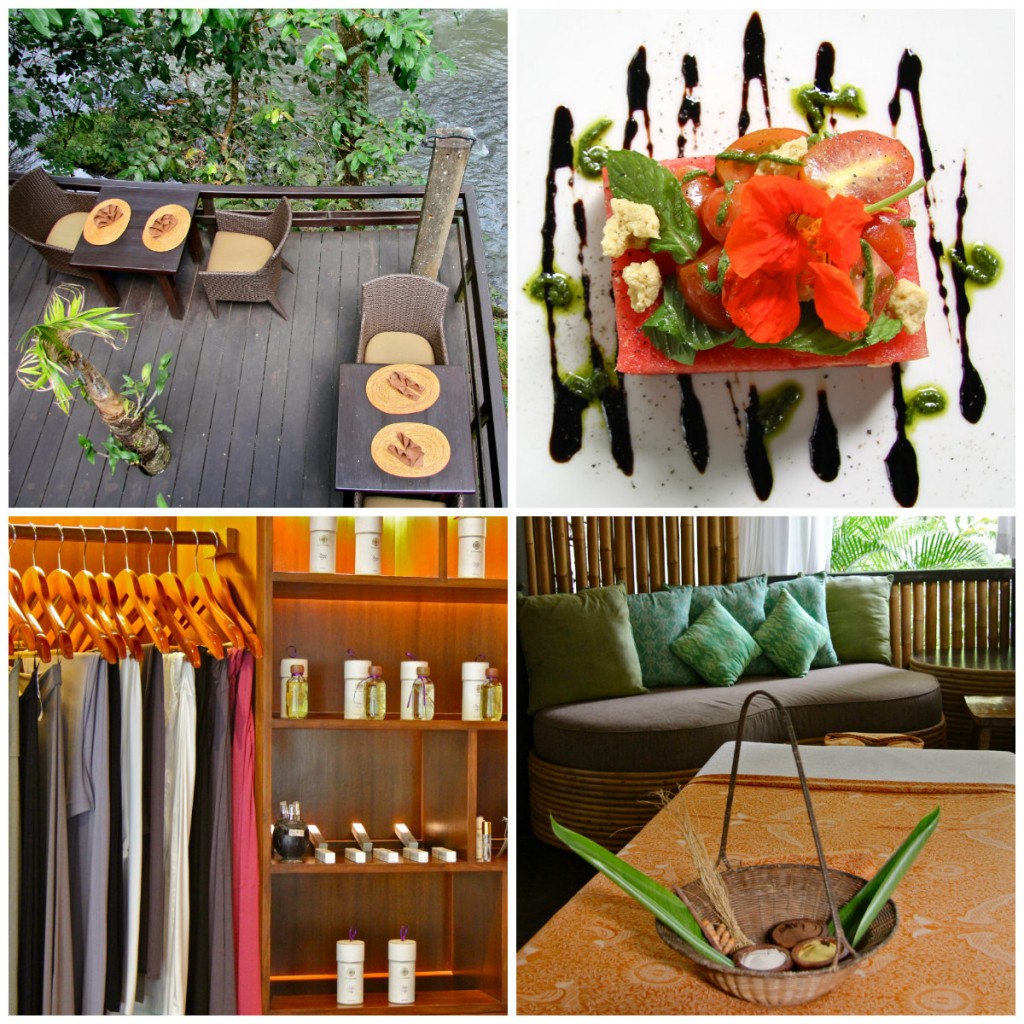 Our stay begins with an experience we will most certainly never forget, that is lunch during which we encounter the concept of creative Raw Food in the Sakti Dining Room restaurant.
The very sight whets your appetite – the two-storey bamboo construction is covered by a roof and has two different terraces, one of which is situated on the river bank. You eat using all your senses and enjoy the stunning greenery.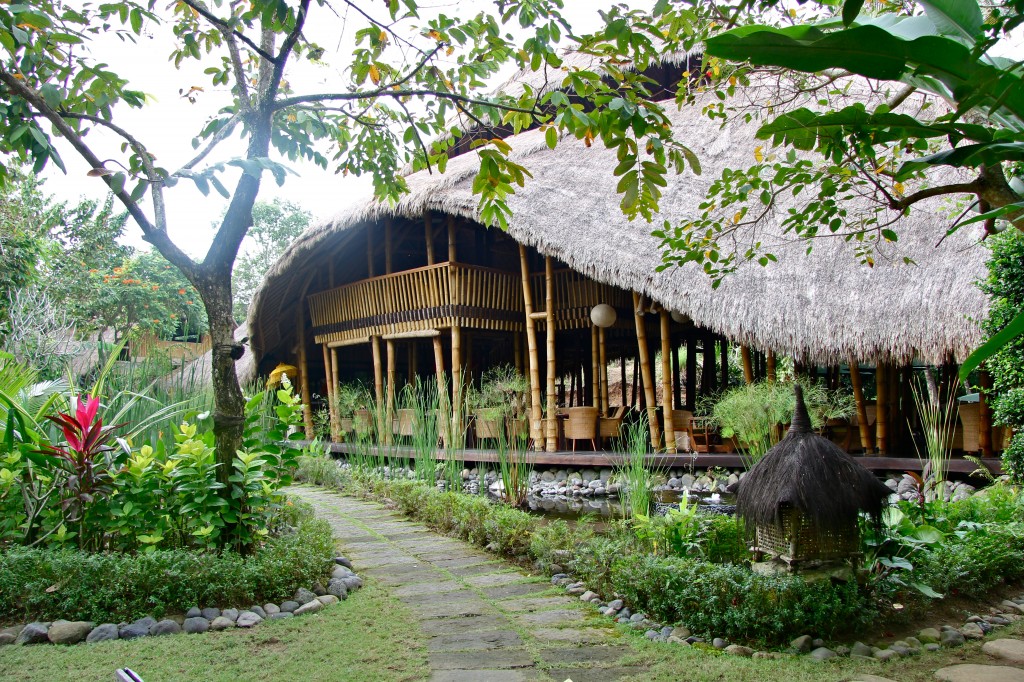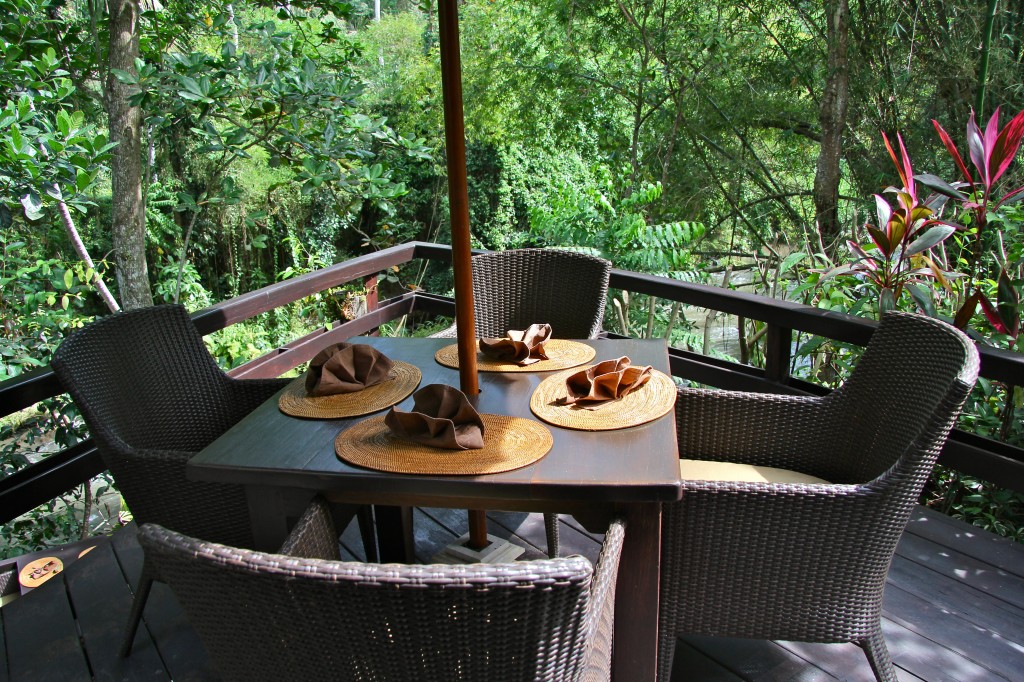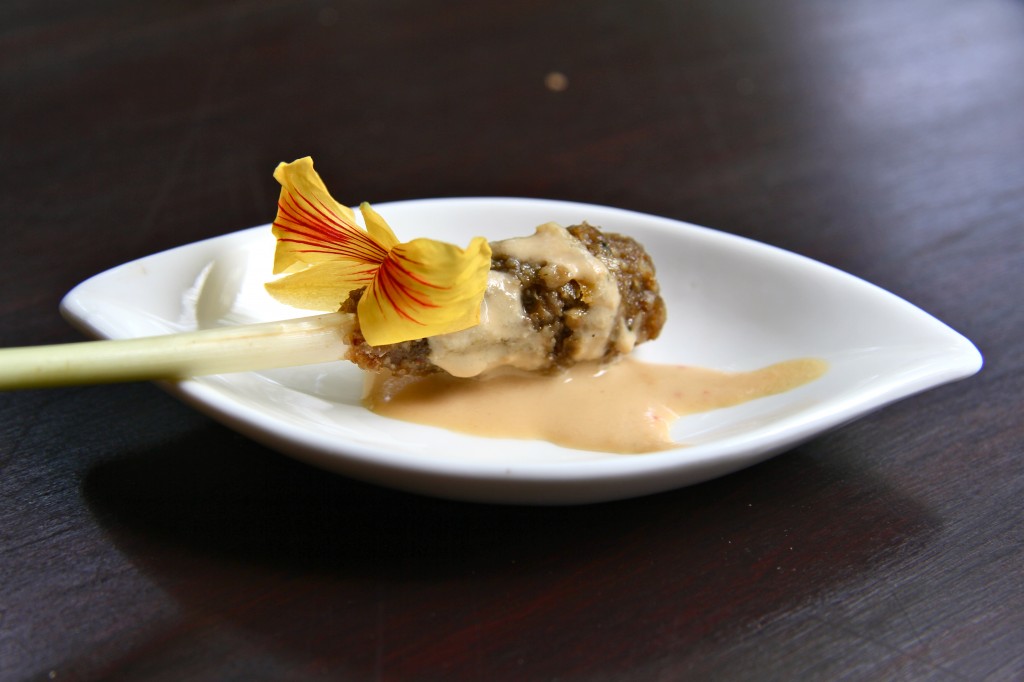 I was really looking forward to visiting Fivelements. I expected something truly amazing, even though I know that it is better to set off on a journey without any expectations. Usually, we are let down not necessarily by the fact that something is worse than we had imagined, but rather that it is different. This time the reality not only wasn't disappointing, but gave me one of the most beautiful and, more importantly, most inspiring experiences in my life.
Fivelements is situated within 20 minutes' driving distance from Ubud. It is something on the borderline of a wellness center and an organization supporting balanced life through rituals, eating habits or yoga. Usually, I don't talk about a mission or a vision – standard hotels not always have it in the first place – but Five Elements is a beautiful and rich philosophy inspired by Balinese lifestyle, which fosters inner harmony, environmental awareness and human contact. Five Elements is a Hindu concept, which explains how the inner and outer forces interact with each other and meet in the Universe.
Fivelements in Bali was opened in 2010 and is addressed to those tempted by the vision of a better, healthier and happier life. The organization was established by 6 founders from Bali, Italy, Switzerland, and the United States, who used their versatile experience to achieve a common goal. This place is full of passion, beaming both from one of the couples managing Fivelements, who engages in dealing with everyday matters, and from the wonderful staff whose calm, respectfulness and pleasure derived from work really make a difference. The financial resources, in turn, allowed to build a charming room made from bamboo, which is often used as a meeting place for various groups and organizations, i.e. TED, whose world famous sessions are held here regularly. What speaks for the success of this undertaking is the fact that there are plans to open Fivelements in Honkong in 2016.
Isa takes me on a tour around Fivelements – the site, beautiful and neat, is surrounded by a fabulous tropical forest, with luxurious villas standing on the river bank. I hear that that the owners' interference with nature was kept to a minimum, and the slight visible alterations were only made as an attempt to "improve" it – a beautiful swimming pool, orchids on tree branches, water canals abundant in beautiful plants. The spatial design is stunning and perfectly creates the omnipresent atmosphere of nostalgia, calm and natural beauty.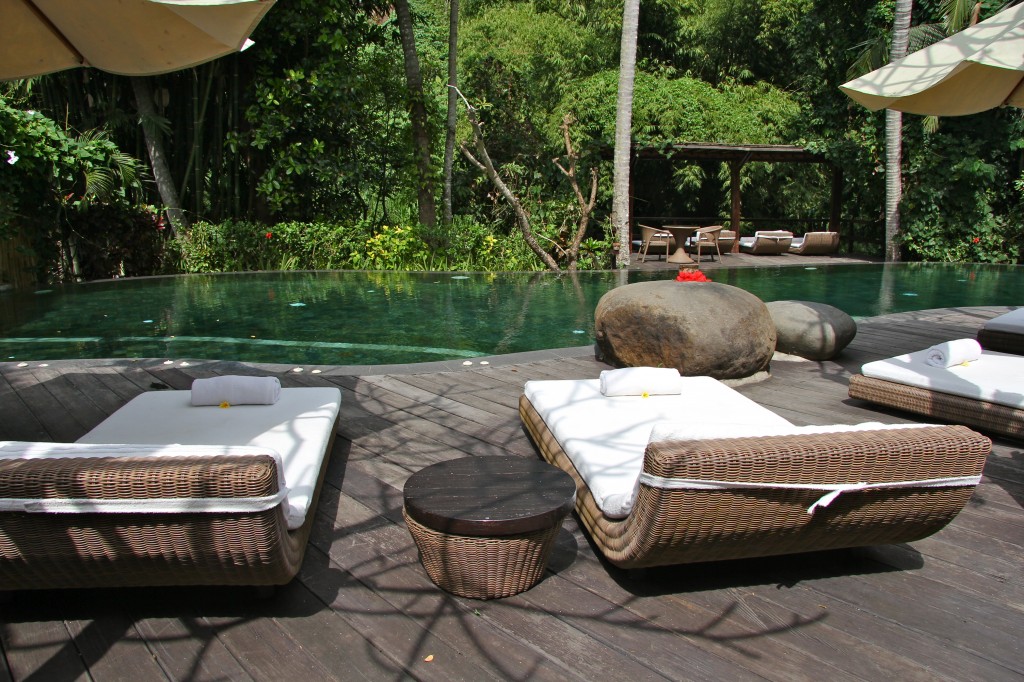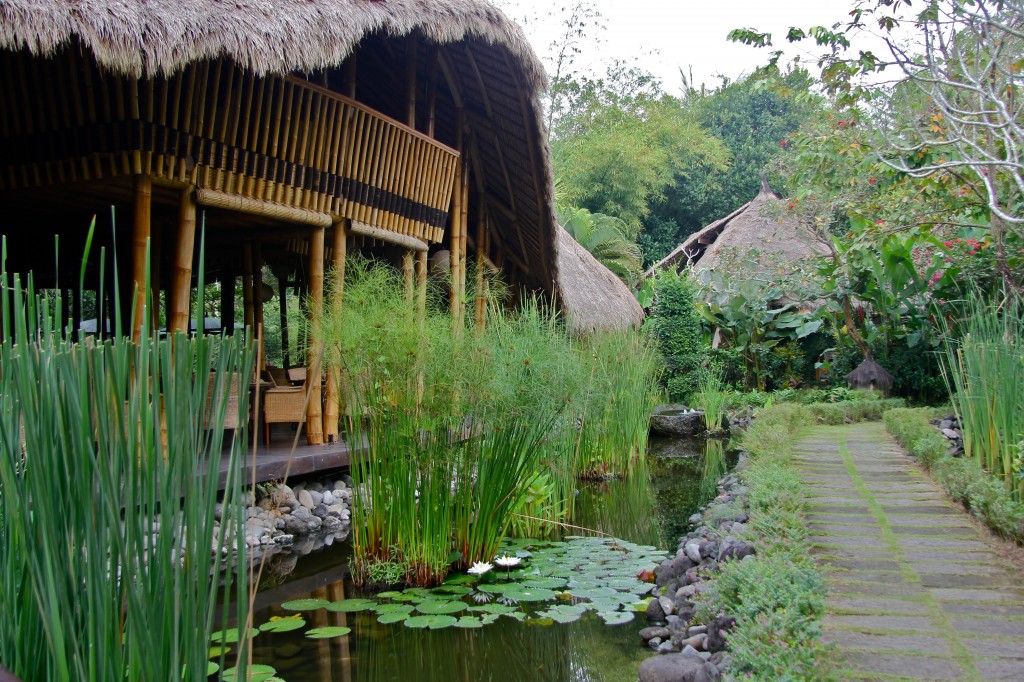 The luxurious and spacious eko-mansions are situated among tropical greenery. Our terrace overlooks the river – we can observe some groups preparing themselves for rafting. On the terrace there is also a bathtub – you can't think of a better way to crown any treatment of choice than a purifying, soothing bath. Various fruits (oranges, lemons) and spices (ginger) are added into the water – each ingredient does its job in affecting our body and soul. Nine suits were designed in traditional Asian style, with the use of wood (wonderful four-poster bed was made from teak) and natural materials, as well as local art.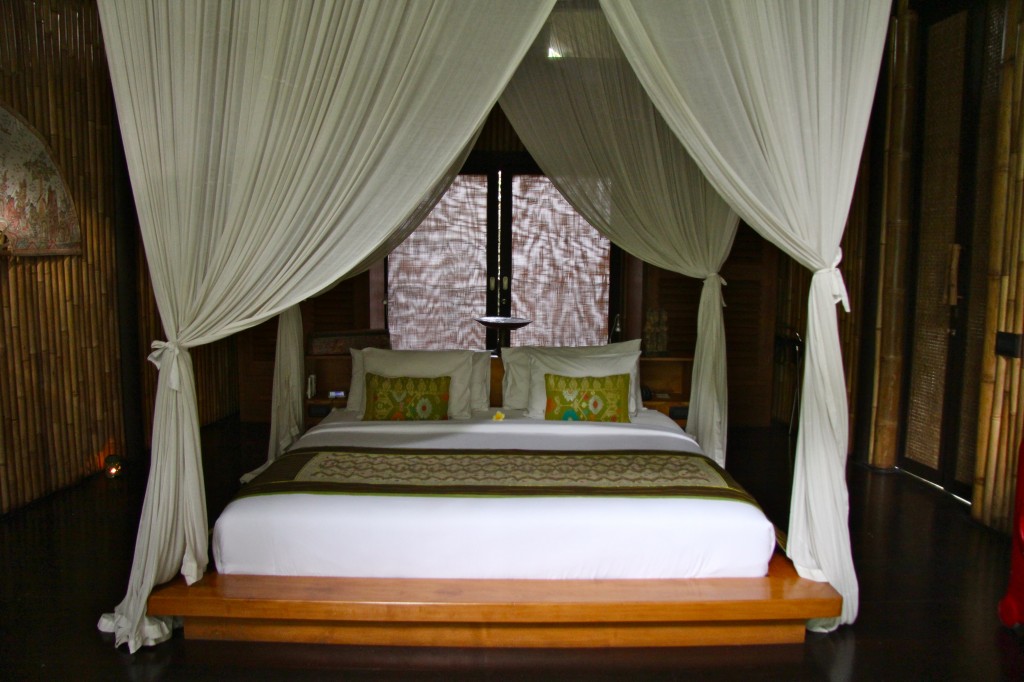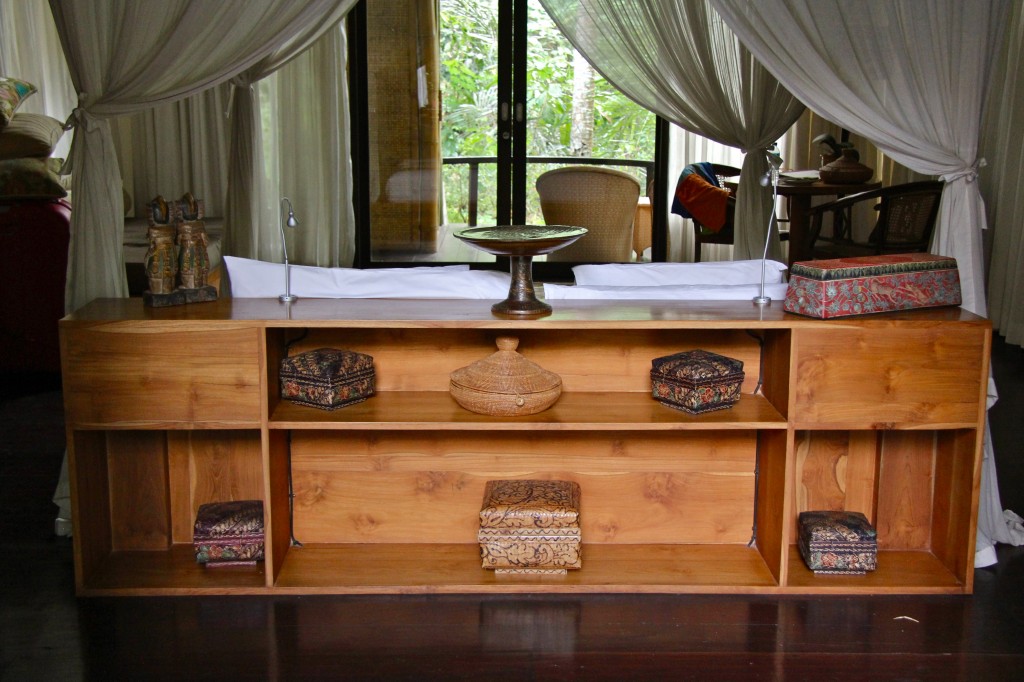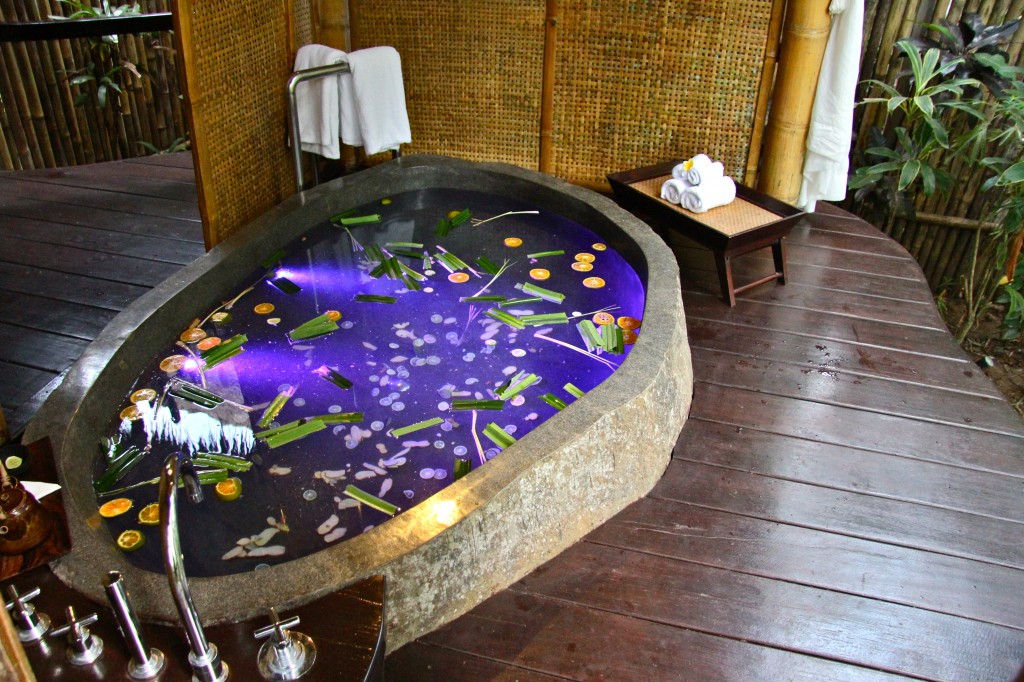 Arriving guests seem to not bother the rhythm of local life. I observe an old lady, who apparently comes here regularly in order to perform some rituals. She just strolls all around the resort and makes sacrifices to the deities.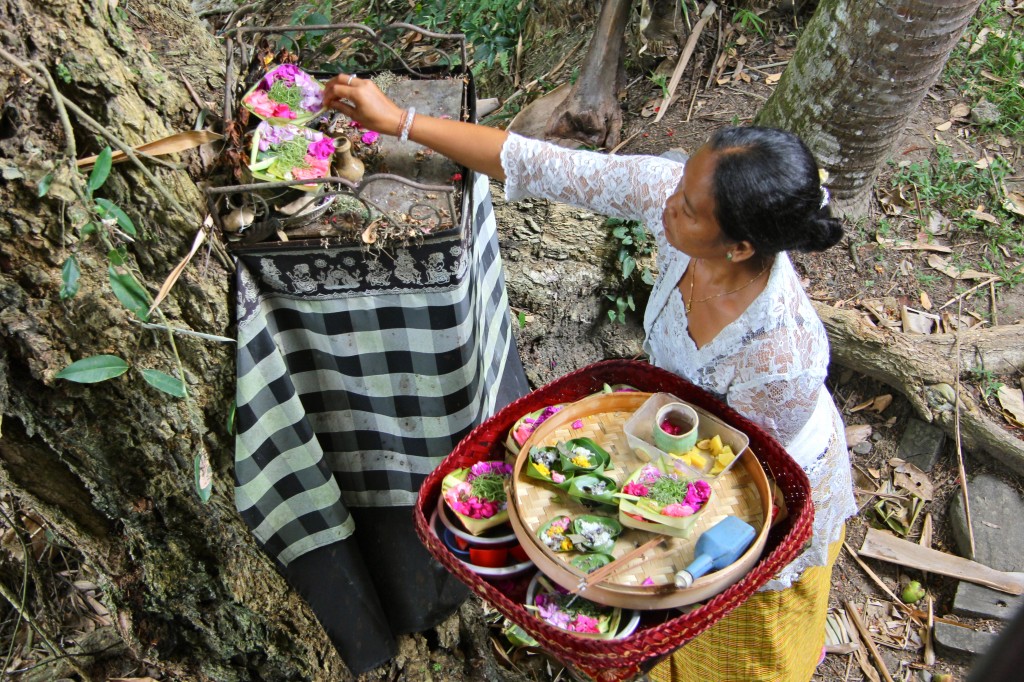 Fivelements can be also associated with great massages (or is it inappropriate to call these rituals "massages"?) In the offer we can find health rituals, beauty treatments, Balinese ceremonies, water treatment, hydrotherapy, or wellness consultation. It is a good idea to first read about the offered treatments, but it is even better to rely on Isa. She is responsible for special programs – people most frequently decide on a weekly stay, but the programs can be planned even up to 21 days. Isa talks with the participant of such a program and together they come up with the best option. It is often crucial to open yourself – Isa says that she doesn't want to impose anything on anyone and that the decision has to be mutual.
What we can decide on? Generally, we can put emphasis on detox, meditation, regeneration or cuisine 4 life, that is the program concerned with introducing changes to our diet.
Who visits Fivelements? During our stay we saw a few couples and a young woman. Isa says that most guests – generally those who take part in one of the programs – arrive alone. It allows them to get in touch with themselves – the ability most of them seem to have lost. Sometimes they're facing a problem, sometimes a difficult choice. Isa is their confidant, always ready to offer helpful advice in exchange for the trust.
What we liked:
– spatial design: Fivelements is incorporated into wild nature altered only by ponds, orchids on tree branches and a pool
– beautiful surroundings of the swimming pool with 2 terraces near it (one of them overlooking the river)
– intimate mansions with bathtubs on their river-facing terraces
– massages followed by a private bath in violet-lit water full of orange and lemon slices, lemon grass, or ginger.
– absolutely spectacular cuisine