No Comments
TOP TRAVEL INSTAGRAM profiles

November is my favorite month for traveling, however this year I need to travel virtually. And you know what? Thanks to some inspiring Instagram profiles I took an amazing journey!

Here you will find my list of travel bloggers I enjoy following on Instagram – I hope you will be inspired as well: to visit the beautiful places, to improve your profiles or simply to dream!
The list will be updated so just like my profile Instagram.com/into_passion and leave link to yours in comments (here or on Instagram). Thank you and Enjoy my list!
#1 Sinicilya
Oh wow! The first photo has an amazing atmosphere – that's how we get to know the travel blogger having a look at Warsaw from hotel apartment.
We can see the blogger in the beautiful scenery, enjoy wonderful photos from Capadoccia or Hong Kong and discover inspiring places from hotels to cute little houses in Polish mountains.
Minimalism, romance and pure beauty of nature.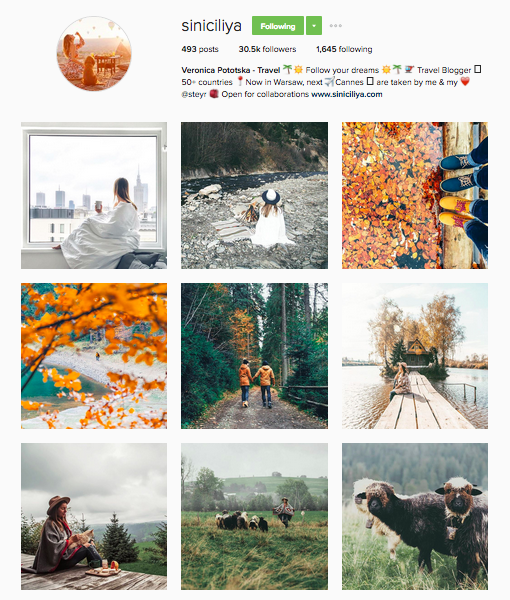 #2 Miramblings
The filter she uses for her photos seems so romantic. I love the mixture of photos: from murals in a small town in South Carolina, through family/friends photos during holidays in Charleston till great shots of the planet earth.
What i really enjoy on her profile is fun and happiness you can see through the pictures: yoga classes, surfing, feeding an elephant. Joy of life.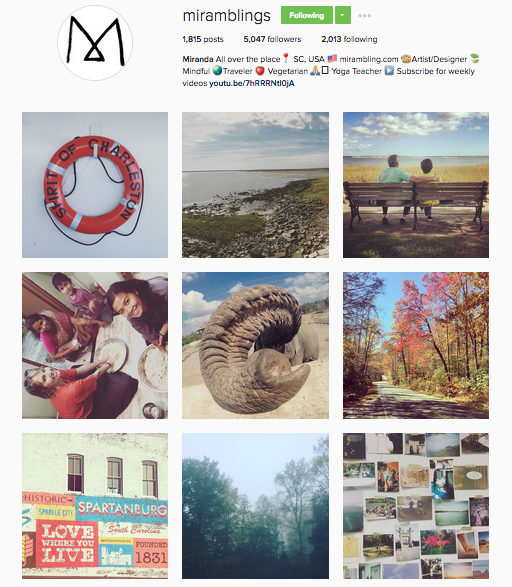 #3 Indiasaka
East&Eden in Berlin, Izumi Sushi Biały Kamień in Warsaw, the Georgian Hotel in Santa Monica – places so beautiful inside or outside you feel you want to be there immediately. Great eye for details, amazing interiors and inspiring places: you want to be there, eat there and read what she does.
Polish blogger has almost 4500 followers, no wonder why!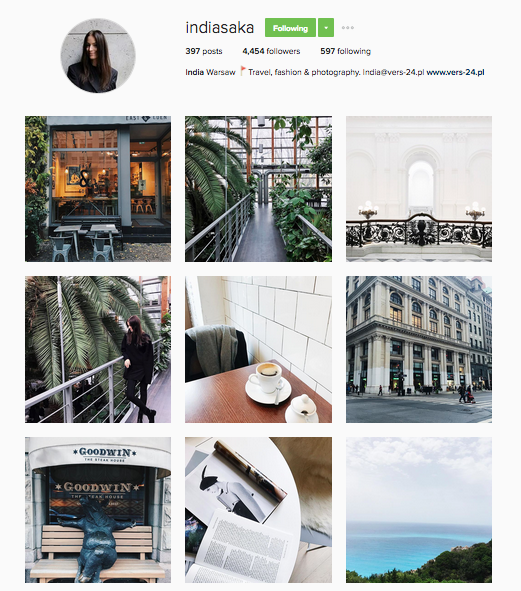 #4 itis_a
OH I love this Instagram! This pastel colors: blue, pink, white make me smile! Anna is currently in Bali so we can enjoy with her Avocadotoasts, surfing, fresh coconut and of course the beauty of the island.
I love the photo of legs in socks on the beach! sweet dolphin, cute colorful houses on the Brighton Beach in Melbourne. Just check it for more!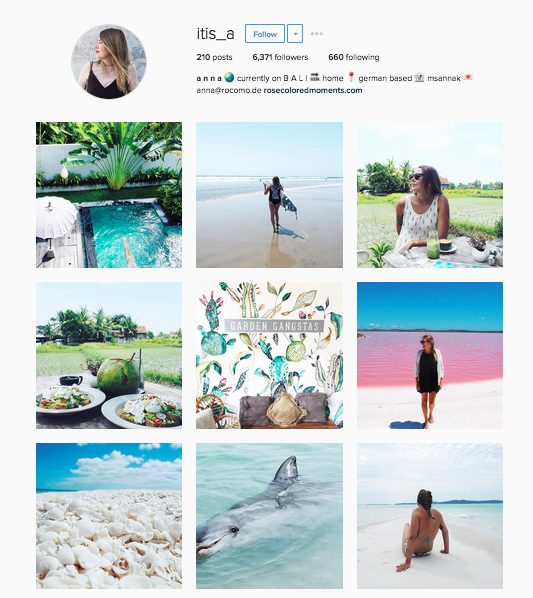 #5 dropsofwonder
I am not really sure if I can call it a travel Instagram but you definitely need to know this one! Conservation biologist and photographer says everything about her photos amazing close-ups of flowers and autumn leaves. Macro world you will love!
But my favourite are animals in focus: eye of the horse, animal portraits like chimpanzee, fight of zebras. Just check it out because it shows the beauty of our world.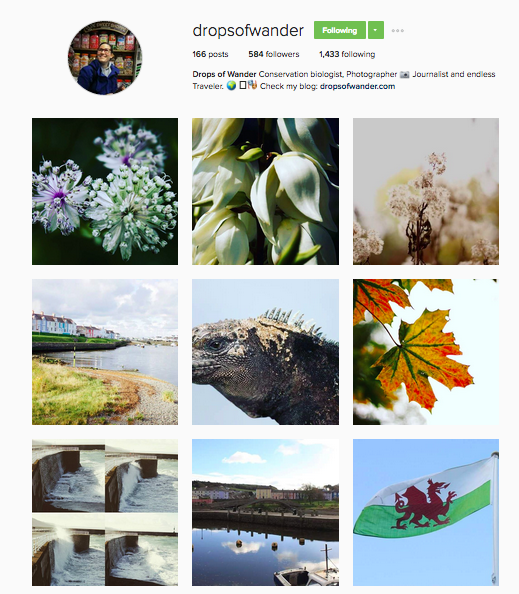 #6 soultravelblog
Beauty of the world. From clean water and amazing beach in Palawan and Chocolate Hills in Bohol, through small coastal town in Slovenia to lovely canals in Amsterdam.
You can get inspired where to travel next, how to enjoy life – like wine and cheese by the sea during the sunset or just see the great shots: of 2 trains, building facades or the blogger herself.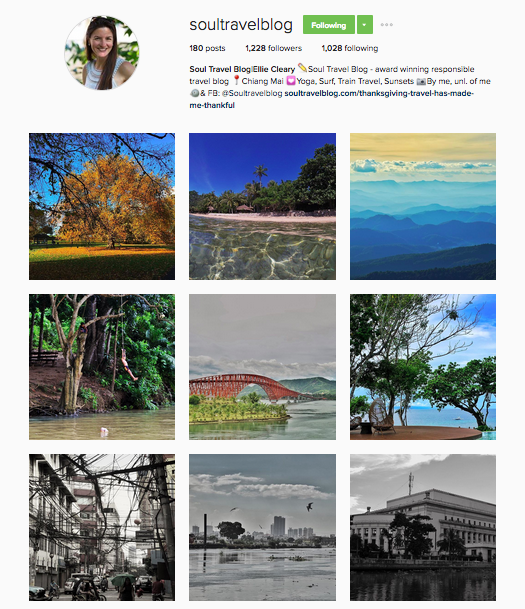 #7 glodnyswiata
Instagram by Filip who is traveling around the world looking for the best tastes. Every time I see his photos I feel hungry! What is really cool Filip often gives the recipes of the dishes – but remember it's not only about taste but also about the way you serve the dishes.
But #glodnyswiata is not only about food – you can also travel around the world with him – sometimes you find yourself in Cambodia, the other day in Columbia.
I love his esthetics.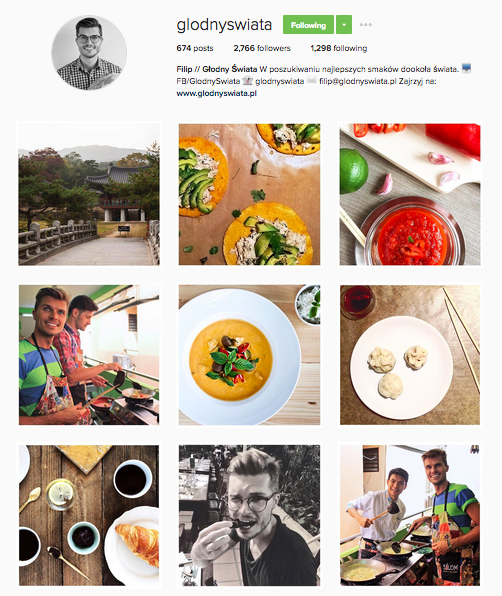 #8 Imxmelissa
My today's discovery! Amazing aesthetics and shots, starting from product inspirations, through building facades to photos of the blogger. Can be a great inspiration how to present the advertisers on Instagram. Unfortunately the texts are in French so I cannot understand.
I love the shots from Santorini!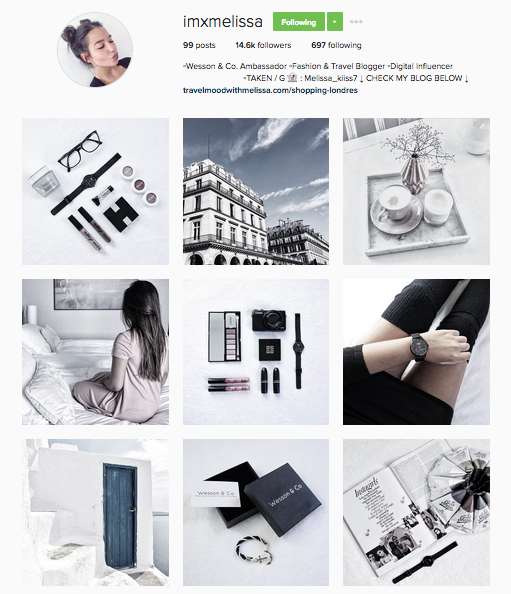 #9 Intrepidista
Female solo traveler, who prefers to discover less popular places. Her last amazing photos where taken in Bulgaria, Kosovo, Albania, Bosnia and Herzegovina. I also found a picture of Palace of Culture and Science during her stop in Warsaw.
I really like her shots and comments about the places she visits.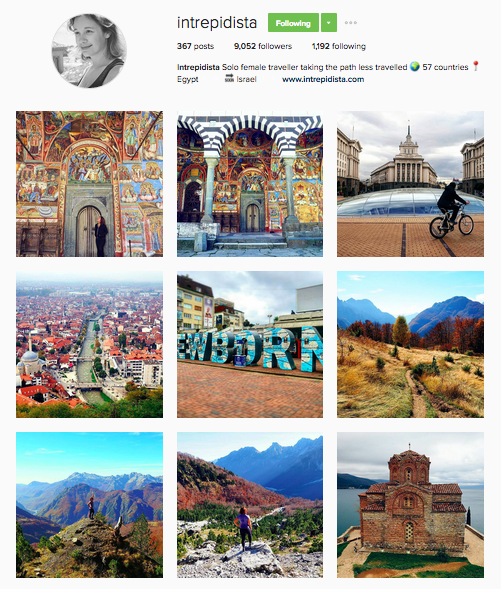 #10 Superhero Pigeon
Amazing feed with cool architecture pics. You feel like you want to see all these buildings. Great eye and ability of catching moments – people or animals.
I like "my view today" – definitely want to be there!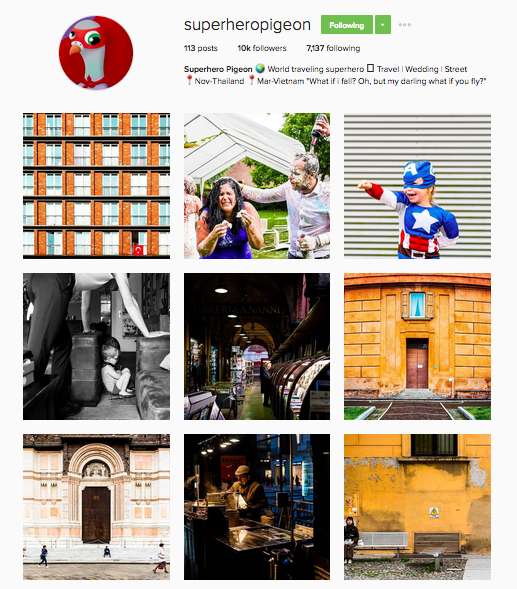 #11 World Travel Bug
Mihaela runs a travel and photography blog. She has almost 30 000 followers! What I loved most are colors and magical shots. As she loves sunsets she pictures the beauty of the world at this amazing moment.
My favorite pics were taken in Asia – sunset in Bagan, Bali, nature of South Asia and great Greek islands.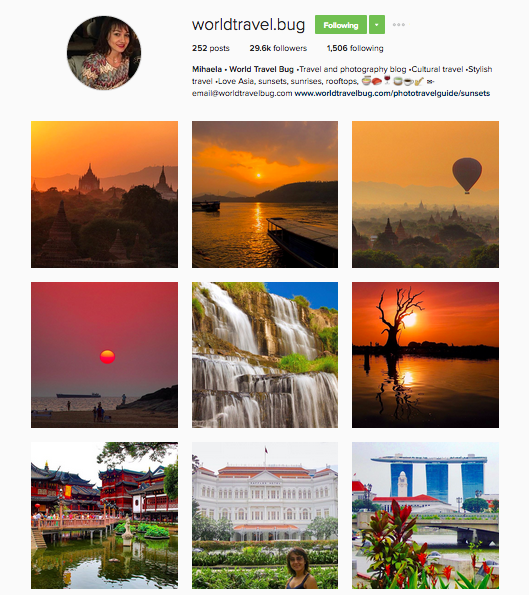 #12 Lalatrvl
My friend Lara left her successful job in fashion and travels around the world. I am proud of her decision and happy to follow her during the amazing journey. I love everything about her photos, and also comments about the places she visits.
Currently in Asia she gives us proofs Asia is beyond beauty!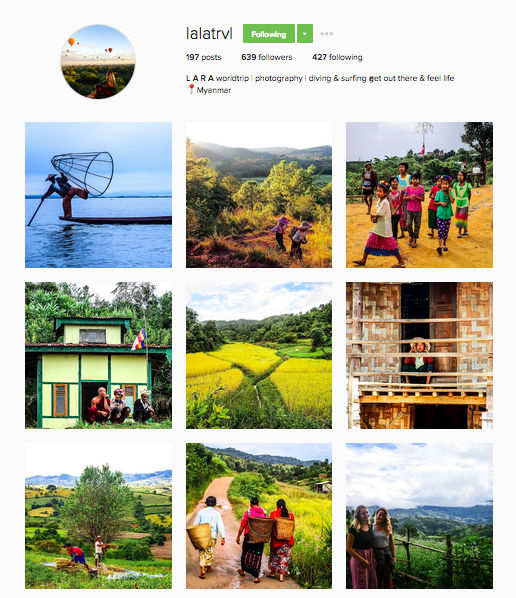 #13 Mortenksoerensen
Based in Copenhagen Morten has such an amazing Instagram – it's so different from most of travel Instagrams and I totally love it. Clean, great shots gives us pure pleasure. I feel like looking at the beauty of the world using graphical, architectural perspective.
And it is what he shows us: building, interiors, but also nature not destroyed by human.
Enjoy!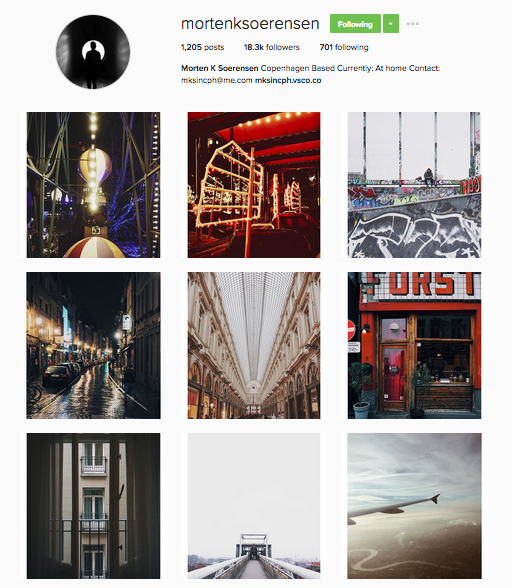 #14 Maketimetoseetheworld
She visited 143 cities in 39 countries – but not the cities are in focus on her last photos: I enjoyed my favorite Ta Phrom temple in Cambodia, Cheetah Sanctuary in Namibia, great shot of a river in Arizona from above.
Clean but colorful! Definitely the inspiration that can make you move from your coach.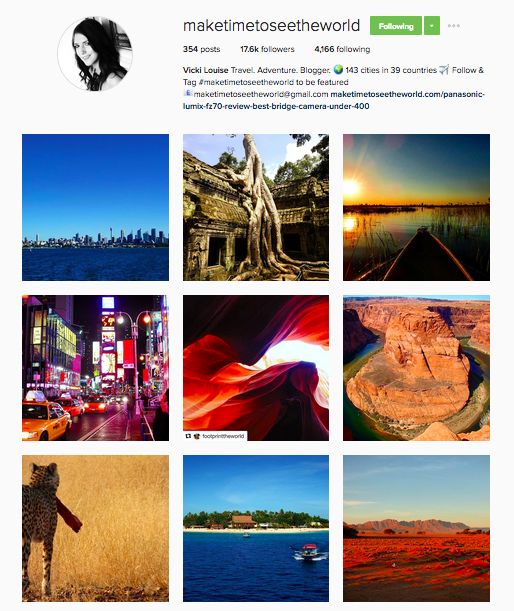 #15 Into_passion
Here is my instagram – hope you like it too!
These 9 photos is a short summery of what I love – first my little baby girl who is 4 month old and already started her small travels with her mother, me in one of the most amazing places I have ever been to Finzi Keys. ASIA and Kenya – my 2 great travel loves. And food because it's a simple pleasure of my everyday life and important part of traveling.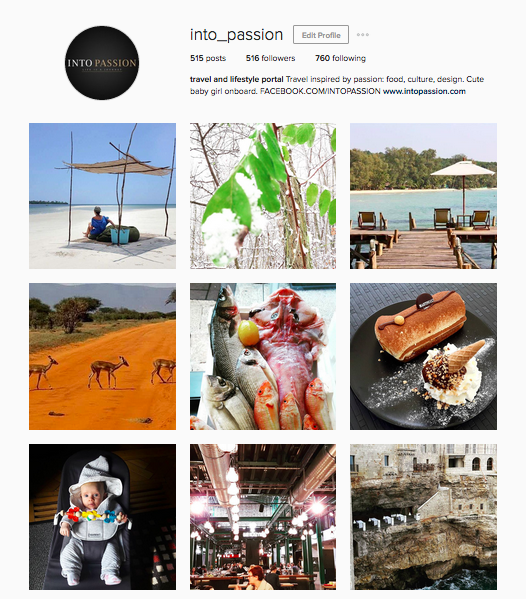 Save
Save
Save