No Comments
Casa Violeta Tulum/Mexico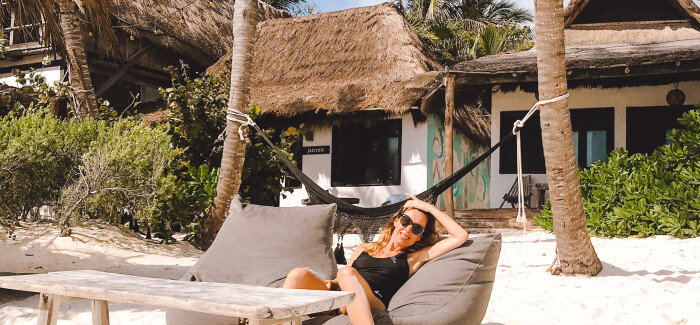 ,,Here we have Mexico of all cultures. We put spirituality high, I love the experiences we create for people through ceremonies. We are also unique by our food because it is a mixture of our lives, "the union of two cultures". We grow up every day, people make friends with others, they get married here, they come with their children" says the owner Karla Gutierrez about her hotel.
Text and photos: Paulina Grabara-Król, Translation: Aleksandra Arend
Follow us: FB intopassion, IG intopassion.pl, Become a part of our family by supporting us: patronite.pl/intopassion.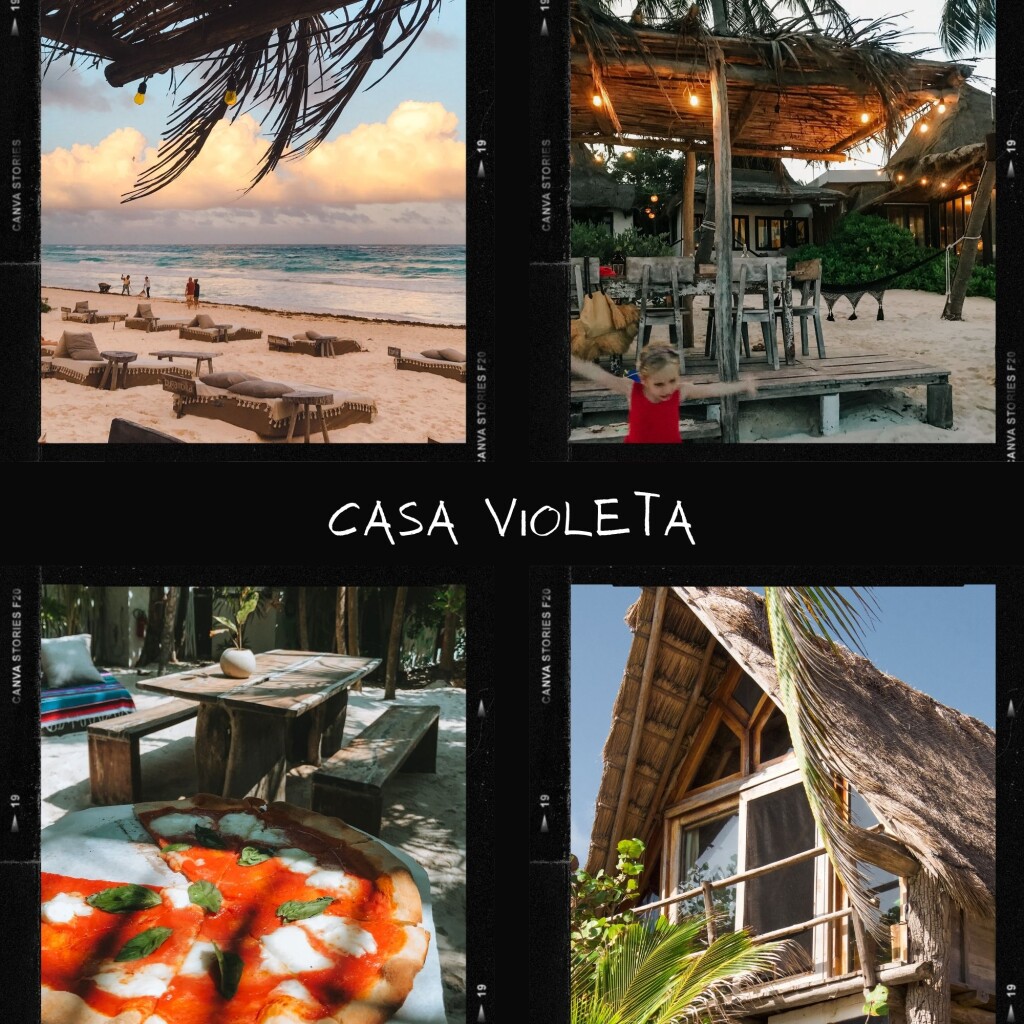 We are sitting on a wooden platform, where there is a common table under the roof. The air is salty because of the sea water, and the wind is tousling my hair. This is such a perfect moment that I would like to stop time. The sound of waves, my daughter running freely on the sand as soft as flour, my husband by my side and a drink at sunset are my synonym of happiness. At Casa Violeta we feel like friend left us (and a group of her friends) keys to the seaside villa. Americans dominate Casa Violeta. Their casual lifestyle, warm conversations and a smiles only add a friendly tone. Additionally, Casa Violeta is a family-friendly hotel, which is unique from the crowd well-known beach hotels. Additionally, Casa Violeta is a family-friendly hotel, which makes it stand out from the crowd of well-known adults only beach hotels.
Karla and her dream about Tulum
I was lucky that during our stay at Casa Violeta, the owner Karla Gutierrez, who is Mexican living in NYC, was present. "Here is quiet and relaxing. We love yoga and we give extra things to wake up, to recharge their batteries so that our guests can come home with that energy" Karla starts telling her story. "I came to Tulum for the first time in the 90's so I was very young. I read a lot of new age books, about yoga and sexuality. That is why I came here, this place was everything for me. You feel you are breathing, you are coming alive on a huge scale. All the stars were here. You admired falling stars as if borders didn't exist. I traveled all the time to Europe and to various other places. Here we have Mexico of all cultures. That is why I felt in love. When I was here for the first time, I was already looking for friends who were buying the land up here. It was 2003 and I had just finished studies, but there was a chance to build something". Her husband, then still a boyfriend, lived in New York, business was evolving by word of mouth, friends of friends have started arriving. From the beginning there were a lot of New Yorkers at Casa Violeta and it stayed that way.
Casa Violeta is a never-ending project that Karla is constantly supervising. She decides about everything and still changes something. What amazes me at Casa Violeta, it is a sense of privacy, freedom – all rooms – bungalows are separated. Everyone has a bed on the beach with their name on it, beautiful garden, hammocks, swings. During our stay I am talking also with the manager Giampiero Paoletti, Italian. He emphasises that despite many changes over the years, Tulum is still a magical place. And that is what I feel. Tulum changed 6-7 years ago – he is telling me – when the parties started. Full moon, weekend parties made Tulum attract a new group of people.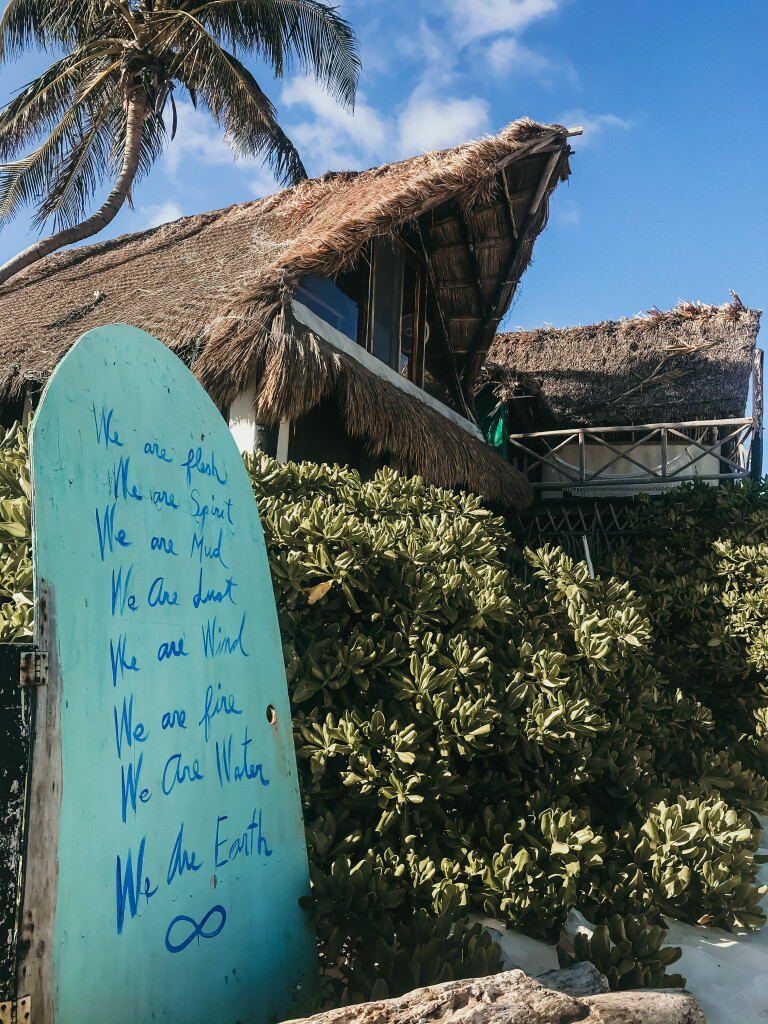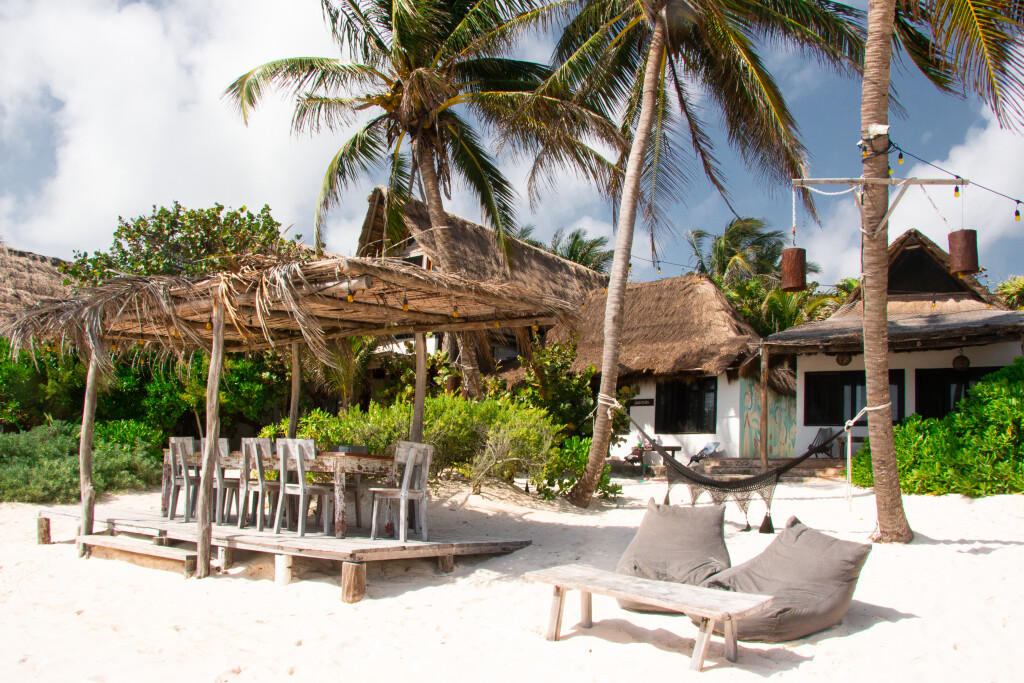 Architecture and design
Karla wanted to create a sanctuary by the ocean. Where exactly does this idea come from? There was one goal – it was supposed to be a place where the guest could calm down and recharge with positive energy. The hotel is designed directly for everyone apart from the fact if they travel alone, with their family or only with their love, other half. Karla calls her hotel a "healing paradise" and it is difficult to disagree with her. Hotel is situated on the beautiful white sand coast of Tulum, between the magical ocean and the peaceful jungle. It attracts spiritual seekers and aesthetes. The atmosphere and design of the hotel conduce to silence and reflection. Casa Violeta allows its guests to experience simple, chic but glamourless luxury. When we pass through the gate to the hotel, everything that comes in front of my eyes, is a couple of jungle villas, a couch in the garden, hammocks and a very special reception. This is the first time I see a reception where we have sand instead of a wooden floor or a carpet. There are 16 villas in the hotel, some duplexes in the jungle, others with ocean views. Nature reigns here. Houses refer to the beauty of nature with even the smallest elements. Everything is consistent and harmonious here. Fresh flowers, wooden accessories, beautiful canopies over the beds, or murals inspired by the ocean are just some of many advantages of Casa Violeta. Vibrations of the place, as well as its decor, are described by 4 words: simplicity, nature, spirituality, and freedom..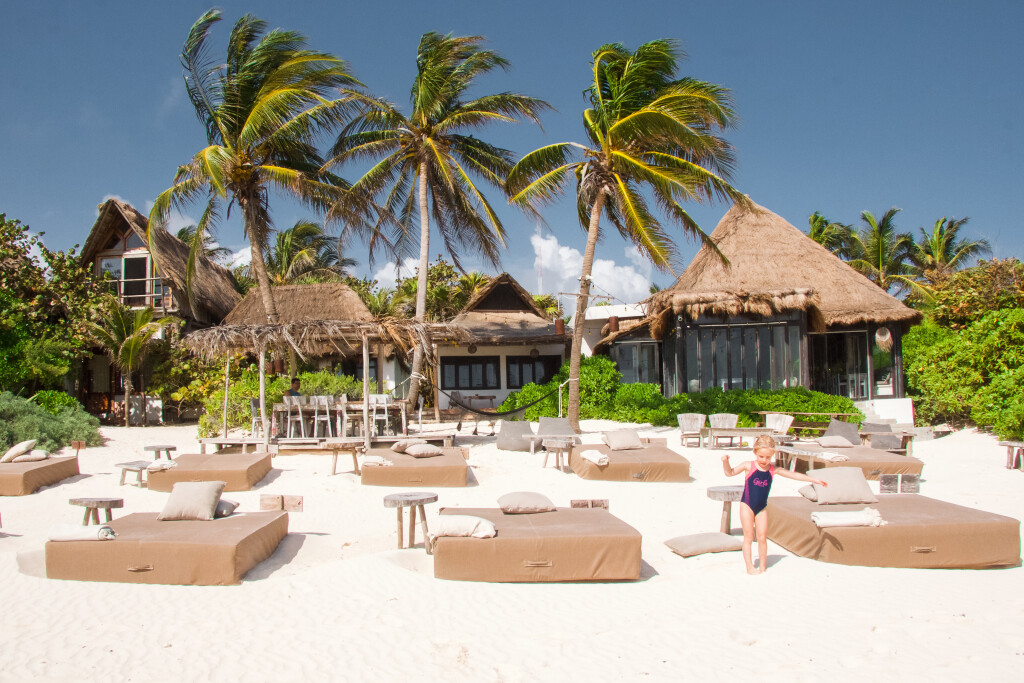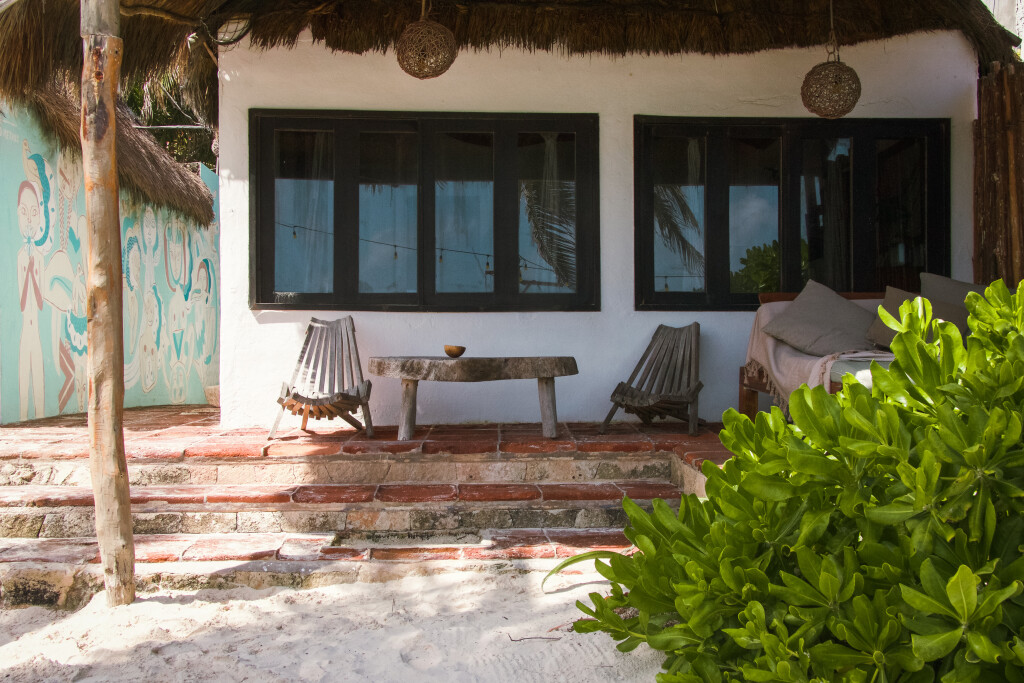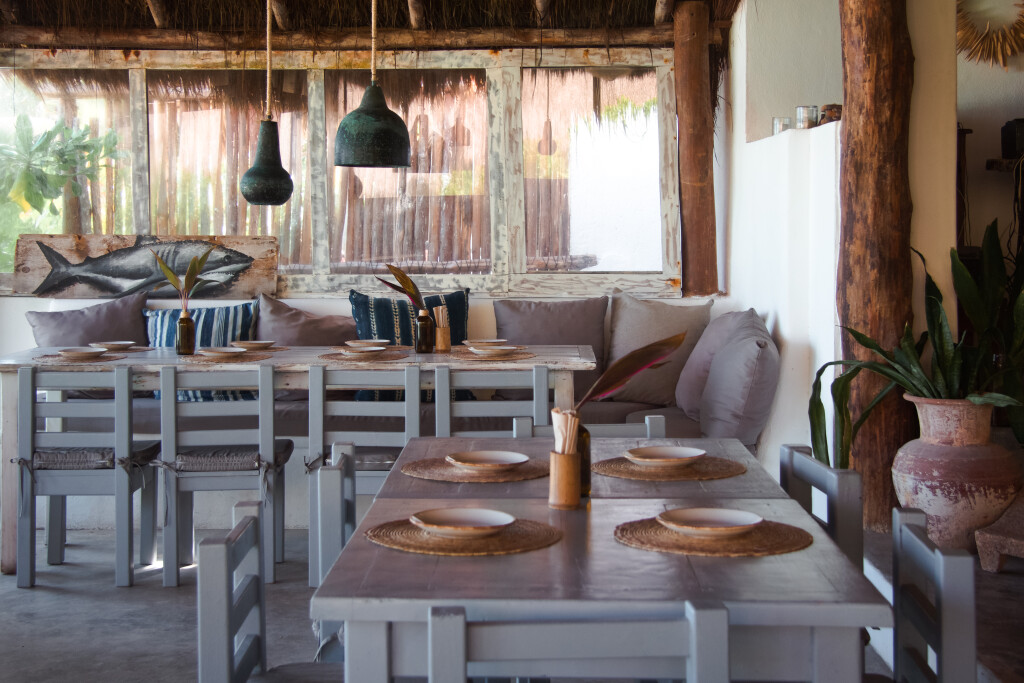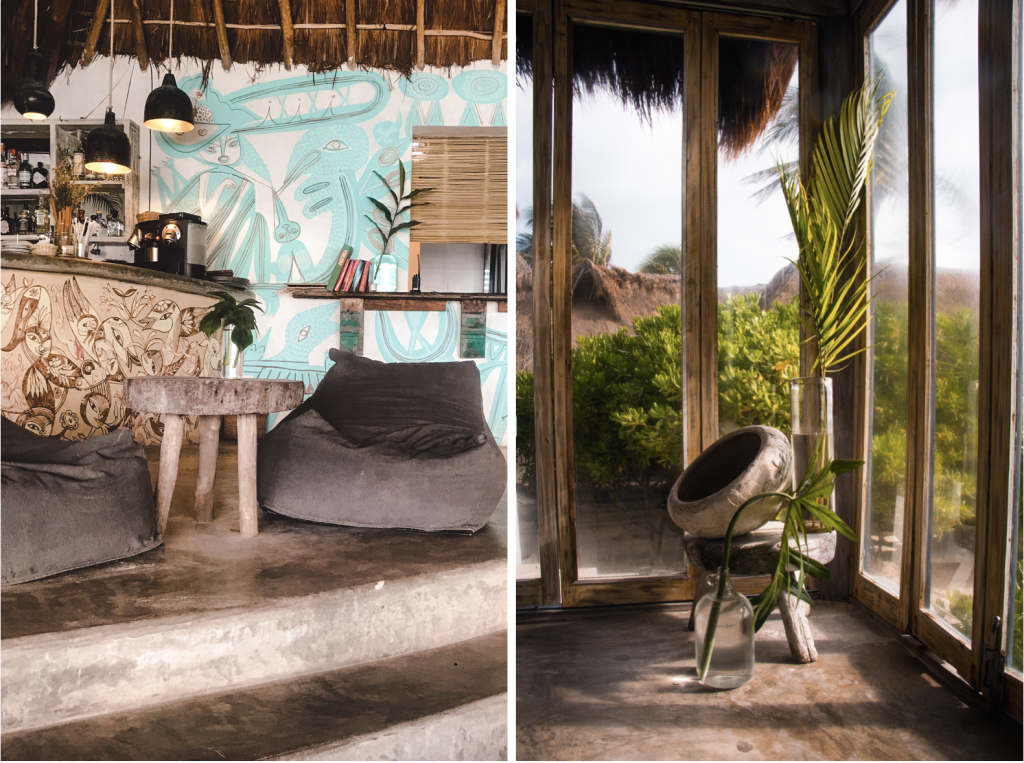 Food
Right on the beach, there is a restaurant with an amazing view of the ocean. Karla created it together with her husband. I loved this place and even though it's a real paradise outside, every morning I enjoyed toast with avocado and coffee sitting in a stylish interior. "We have an Italian chef from Florence who comes here 3-4 times a year. He helps us, cares for people, and finalizes recipes. Chefs learn how to cook quickly, they do not follow their imagination what is great, because they stay simple" tells me Giampiero and adds "The pasta is fresh, we have very good ravioli and pizza. Our food is a mix of Italy and Mexico. We have a huge menu, snacks, tasty taco, pasta and fish. You feel at home. What is important, meals are made from fresh organic products and high-quality ingredients". The restaurant also offers vegetarian and vegan options, so all guests will find something for themselves without any problems. Brick oven pizza or fresh ceviche are one of many dishes from the menu that we can eat at any time of the day. It has also a unique atmosphere for having breakfast or dinner.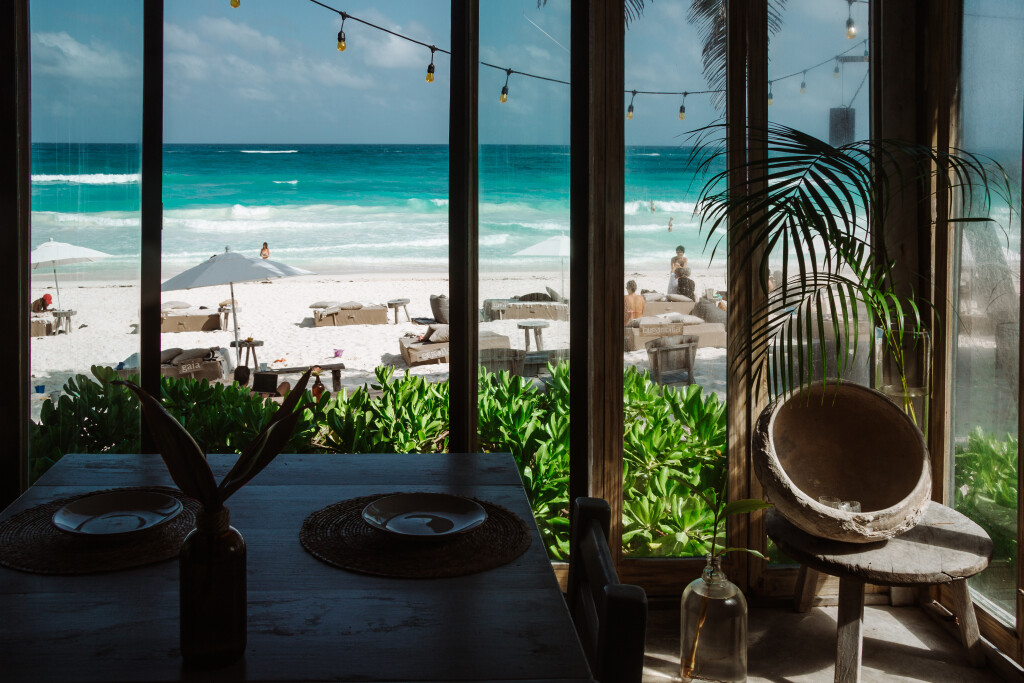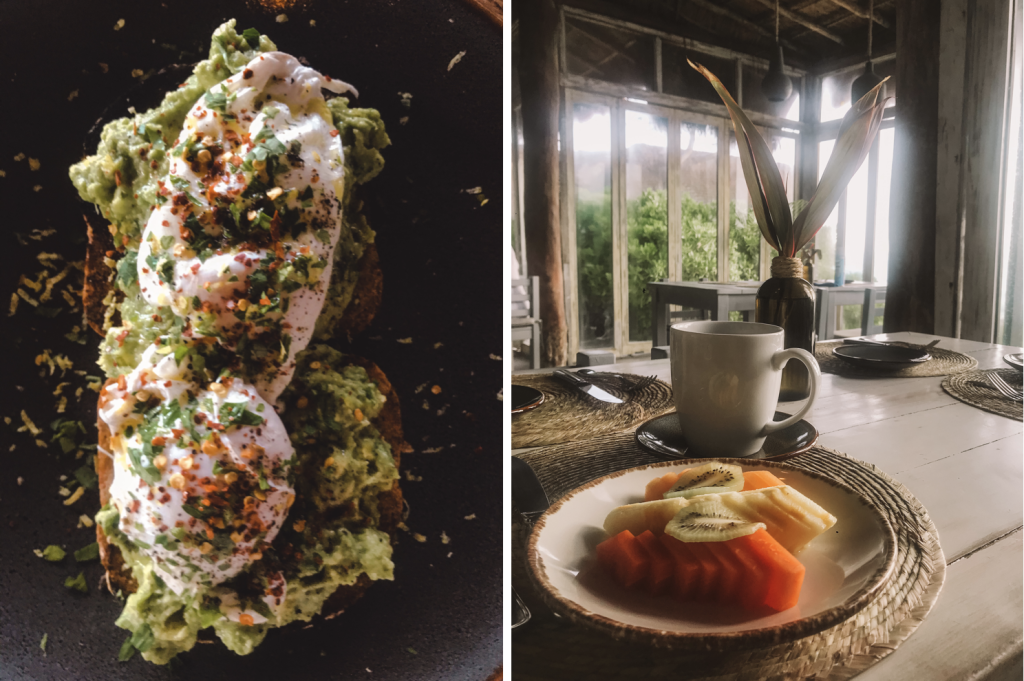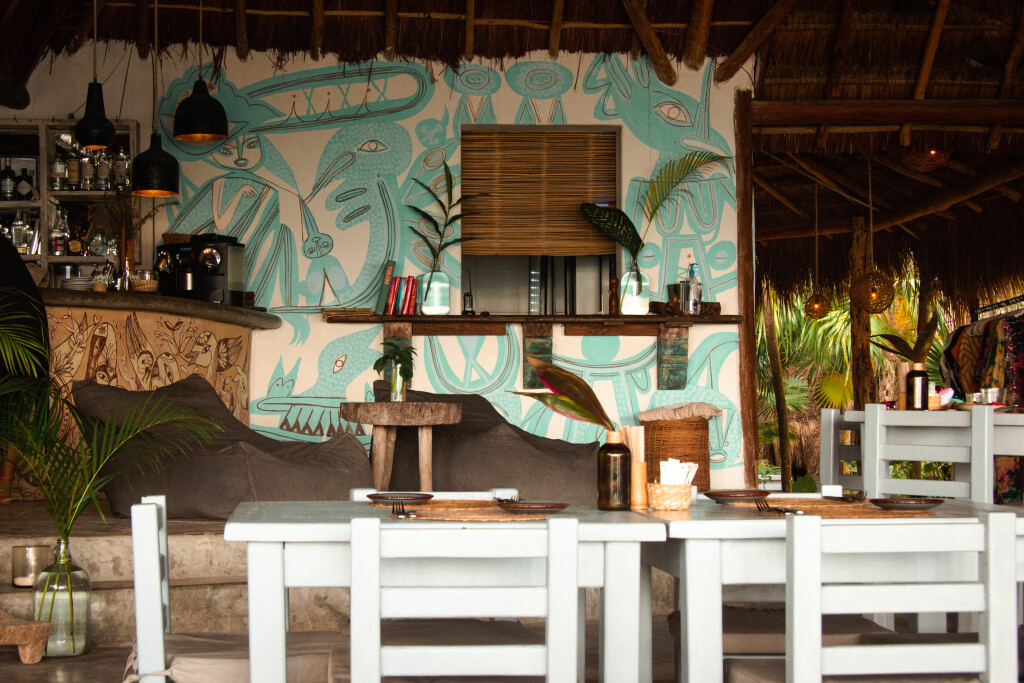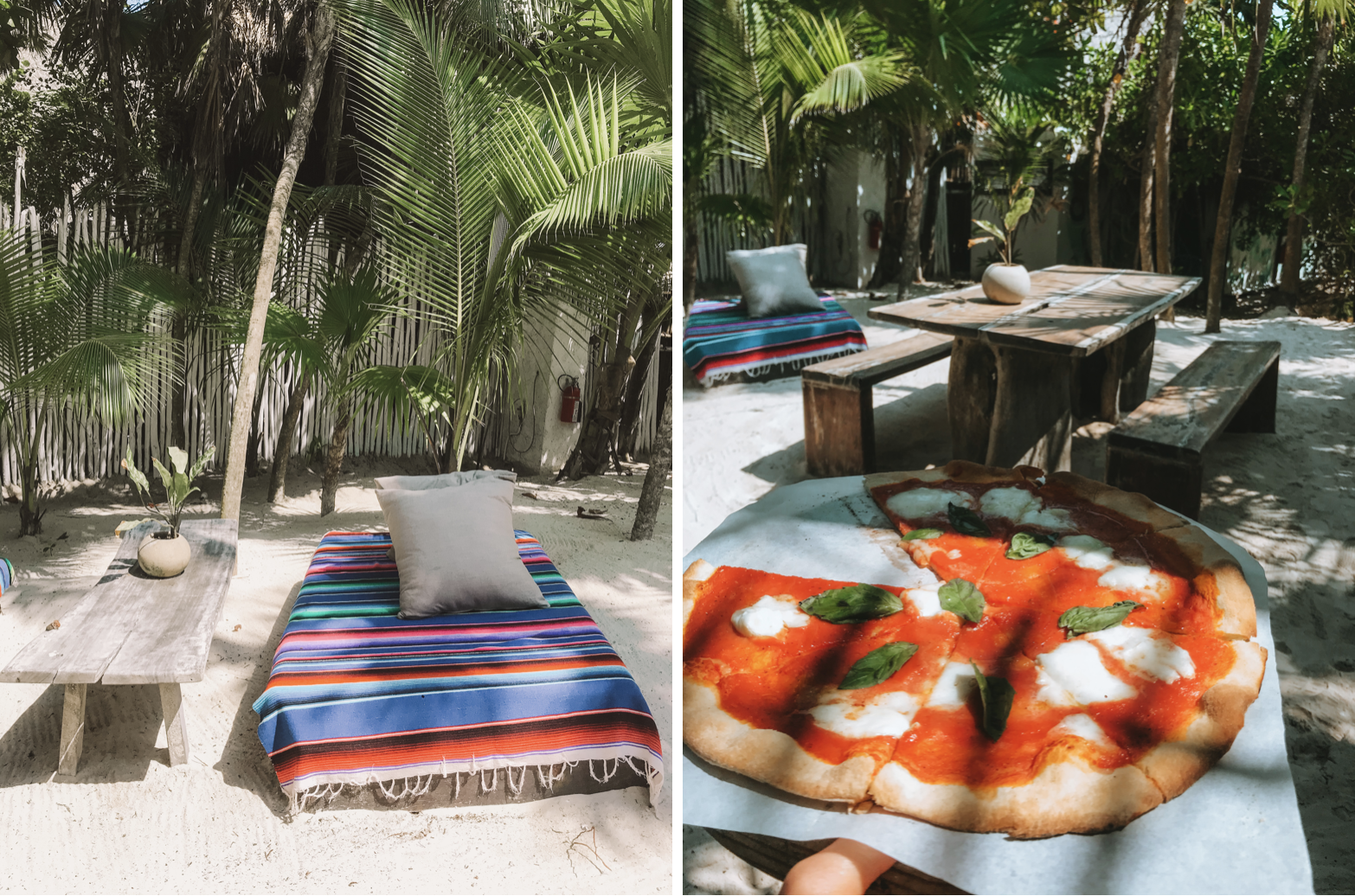 Yoga, ceremonies, and attractions around Tulum
Like many places in Tulum, Casa Violeta's identity is indissolubly related to yoga and ceremonies. Karla also flies from New York to ceremonies and other events in her hotel. You can look for the calendar of ceremonies on the website of Casa Violeta. I also ask her what she recommends to her friends who come to Tulum and want to leave Casa Violeta for a while. – "I would recommend them to visit Coqui Coqui Coba for sunset, it's wonderful there. Naga Tulum is also very beautiful – I took there my son and my cousin a few days ago. And for evening drinks at Nomade".
I asked the same question to Giampiero, the manager. He points out that Tulum is in the centre of many attractions. "From Tulum you can get to Coba to see ruins, to Laguna de Kaan Luum, Chichimilá or Valladolid". Each of these places is magical and will give you remarkable memories, as well as visit at Casa Violeta.