No Comments
STYLISHhotel: Lulu Guldsumeden/ Berlin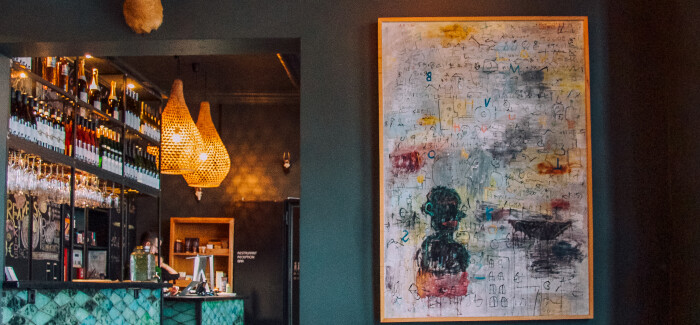 If You love boutique hotels, design and an eco-friendly approach, then you've just found one of the coolest city hotels in Europe – Lulu Guldsmeden in Berlin. Created in the nouveau-bohême style, the hotel belongs to the boutique hotel chain Guldsmeden, which is focusing strongly on sustainability.
When booking on the hotel website and using the code I.passion, you will get 15% OFF.
Stay tuned: FB intopassion, IG into_passion
Translation: Iwa Embingier
The Guldsmeden chain was created by the Danes and posses hotels all over the world, including Copenhagen, Oslo, Reykjavik, and Bali.
Today, however, I am taking you to Berlin's Lulu Guldsmeden, where we stayed before the pandemic in February. The hotel can be a reason in itself to visit Berlin, and I am not exaggerating by saying this. Of course, there are many other reasons as well, and Berlin has a special place in my heart.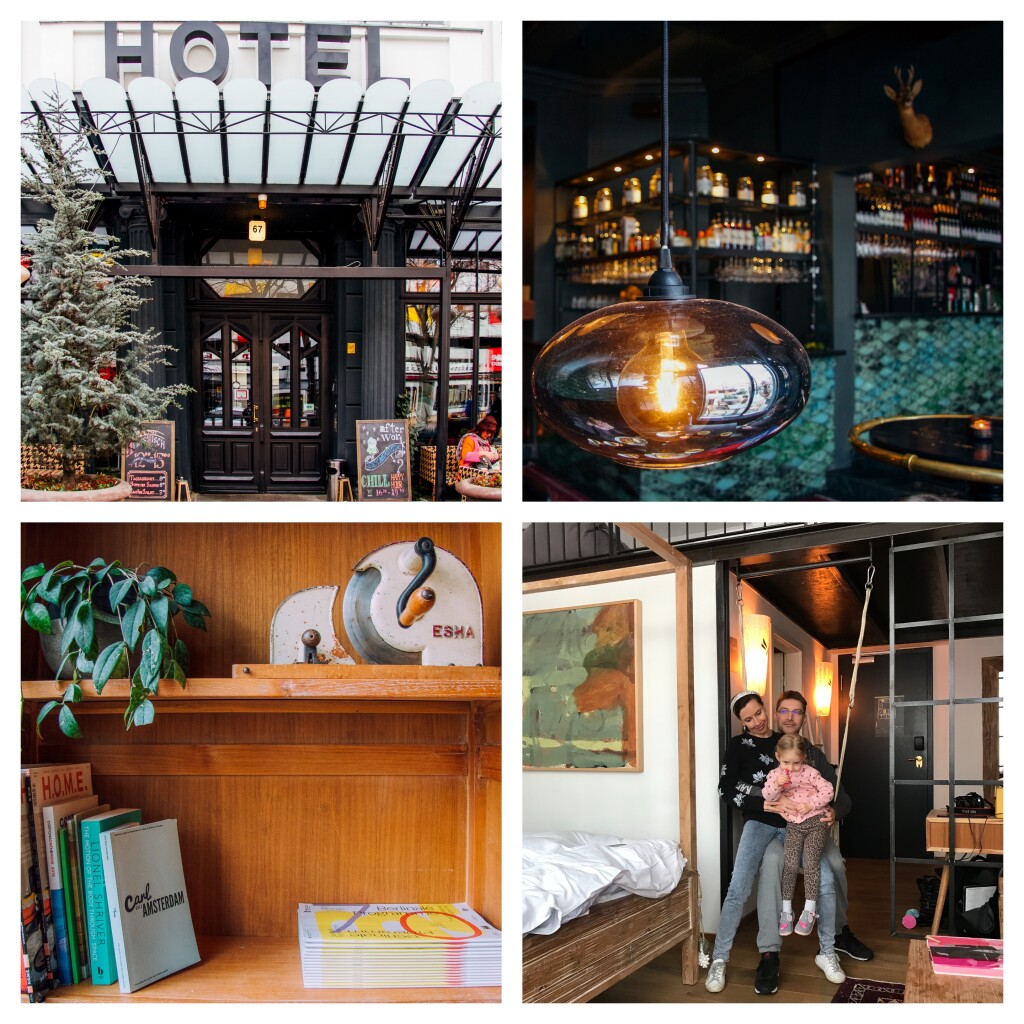 Architecture and design of the hotel
Delight at first sight. 19th century Berlin classic. This 4-star hotel is located in a building dating back to 1850 in a super trendy part of former eastern Germany.
There are stylish old trunks and bicycles in the hall. The reception is located in the café and restaurant area. Space is splendidly arranged. I could spend half a day (or the whole one) there just sitting and enjoying the space. There are soft leather sofas and armchairs, high tables where we were having breakfast in the morning and dinner in the evening. Also, you can find a marine-style tiled bar and lamps made to special order in Bali. The atmosphere is so unusual that you don't want to go out.
One of the significant elements of the hotel's architecture is high, four-meter ceilings. This is a characteristic feature of 19th-century Berlin buildings. Every detail is worked out here in Lulu, but I am most impressed the way they were playing with textures and materials in the decor of both restaurant and the rooms.
There is an eco-restaurant, bar, courtyard, and stylish rooms. They wrapped all this in the contemporary design, with a hint of Scandinavian minimalism as well as the Balinese and industrial spirit, creating a sensational whole.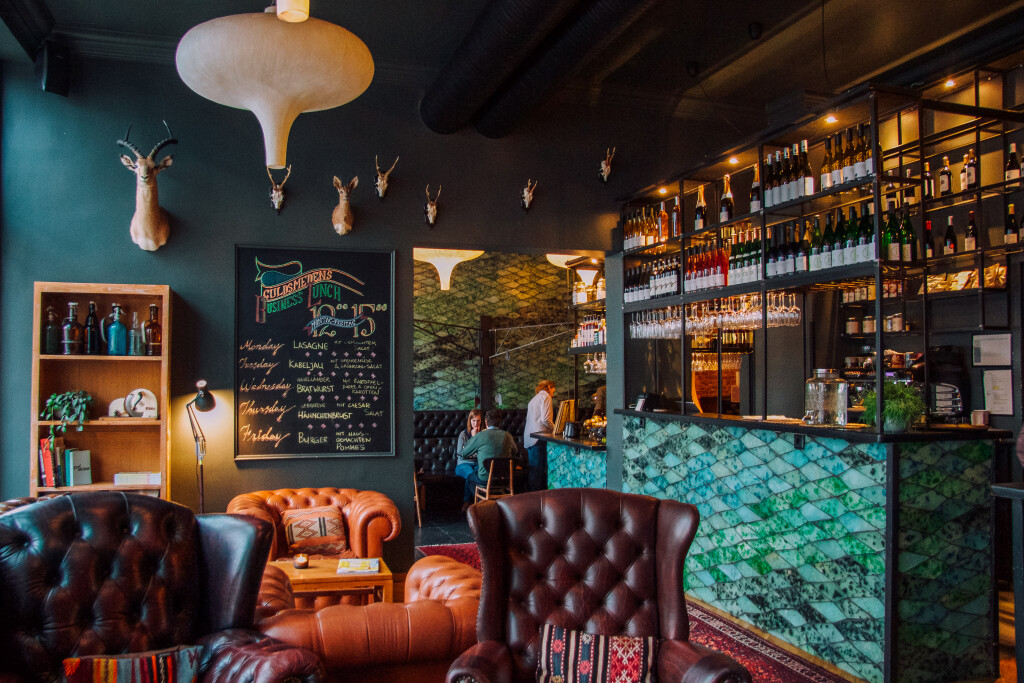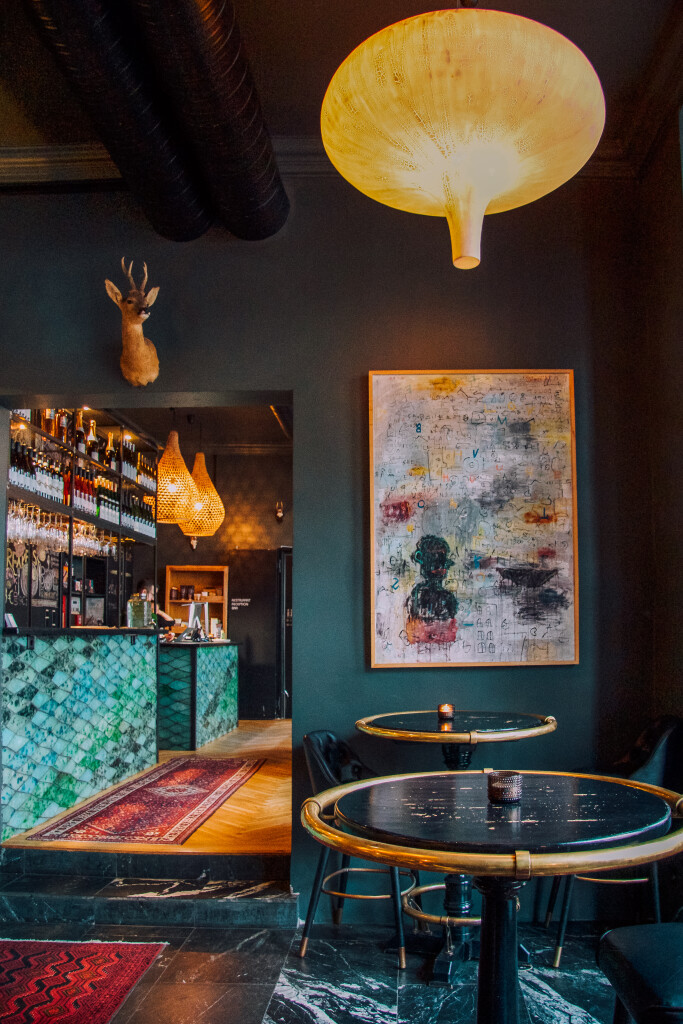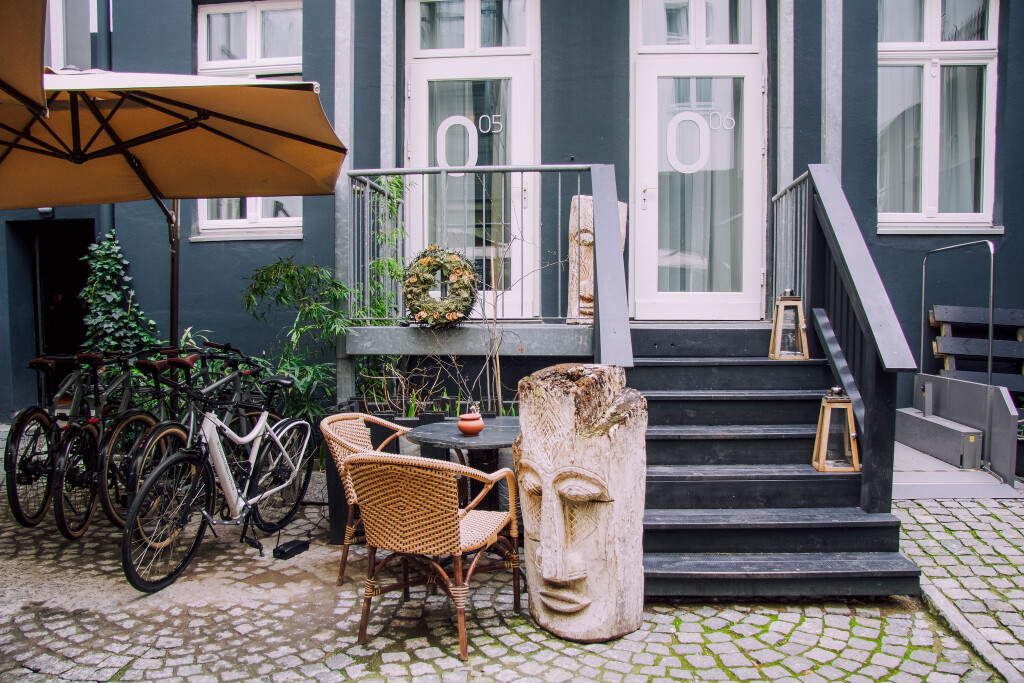 The rooms
The hotel offers its guests 81 rooms (both standard rooms and suites for families). We stayed in the Lulu Suite, which was gorgeous! Imagine a two-level loft with a four-poster bed for parents, as well as a double bed and a great mezzanine space for kids. There is also a stylish sofa, a comfortable armchair, a table. A swing was fun for all of us!
The room also had a lot of beautiful details: retro radio, Balinese accessories, such as seashells, sophisticated works of art, or handmade lamps. Wooden floors and furniture are also impressive. The bathroom deserves attention, not only design but also organic cosmetics by ILoveEcoEssential. They are available for guests' use and they can buy them in the reception.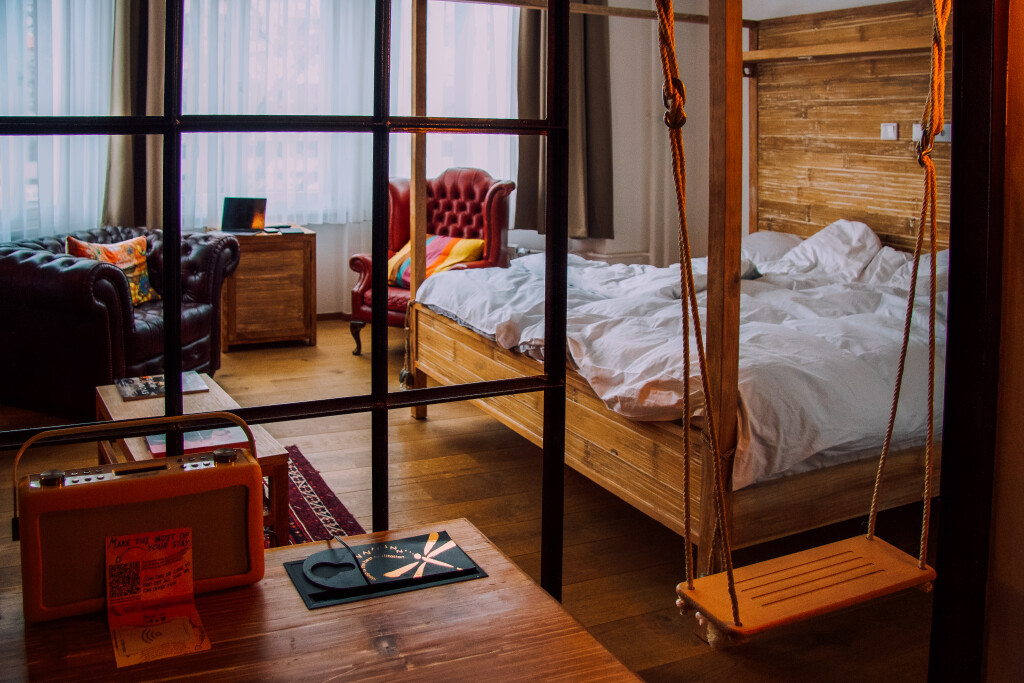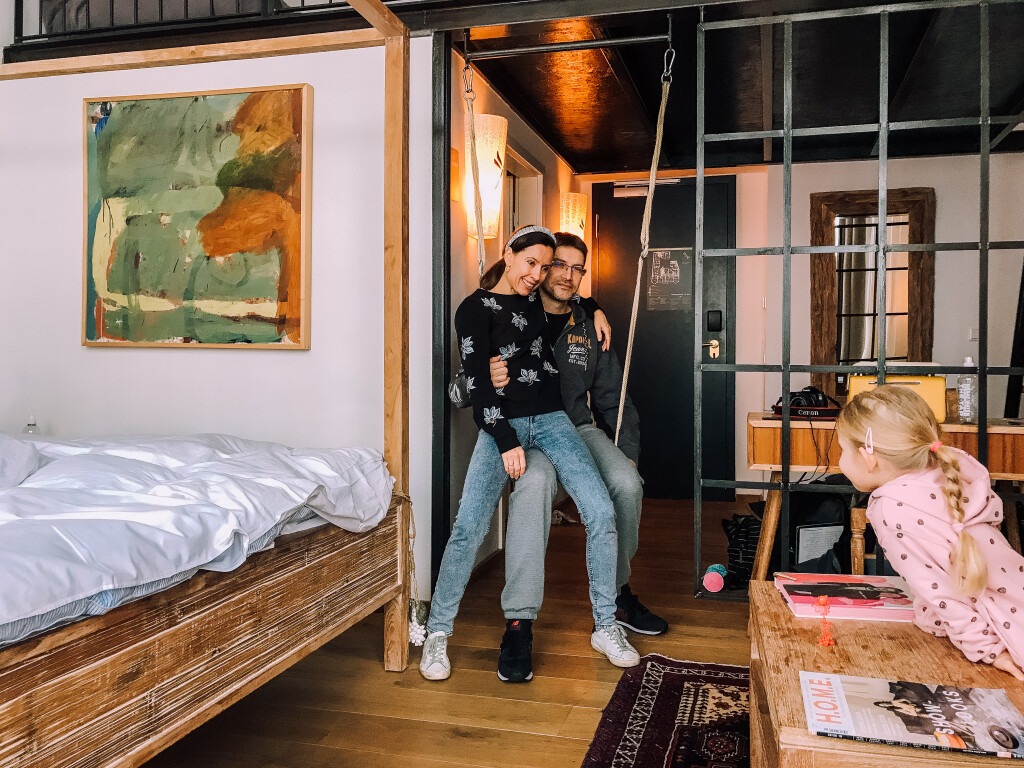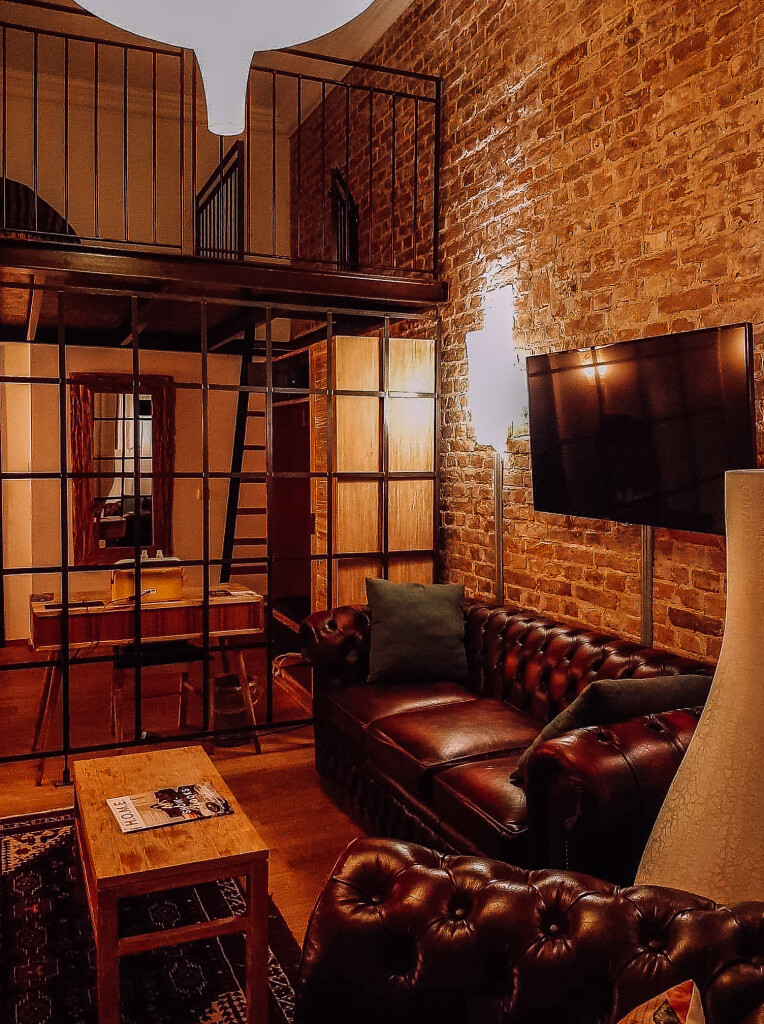 Food
Breakfast for a good start of the day. A couple of things made us really enjoy our meal. First, organic products, and a great selection: from cereals and jams to yogurts, fresh fragrant bread, a selection of cheeses and cold cuts. Second, a great approach 'We love food, but we hate waste' attitude. And finally, a beautiful interior. 
The hotel also houses the Sæson restaurant, which focuses on local and ecological products. The employees make sure that the guests eat, knowing what they are eating. They get all products from local and trusted suppliers.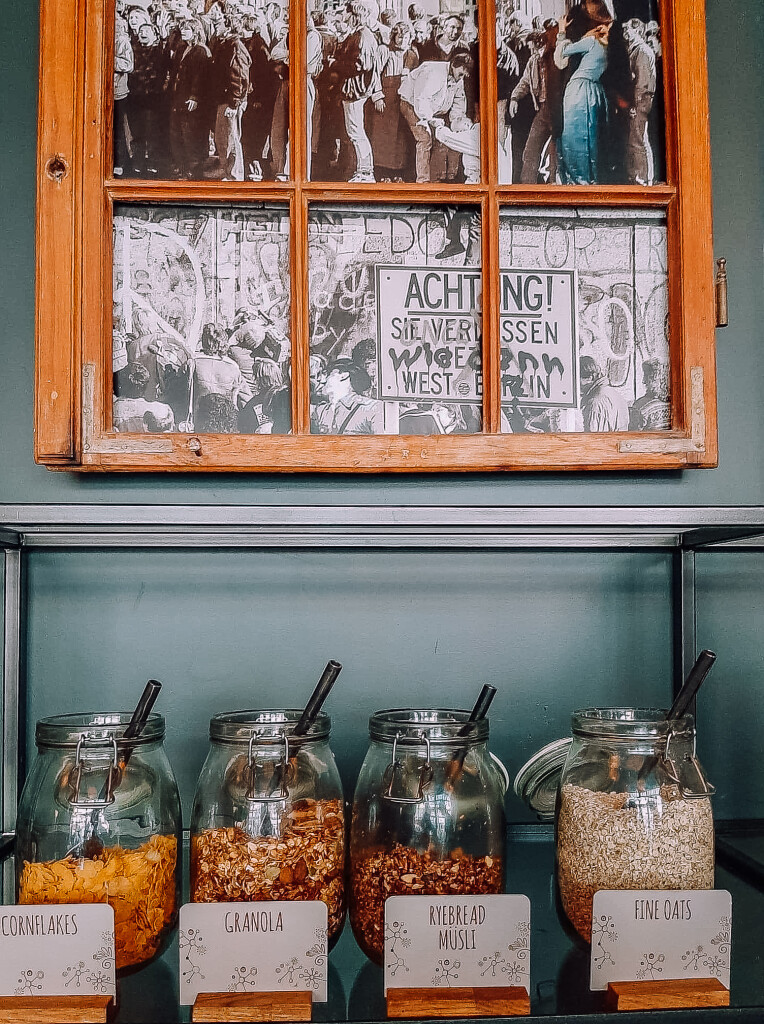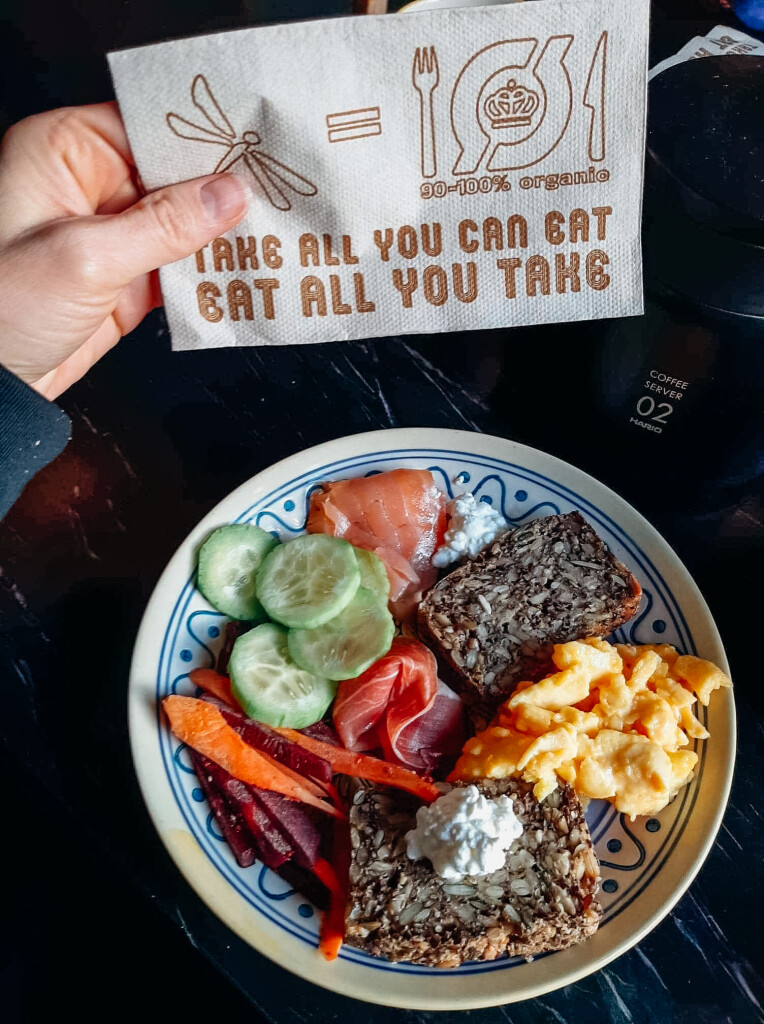 Ecological approach
Here you start your morning by brushing your teeth with a bamboo toothbrush (a reusable razor is also made of bamboo), cream your body with ecological cosmetics. Then you go down to breakfast full of delicious, organic products. You receive a glass straw with a glass of juice. But that's not all – even a napkin reminds you to act consciously 'Take all you can eat, eat all you take'. Would you like to go out on the town? Fill the reusable bottle in the room with tap water.
The design also seems to be ecological here – natural materials like wood or bamboo, ethically crafted objects like my favorite lamps made by craftworkers in Bali, ceiling fans that reduce energy consumption. All with respect for the planet we live on.
Location and surroundings
Its location is certainly one of the first advantages that we can attribute to this place. It is situated between the two districts that I like a lot – Mitte and Tiergarten – on the fashionable Potsdamer Strasse. It will save us time when sightseeing, or simply help us to explore the city and discover the most interesting places in the German capital. Lulu Guldsmeden is located close to Potsdamer Platz – which was once one of the busiest squares in Europe. The first traffic light in Europe were installed right here in the 19th century. Now this place is the largest and the most visited square in Berlin.
We liked:
possibility of renting bicycles
design and details, from a bamboo shaver, through great tableware (even coffee mugs), to a swing in a room
ecological solutions in the hotel
menu based on organic products (including breakfast)
location – fashionable pubs with super tasty food nearby
– menu based on organic products (including breakfast)
– location – fashionable pubs with super tasty food nearby