No Comments
Cabochon Hotel/Bangkok/Thailand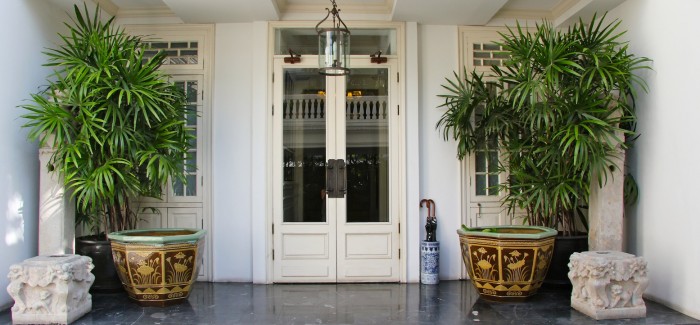 The chic of old Shanghai. Grace, class. From the wide and noisy Sukhumvit Road we turn to a narrow alley. We reach it's end, where we see Cobochon Hotel, surrounded by trees.
It enchants us with it's colonial style. The hotel is situated in Walpole building, which takes us for a journey to elegant Shanghai- style that used to be perceptibly present in Bangkok.
The hotel is the second project of a popular Taiwanese interior decorator. When he arrived in Thailand many years ago he fell in love in the climate and street food. Cabochon Hotel is literally his home. There are two massive suites here- one belongs to him and one to his partner. We can sense the hospitality in this hotel. We feel like visiting an old friend that migrated to Asia years ago- in the cupboards and chest of drawers we can admire antique glasses, old porcelain or knives collection. The oriental style is mixed with European chic. The style consequence is easily noticeable: from antique furniture (sometimes reproductions), metal retro light switch, to old chests and trunks. In the library (my favourite place) there is a great collection of books and albums waiting- all of them belong to the owner.
In this place we can find calmness and respite from noisy and crowded Bangkok. Close to turmoil, but in quiet, it gives us privacy- spacious apartments allow us to feel like at home. The perfectly planned space gives us the chance of not meeting other guests (even during breakfast), obviously if we need it.  On the roof of the hotel there is a swimming pool- the peace enclave situated among tall buildings of the capital.
Luxurious apartments and the hotel itself occupy last two levels of the building and express an admiration for the legendary orient style. All apartments and studio type rooms equipped with vintage style beds, bedside tables and desks, chairs, armchairs and lamps- many of them are unique objects.  Guests can relish Belgian bedclothes and specially matched furniture that create a wonderful, home climate.
In the evening we are going to try some dishes from the hotel's restaurant- this is an adventure that is supposed to capture the owner's personal sensations. In the menu we will find local, street dishes that are not easily found in luxurious and exquisite Bangkok restaurants. Small portions (good prices) allow us to try a few dishes.
What we liked:
–          Discretion- towel in a cabinet by the swimming pool's entrance, mineral water in baskets
–          Lift- beside linen walls and wooden floor, there is an orchid on a chair
–          Close, but far away from the street rumble- hotel's localization
–          Old, colonial charm: Louis Vuitton chests, turtle's crusts, shells and linen
–          Local and international phone calls (for free)
–          Breakfasts: every guest can sit in a different room, taking the advantage of big wooden tables, sofas and armchairs
–          Books and albums collections
–          Ceiling, form which there is a bird cage hanging, post-war airplanes
–          Beautiful balustrades and balconies that overlook tropical plants
PARTNER STYLISH TRAVELLERS English Version Lang LTC Language School
Save