No Comments
Palais Le Brun,Valetta/Malta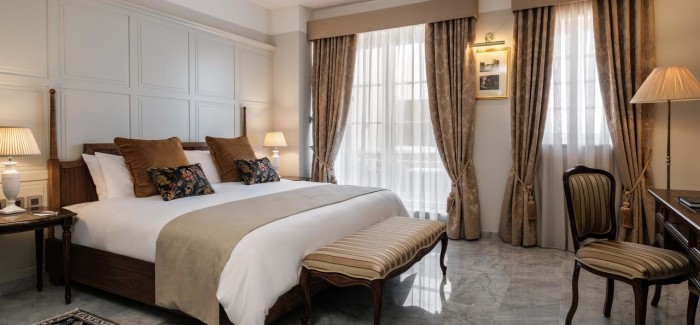 If you want to be treated like royalty by Valetta, stay in the Palais le Brun – baroque palace from the XVI century in the historic center of the capital of Malta.
Text and photos: Paulina Grabara-Król and Maciej Król, Translation: Maja Zalewska
FB: intopassion, IG: into_passion, wesprzyj nas na patronite.pl/intopassion
If you want to book the hotel – click here.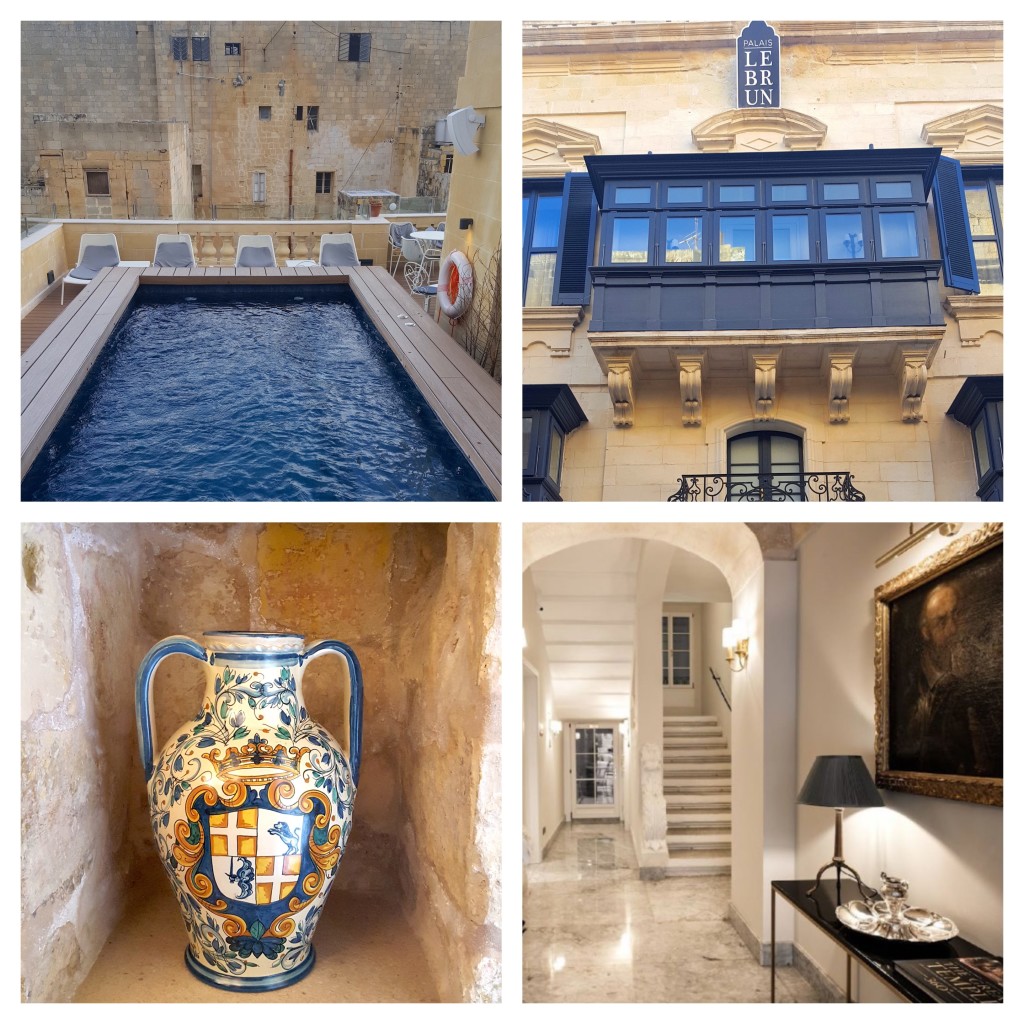 The hotel: architecture and design
Going up and down the Bakery Street we are passing many restaurants and I am already wondering which one we will choose for a dinner. When we reach the number 101 we realise we stand in the front of the beautiful, renewed facade – inside, close to the vibrant heart of the city, there is an oasis of peace. 
On the 2000 m2 of a renewed baroque palace there are refined rooms, the gym, stylish restaurant and a bar, and a terrace on the roof with a pool with an amazing view of the old town and the sea. 
Baroque palace is filled with characteristic bows and decorations of the époque, marble floors and stairs, made up with paintings recalling a Flemish art. Typical local element are Maltese balconies.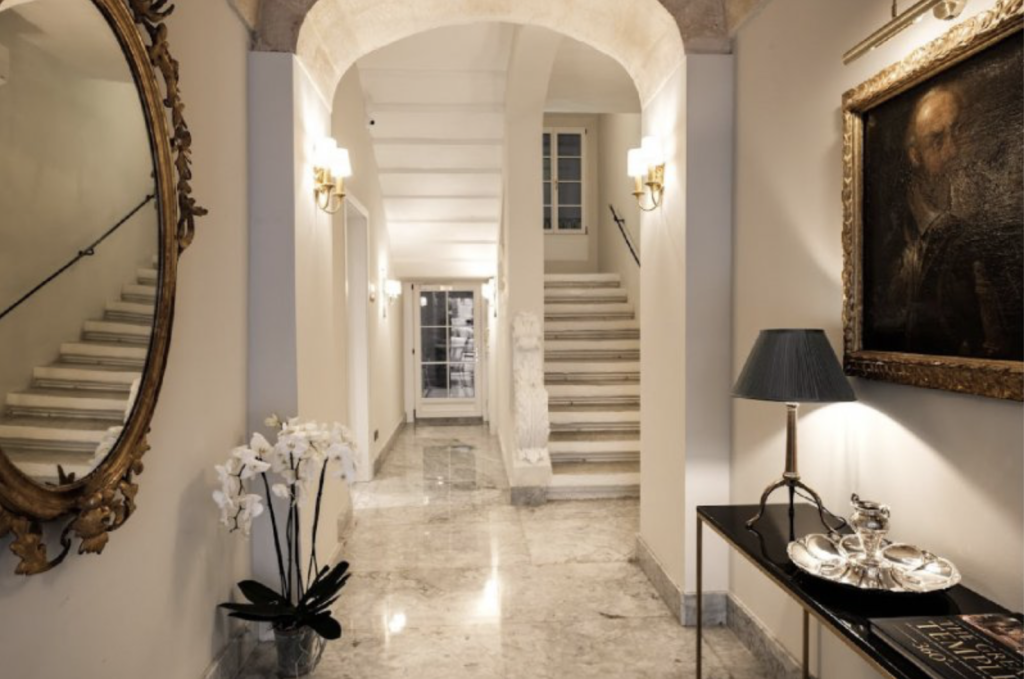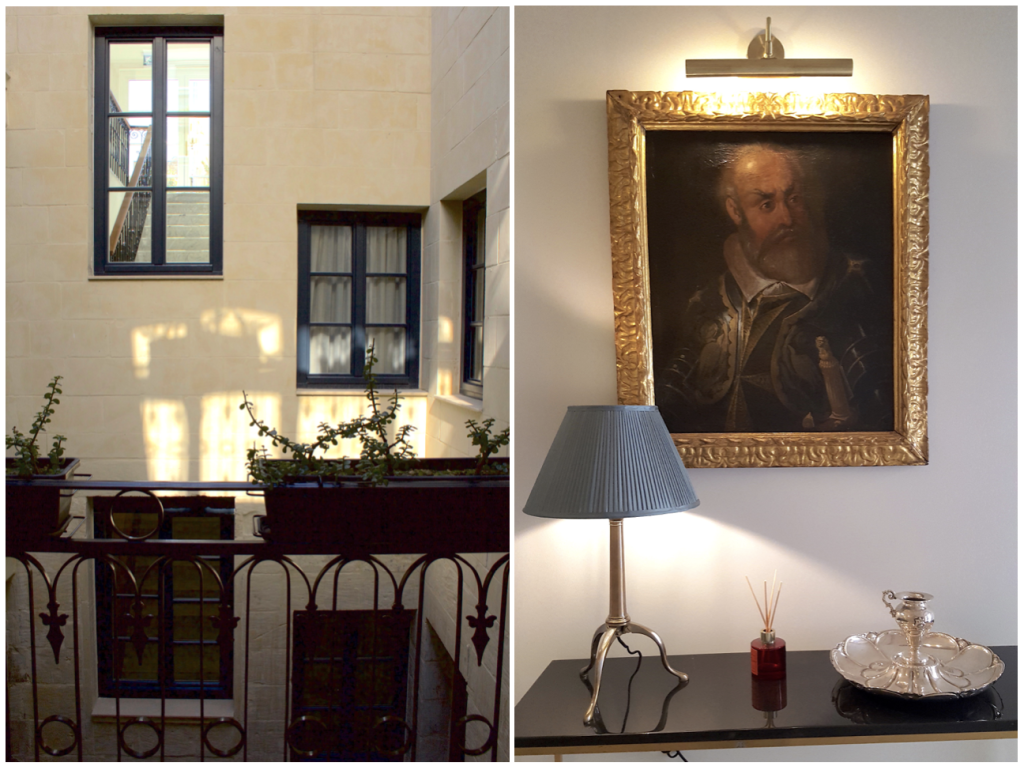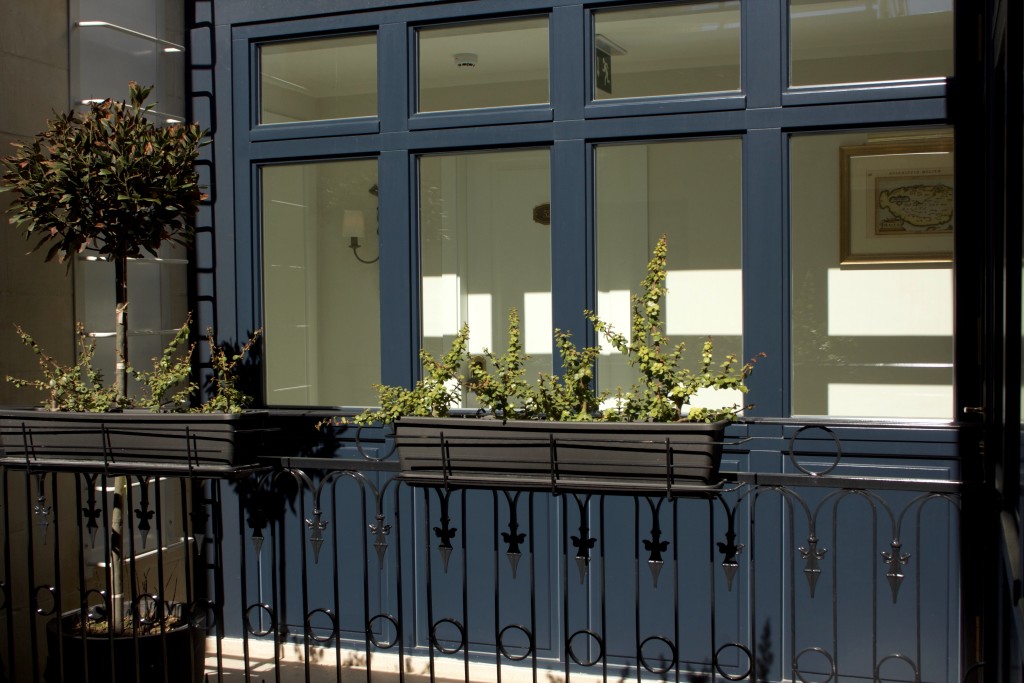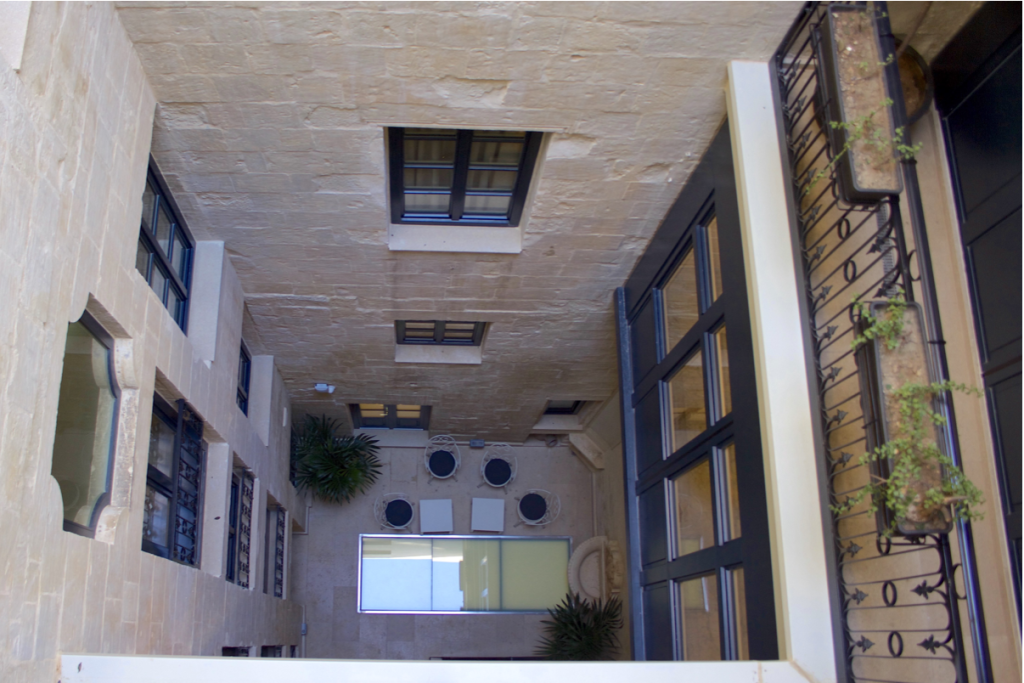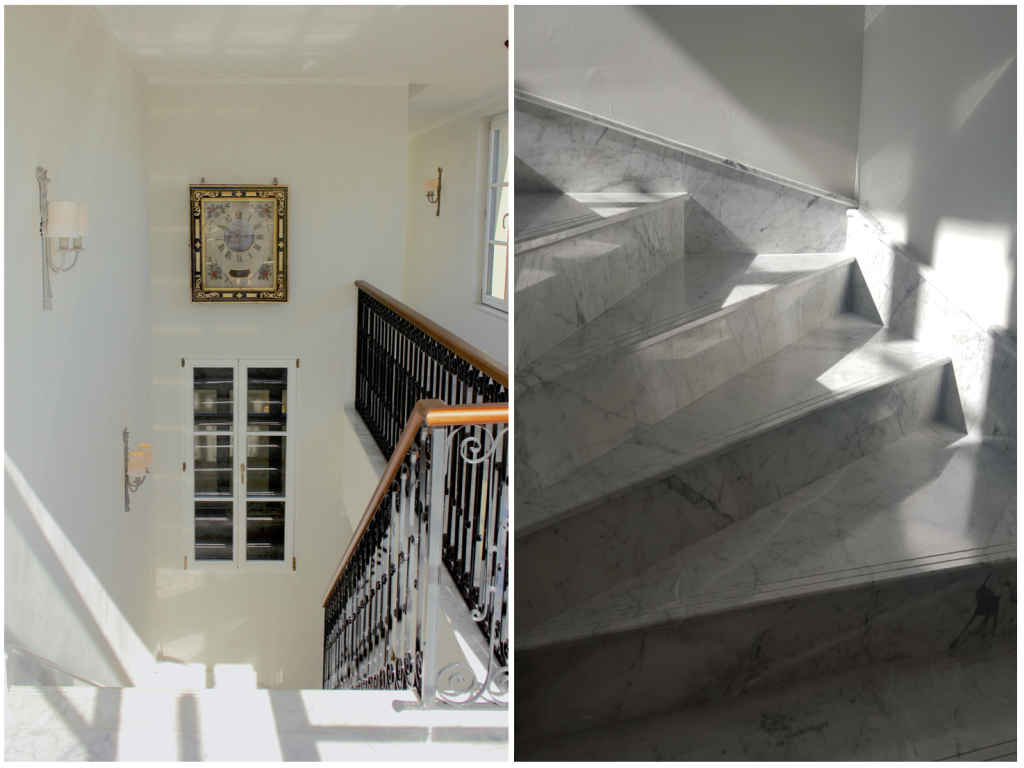 Rooms
Guests can stay in one of the 28 luxury rooms with a Maltese balcony, terrace or in the suite with a hot tub. After they wake up they can admire buildings of the old town illuminated by a sun as well as a sapphire sea. It is intimate and luxurious in a truly palatial style – marble bathrooms, Persian rugs, colorful cushions on the bed and a stylish wooden furnitures will take us to the past, while keeping all modern conveniences – from the air conditioning to the plasma TV.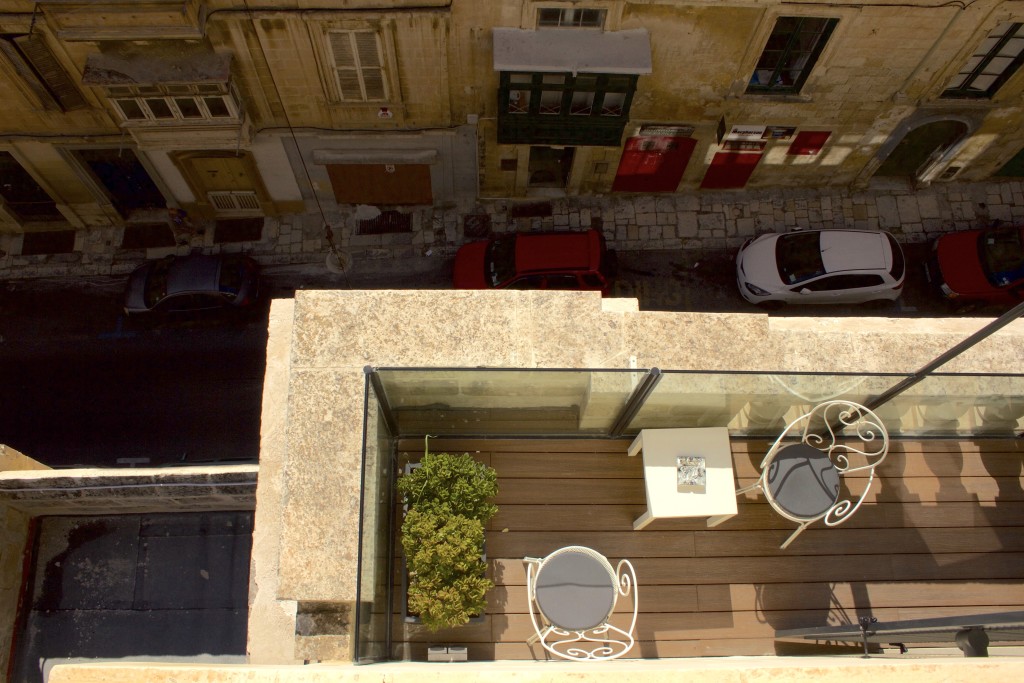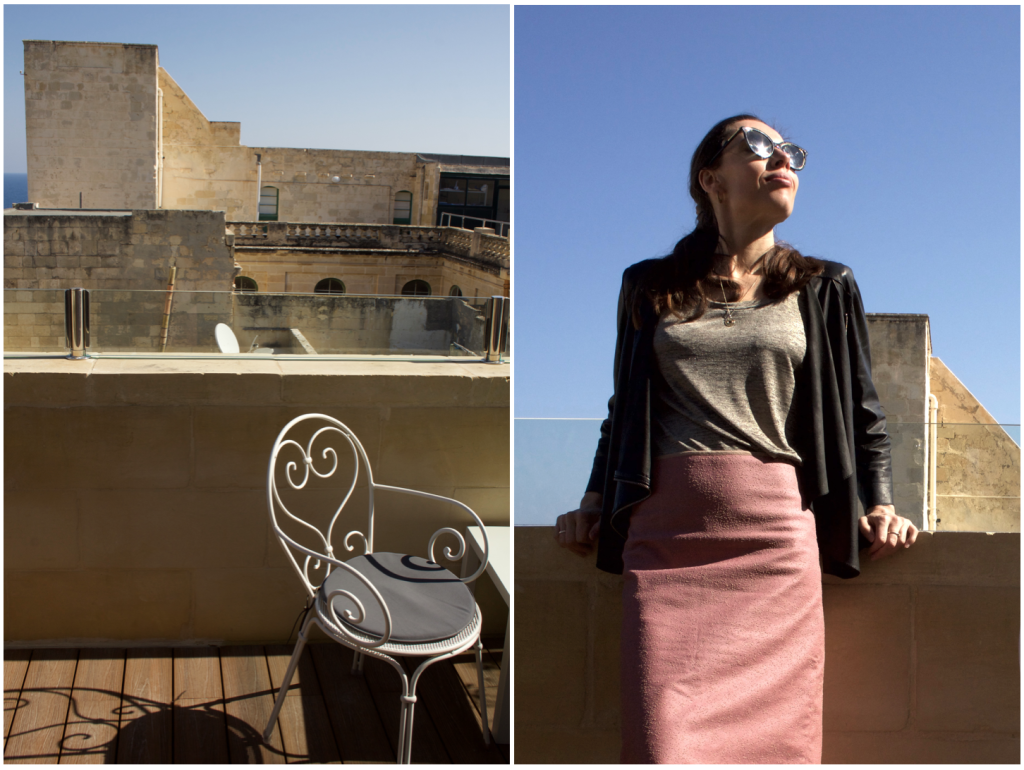 In the bottom on the right you can see me wearing new ss Acephala collection, luna mood Jewellery neckless, Victoria Beckham sunglasses, ba&sh leather jacket and t-shirt I couldn't find a brand of. 
Food
In the stylishly decorated walls of the former la bodega, and today in the Patakka restaurant, guests can enjoy breakfast. They can choose from the cold cuts, cheeses, yoghurt, fresh sweet fruits and muesli and in the menu a la carte one mainly can order egg- based dishes (including my favourite Eggs Benedict with salmon and hollandaise sauce). In combination with a good coffee we can be sure that an energy shot will give us power for sightseeing the city as well as the whole island. Patakka Restaurant is a novelty on the culinary map of Valetta – the concept was made by a frequently rewarded team from the restaurant L'Artiglio Ristorante.
Silver coins once have been embossed here, and today we can try interesting culinary combinations of the Maltese 'Grandma's recipes' with a modern Mediterranean cuisine. I won't write about the taste of a specific dishes because we enjoyed only breakfast in the restaurant.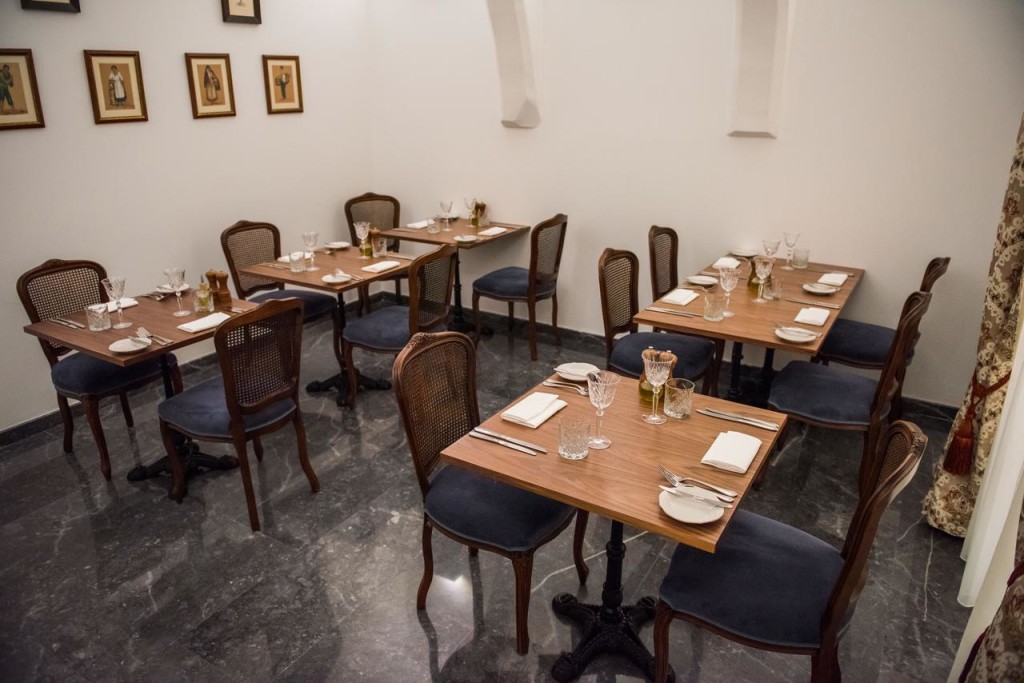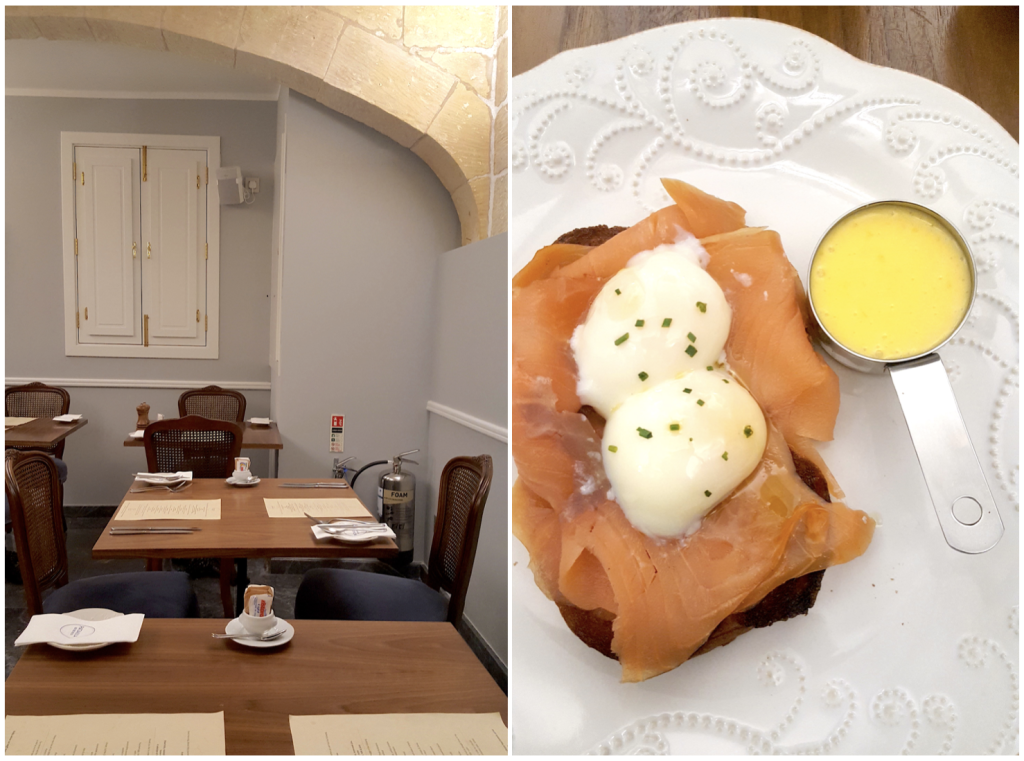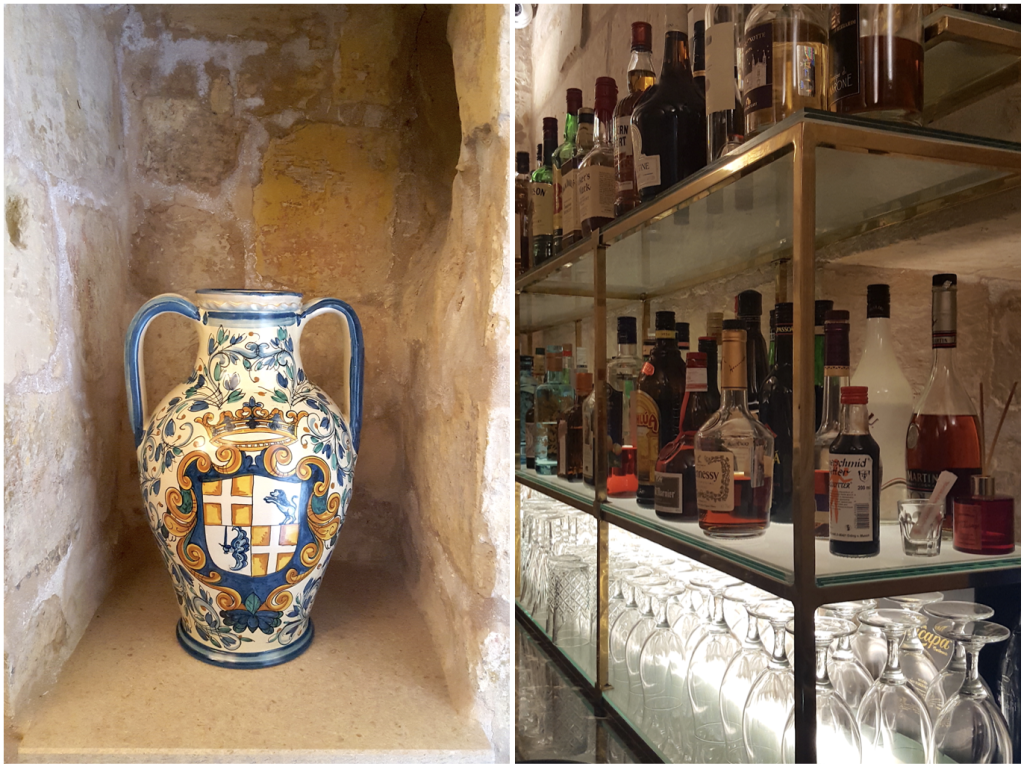 Relaks
Moim ulubionym miejscem w Palais Le Brun był taras na dachu hotelu. Tam można oddać się błogiemu relaksowi podziwiając zachwycające fasady budynków, dachy, fort i wreszcie morze, oblewające Vallettę. Na dachu działa też bar, dzięki czemu to idealne miejsce, by przy koktajlu podziwiać zachód słońca. W gorące dni tymi samymi widokami możemy zachwycać się chłodząc się w basenie. Jeśli szukacie większej prywatności, to relaksowi możecie oddać się w jacuzzi na tarasie własnego pokoju.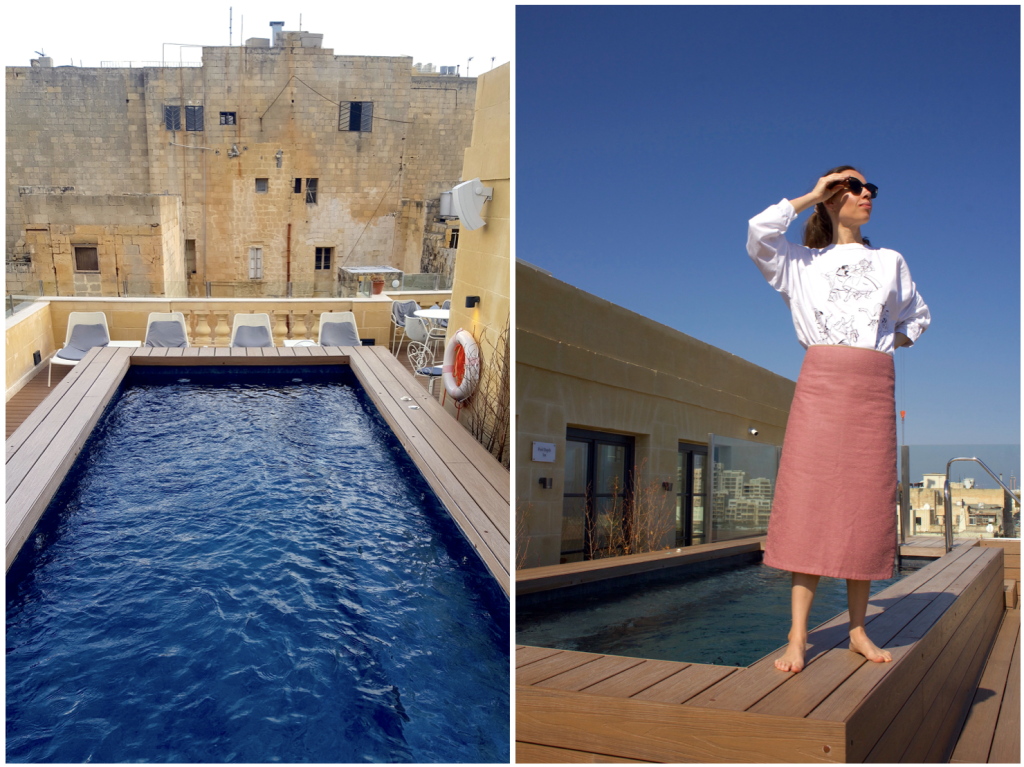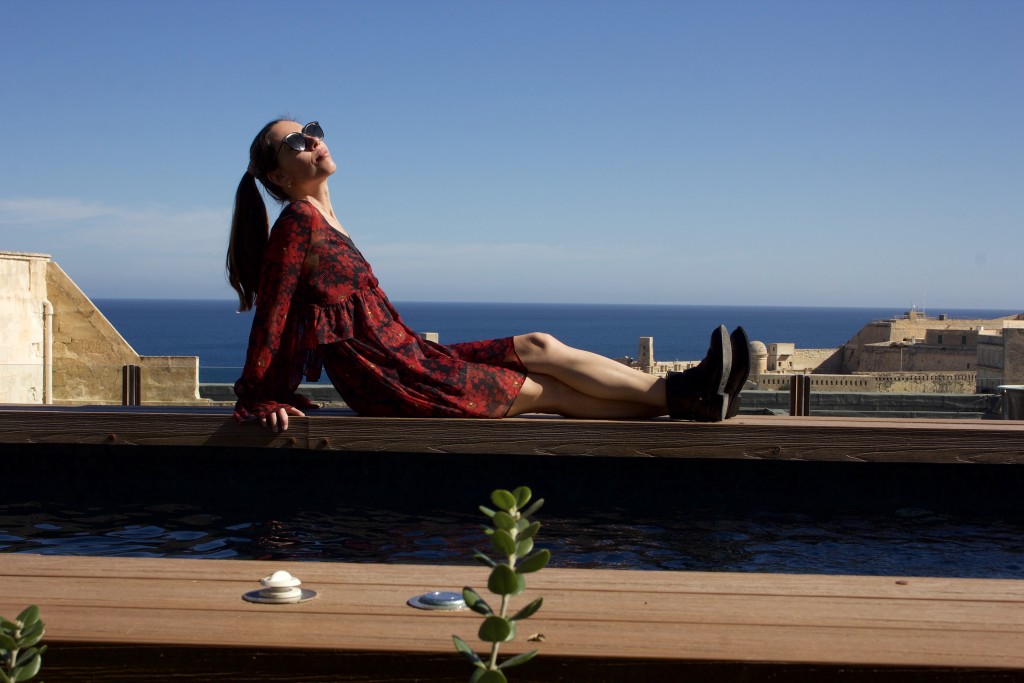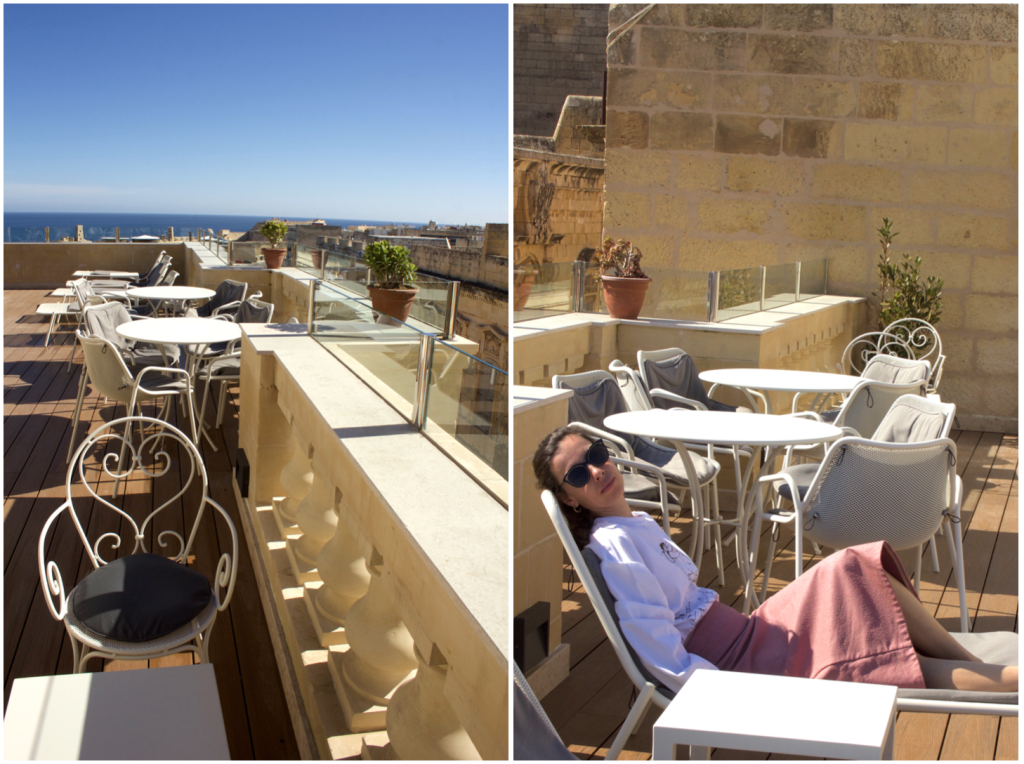 Zdjęcie u góry i na dole: total look Acephala, zdjęcie w środku: sukienka Zara, but Golden Goose Deluxe Brand, okulary na wszystkich zdjęciach Victoria Beckham
Co nam się podobało:
Wspaniale odnowione wnętrze barokowego pałacu, z licznymi dekoracjami, obrazami i wspaniałymi marmurami
Taras z widokiem na morze i z jacuzzi (!)
Śniadanie z opcją korzystania z bufetu, a także możliwością zamówienia dań a'la carte
Taras na dachu hotelu z barem i basenem- idealne miejsce na chill w samym centrum maltańskiej stolicy
Pomocna obsługa na recepcji – Pani nam poleciła doskonałą restaurację na owoce morza
Fantastyczna lokalizacja hotelu, skąd wszędzie blisko