2 Comments
PERFECT DAY GOA/INDIA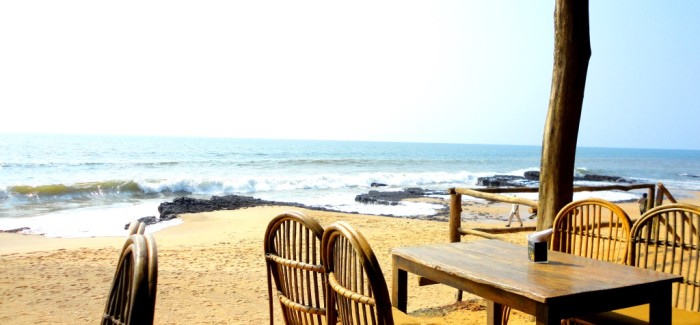 Goa is one destination in India that has something for everyone. It has a long coastline with numerous serene beaches, some calm, some full of activities. It is surrounded by the beautiful hills of Western Ghats at the other side. It has old fort, churches and colonies.

It also has numerous pubs, discotheques and modern cafes. No wonder it is the most sought after destination, a favorite amongst both national and international tourists.
OUR GUEST: Neha from India gives an insight on how to spend a perfect day in Goa, sightseeing and making the most of every available moment.

Together with her husband Abhishek are travel enthusiasts & travel bloggers by passion and software engineer by profession.
Neha is the planner and the writer. Abhishek is the executer and the photographer.
They plan their family trips at the beginning of each year, putting good use to all holidays and extended weekends available.
Post the vacation, they share their experience through their travelogue http://www.revolvingcompass.com .
When they are not able to travel physically, they travel virtually reading blogs of fellow travelers (and that happens daily!).
A lovely day spent sightseeing in Goa, India
Morning
Have breakfast in your hotel / homestay. Most of the accommodations come with complementary breakfast included. And, it would also save time for you. Next, head to Fort Aguada, one of the oldest forts in Goa. This fort and its lighthouse are famous for spectacular views of the Arabian Sea. The fort was constructed in 1612 in the style of Portuguese architecture. Next, head from this fort to a river cruise on Mandovi river. You can as well spot dolphins during this river cruise.
Afternoon
Next, head for lunch at a beach shack. All the beaches of Goa are full of beach shacks that provide spectacular view of the sea while you enjoy a sumptuous but inexpensive lunch. I would prefer the Anjuna beach shacks as I love the scene of waves breaking against the rocks at the not so crowded Anjuna beach while enjoying a lovely meal. Post lunch, proceed to Bom Jesus Basilica. It is one of the oldest churches in Goa. It is also a UNESCO world heritage site. The basilica holds the mortal remains of St. Francis Xavier.
Evening
After visiting Bom Jesus Basilica, proceed to one of the thriving markets of Goa. There are many flea markets that are held in the evening on particular days of the week, at different places. Quiet famous one is the Saturday night market at Arpora, near the happening Baga Beach. If you head to such a flea market, you can spend rest of the evening here, have your dinner as well as enjoy shopping and live performances all under one roof. These markets continue till 2am or 3am. However, if you can't time it on a day when flea markets are held, you can as well head to Panjim, the capital of Goa. There are dedicated markets here for Goan handicrafts, dry fruits, cloths and other accessories. From here, you can get on to a night casino cum cruise where you can enjoy your dinner and live performances.
Tłumaczenie z angielskiego: Małgorzata Czyblis
Save
Save