No Comments
WARWICK IBAH LUXURY VILLAS&SPA, UBUD/BALI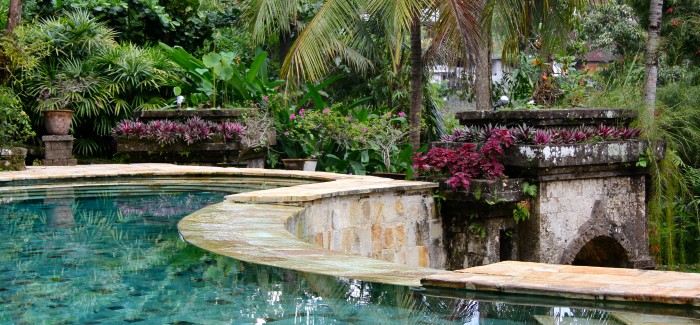 Mystical, secretive aura and the appeal of royal lifestyle amid old walls and tropical vegetation. Dazzling villas overlooking the treetops, numerous stone figures, colourful flowers and a magical maze of fences brings us into the realm of most intimate and spirit-enriching luxury.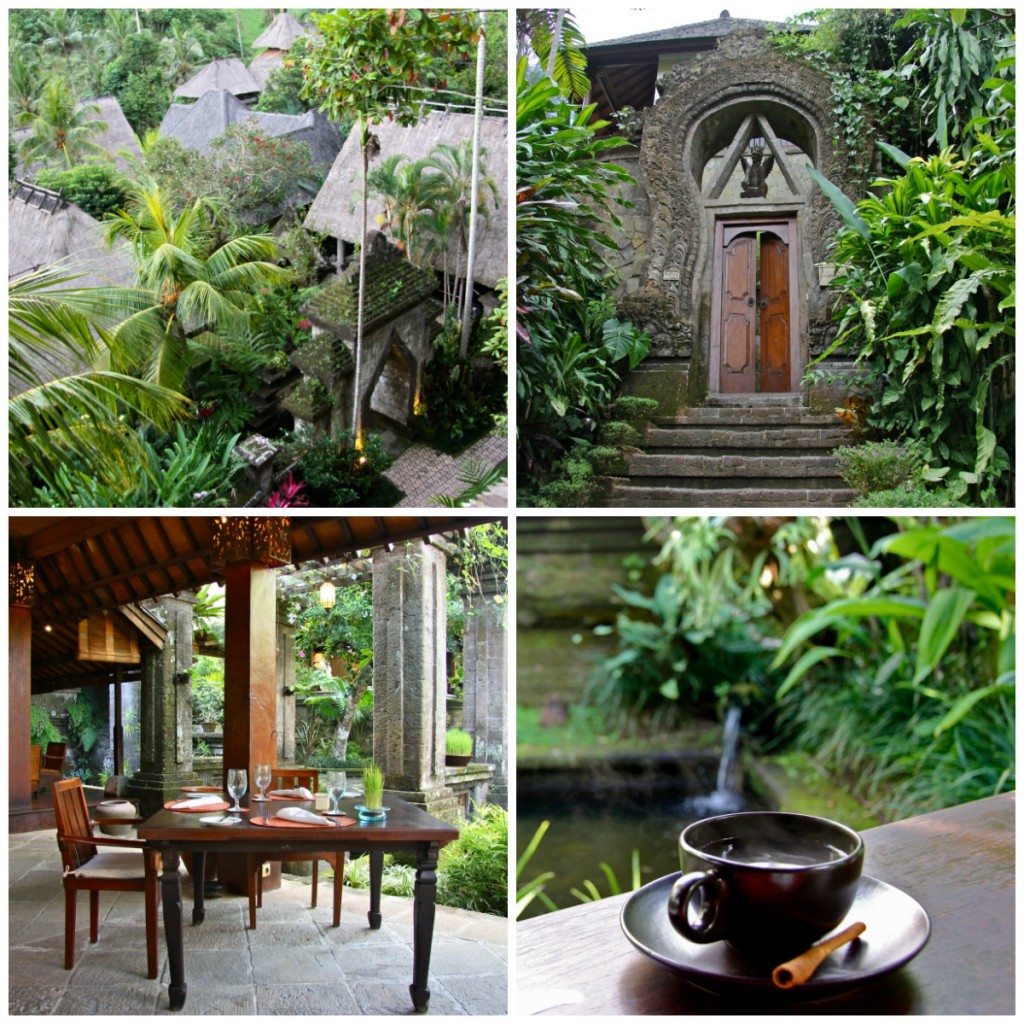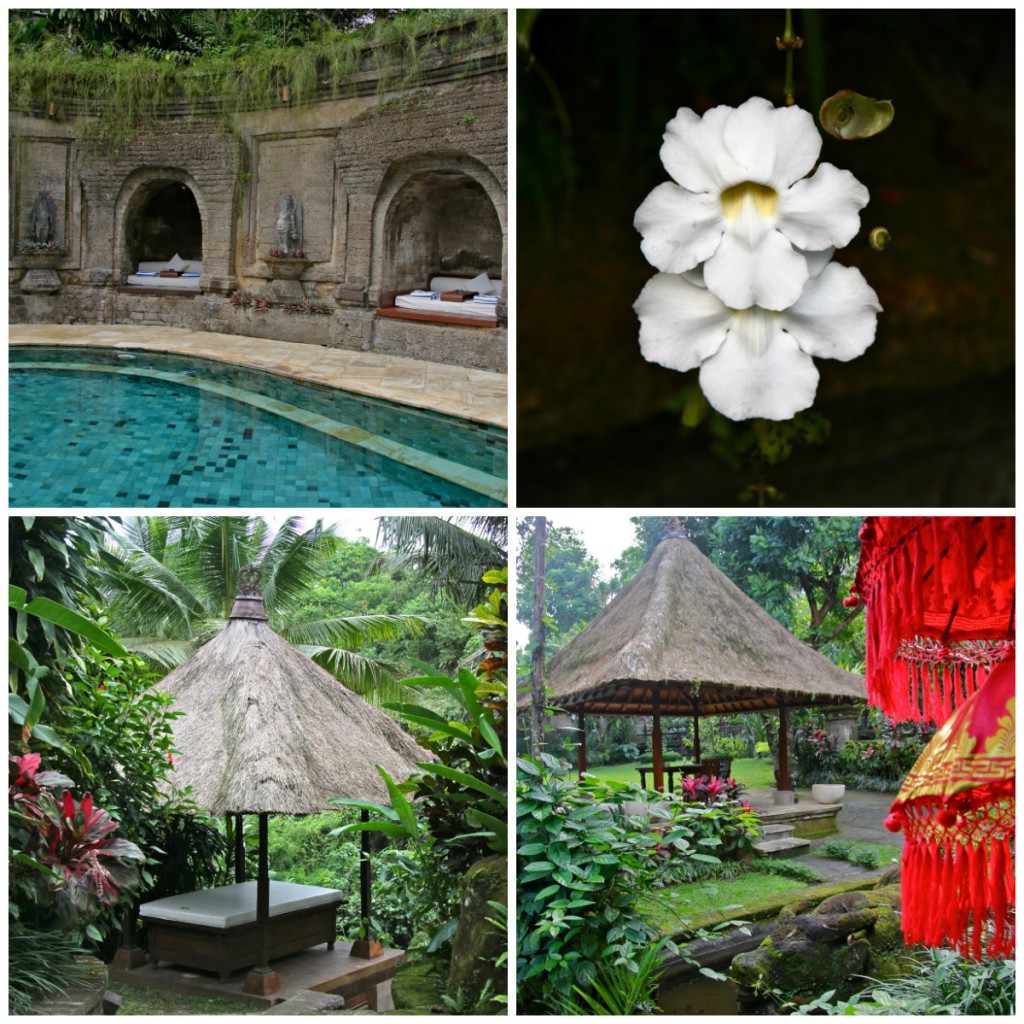 Before the centre of Ubud we enter a private estate. A short trip down the road takes us directly to an open lobby. Considerable, well – furnished space (sofas are placed only on one side) contrasts with a pond full of greenery, while stone figures, flowers and fish add a refreshing touch to all the charm and sophistication.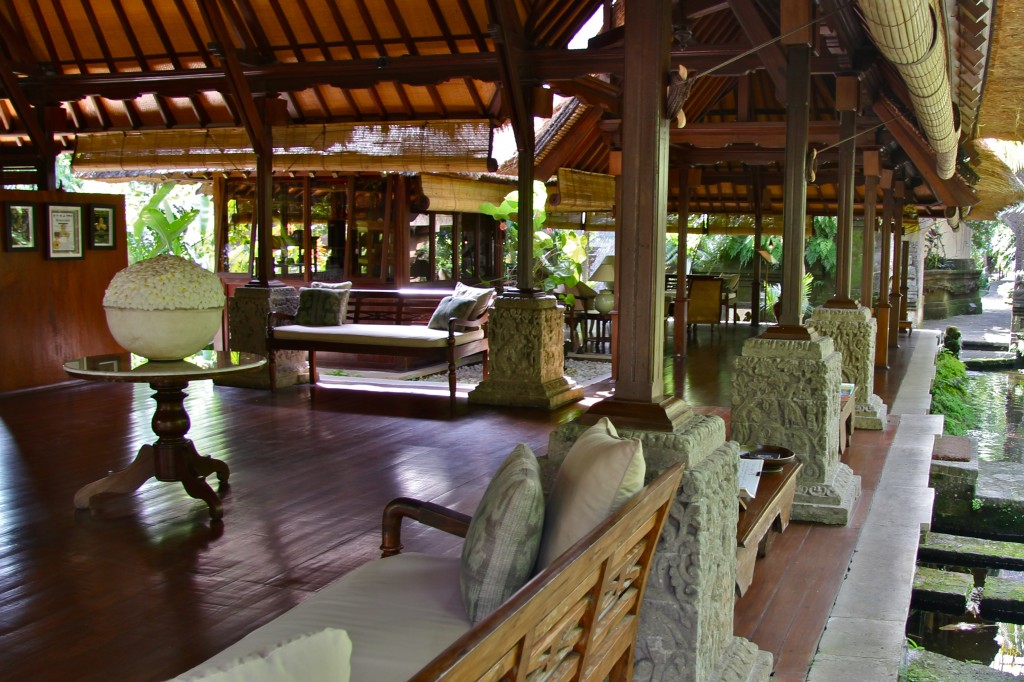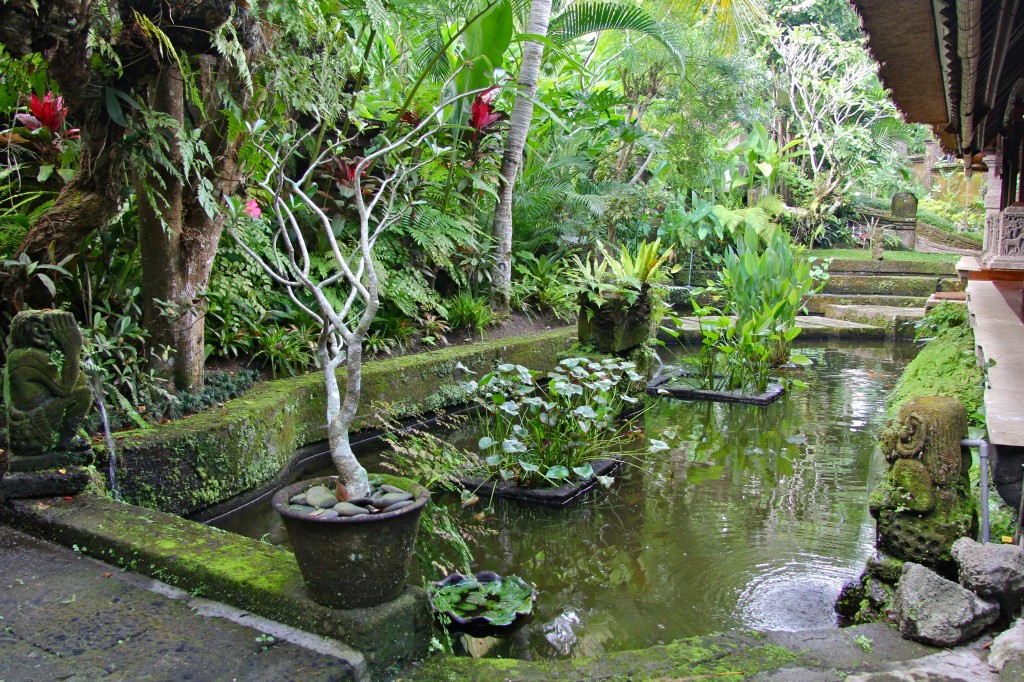 There is a slightly divine dimension to it all, evoked by lotus flowers and plenty of stone statues, corridors and stairs which form a truly magical maze that leads to 17 villas (private swimming pools in some of them!). We learn that the building used to be a residence, later a hotel, of the royal family who now lives nearby in the centre of Ubud. Bombardments of Bali triggered anxiety among tourists, hence the decision to co-operate with the international network company. Warwick has taken charge of the hotel, but it still belongs to the family. I believe this is what contributes to the royal elegance and specific charm you can witness here.
Up the stairs, one more turn, and we are at the door of our villa number 110, which is situated near the reception room. Finally we can make ourselves at home and hang the "do not disturb" note.
Past the door there is another flight of stairs leading to a big terrace. For some reason, all this reminds me of colonial climate and luxury lodges like the ones at the Masai Mara National Park in Kenya.
Wooden sofas, amazing tea table with ornamented drawer, comfortable armchair, dining set and, last but not least, a bed to take a nap or relax on. The room is also blessed with one of the most beautiful views on the outside that I've ever seen. Palm trees, stone gate, colourful flowers.
The ultimate beauty of nature in harmony with touching loveliness of man-made architecture.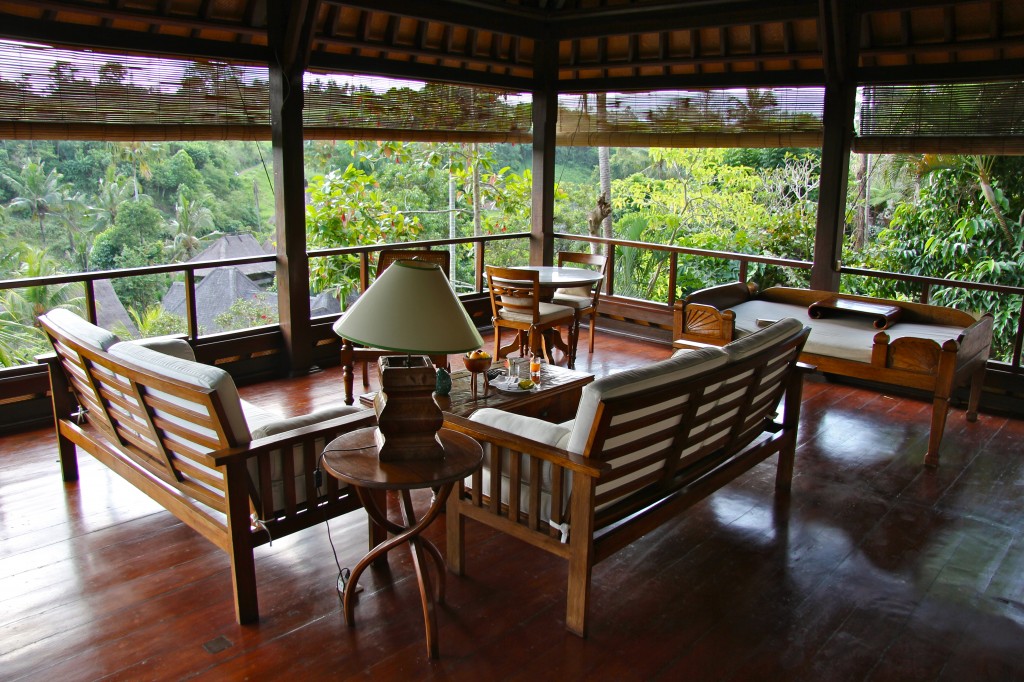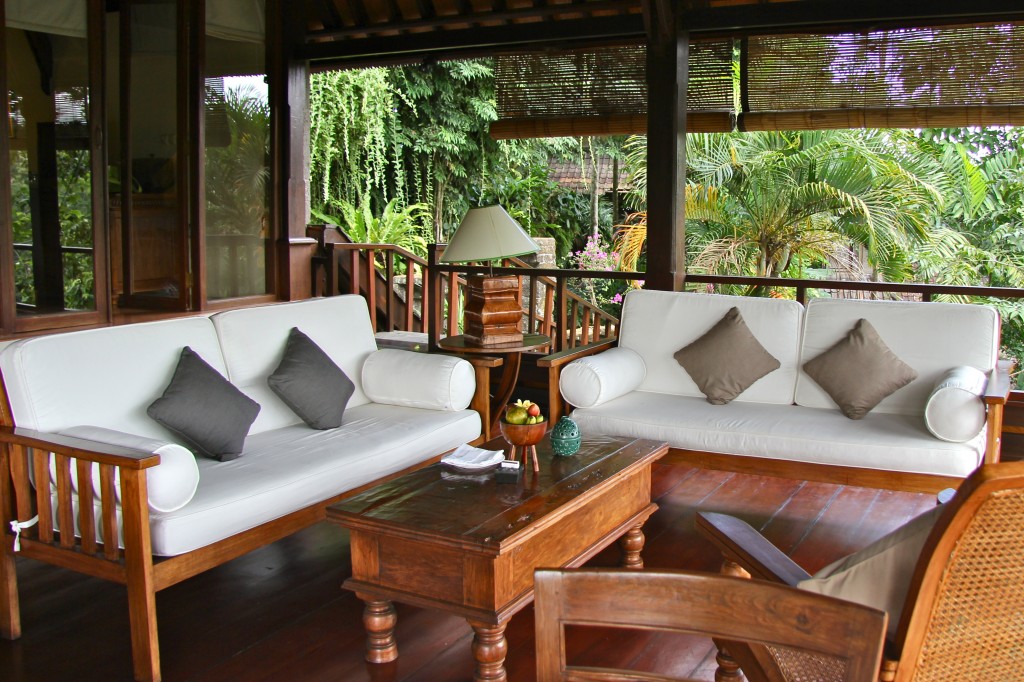 The interior doesn't lag behind at all : two meters wide four-poster bed, which in the evening is taken care of by the staff, wooden desk, and spacious bathroom with bathtub near the window and a separate shower. It is also equipped with independent air conditioning, so we can adjust the temperature according to our preferences. As we can see, the luxury of the hotel consists in attending to the guests' comfort wherever they go.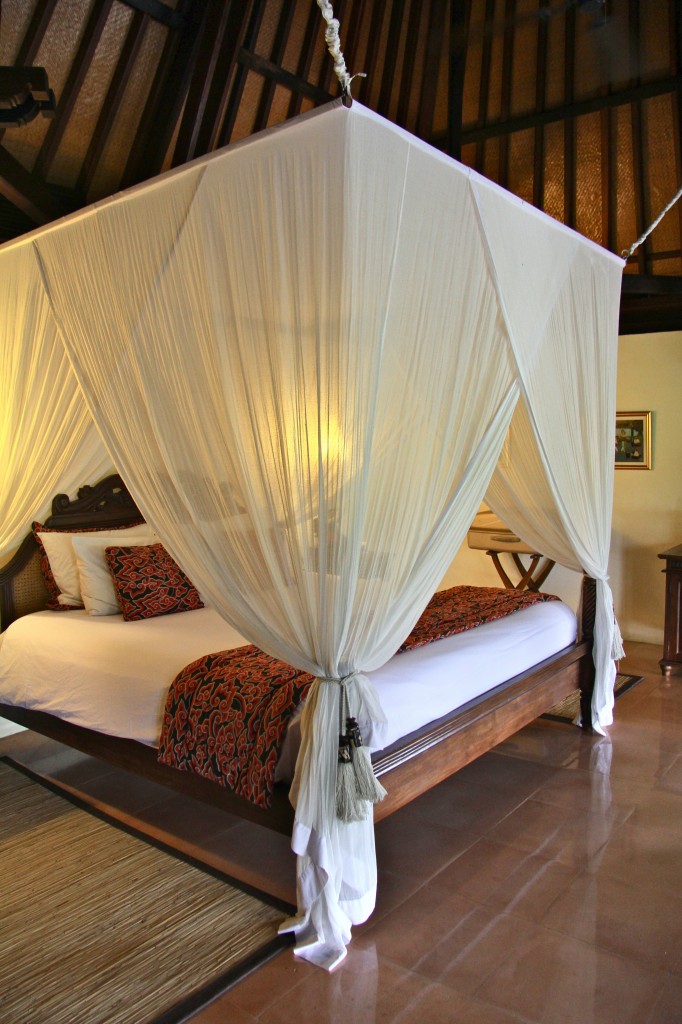 Breakfast awaits us in The Garden Restaurant – yet another charming place where the stools fit accordingly into varying themes: colonial-style airiness, a tropical garden or peacefulness of a single roof-covered table. What all of the above have in common is elegance (not of the overwhelming type), wonderful plants and water ornaments.
The food is served from the menu – you can either choose particular meals or follow our lead and order continental breakfast. We began with fresh juice (pineapple and mango are my preference), local aromatic coffee served with cinnamon stick, and chopped fresh fruit. Soon there arrived many more: muesli with yoghurt and fruit, jams, croissants, sweets, toasts (light and dark), and eggs boiled according to the wish.
However, The Garden Restaurant also serves meals from the menu. Lunchtime and, even more so, dinnertime, provide a great possibility to blissfully immerse into the secret garden of worldwide cuisine – chicken curry samosas with vegetables or fresh tiger prawns marinated in tom yum herbs are available as snacks.
There is an extremely wide and range of international main courses. Meat enthusiasts will probably enjoy The Best Balian Beef Burger with mozzarella, pickles and hot sauce aioli, or filet mignon marinated in herbs with black pepper sauce. Fish and seafood lovers shouldn't complain as well – fresh fish is served with rice and lemongrass, while tiger prawns come together with penne, tomato sauce, basil and parmesan cheese. Typical Indonesian and Balian cuisine involves satay with peanut sauce, Gado Gado (blanched Asian vegetables with fried tofu and egg), or Nasi Goreng Special, that is fried rice with prawns, chicken and vegetables.
There are also salads (i.e. tuna salad, caprese mozzarella) and sandwiches (including classic Club Sandwich with chicken, bacon and egg), which fit perfectly in between bigger meals, when we're relaxing by the pool or on the terrace of our villa.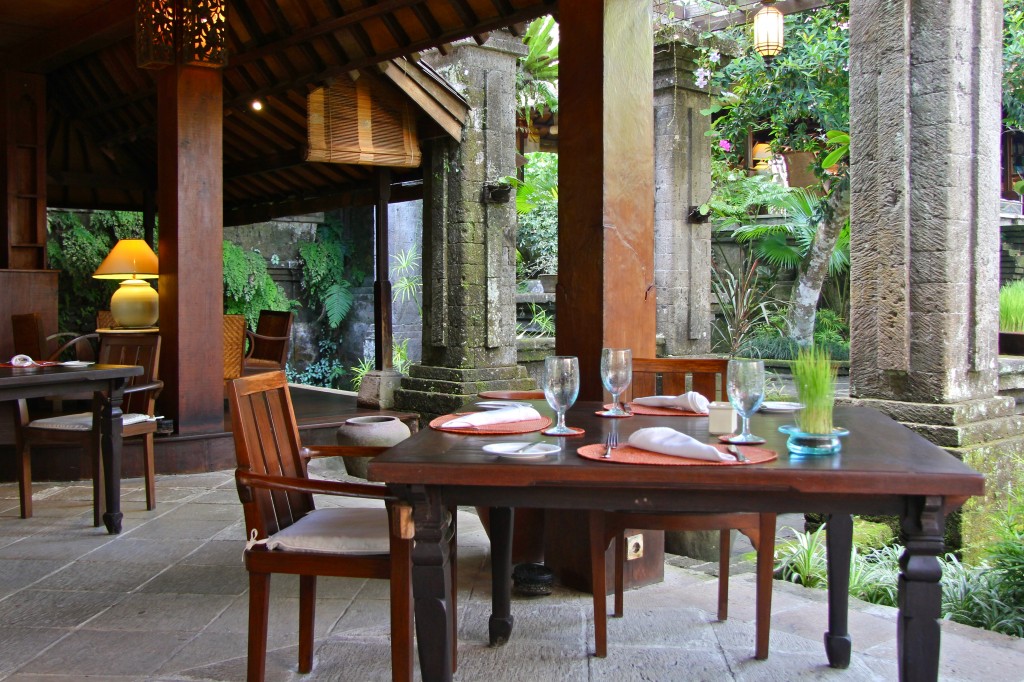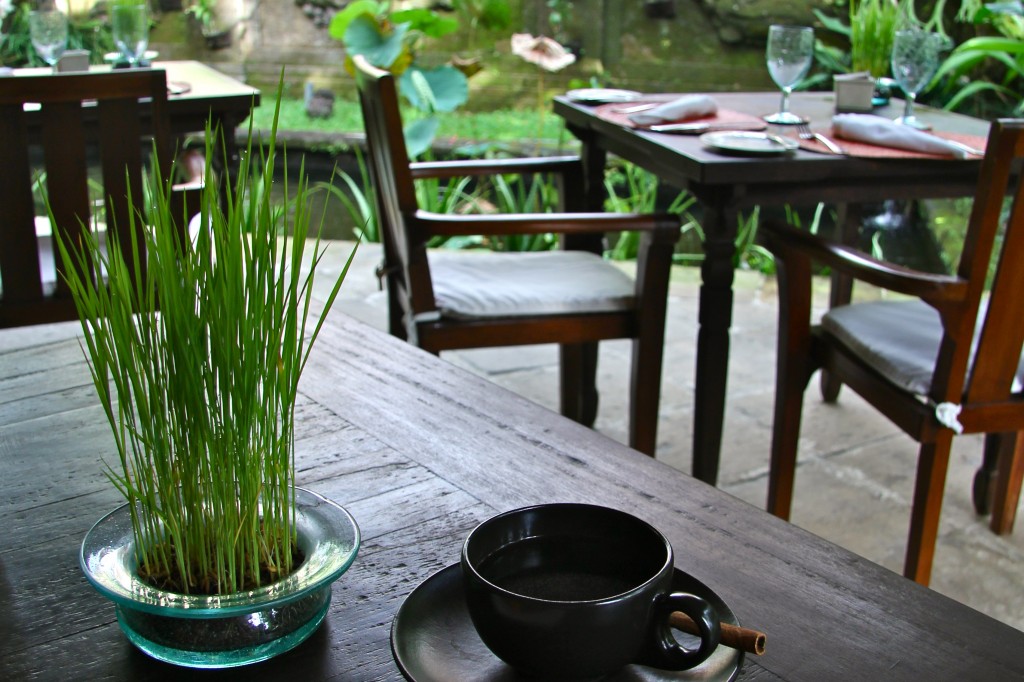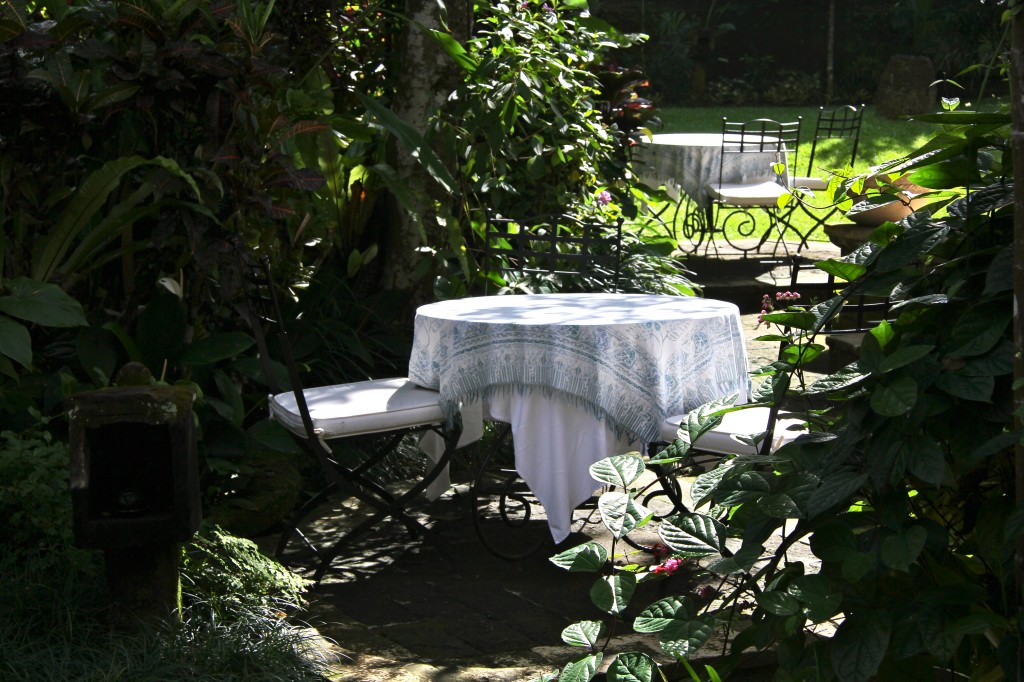 Long stone corridor ends with wooden door, left slightly ajar, beyond which there spreads an immensely stylish world of swimming pools. The smaller one is located in the lower area, while its bigger counterpart requires a trip upstairs. There it is, a peaceful oasis – suspended among treetops, surrounded by palm trees looking down from the hillside, mattress-size hollows drilled in stone. Few visitors come here during the day, which works in favour of intimacy.
No sooner do we lie down on our beds than a cordial staff member bring us cool water. Now, this is what you call heaven on earth.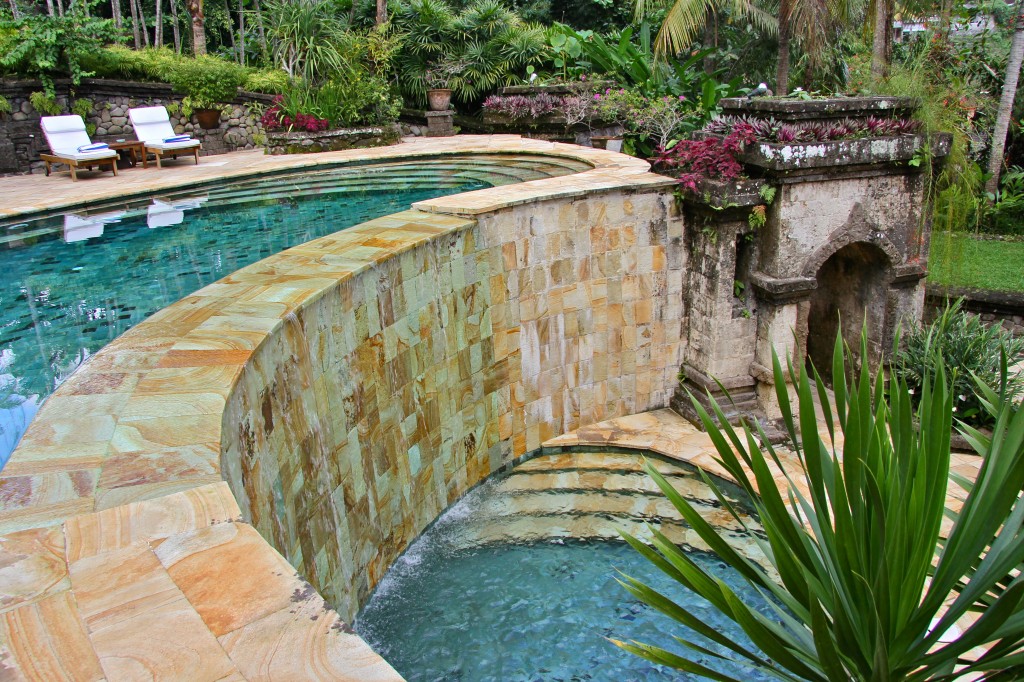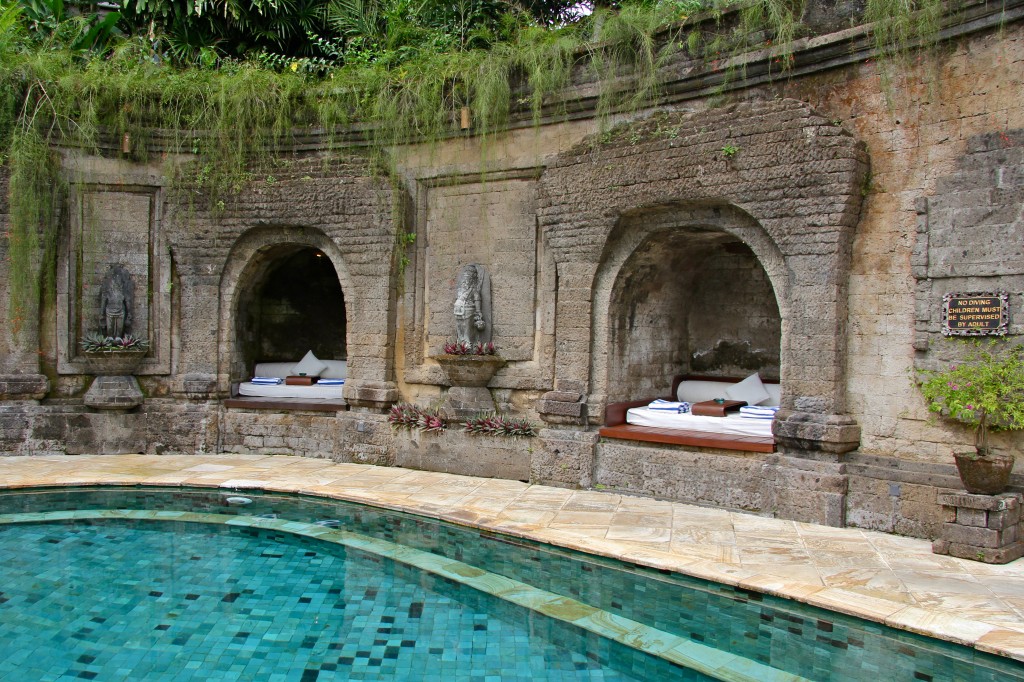 What we liked:
– secretive, magical aura of the place
– spectacular view spreading from our villa
– high level of intimacy; you could really make yourself at home
– free shuttle in Ubud, even though the market was less than 10 minutes on foot from Warwick Ibah
– nature and architecture reconciled
– fresh fruit delivered to our terrace every day
– staff who prepared our bedroom every night
– delightful spa at a discount price where you can lose yourself to all sorts of massages
Text: Paulina Grabara
Photos: Paulina Grabara, Maciej Król
Translation: Karol Piotrowski