No Comments
STYLISHrestaurant: La Régalade Conservatoire/Paris/France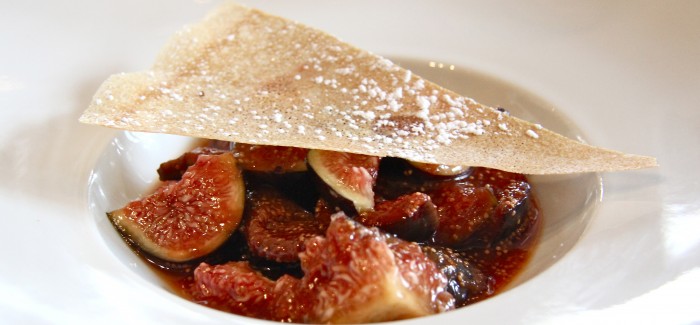 Marinated scallops, cod from Brittany with semolina and three caramelised figs – we'll pay 37 euros for all these, in a restaurant belonging to the new Parisian concept of bistronomy. Modern interior and creative compositions of delicious food will guarantee an unforgettable experience.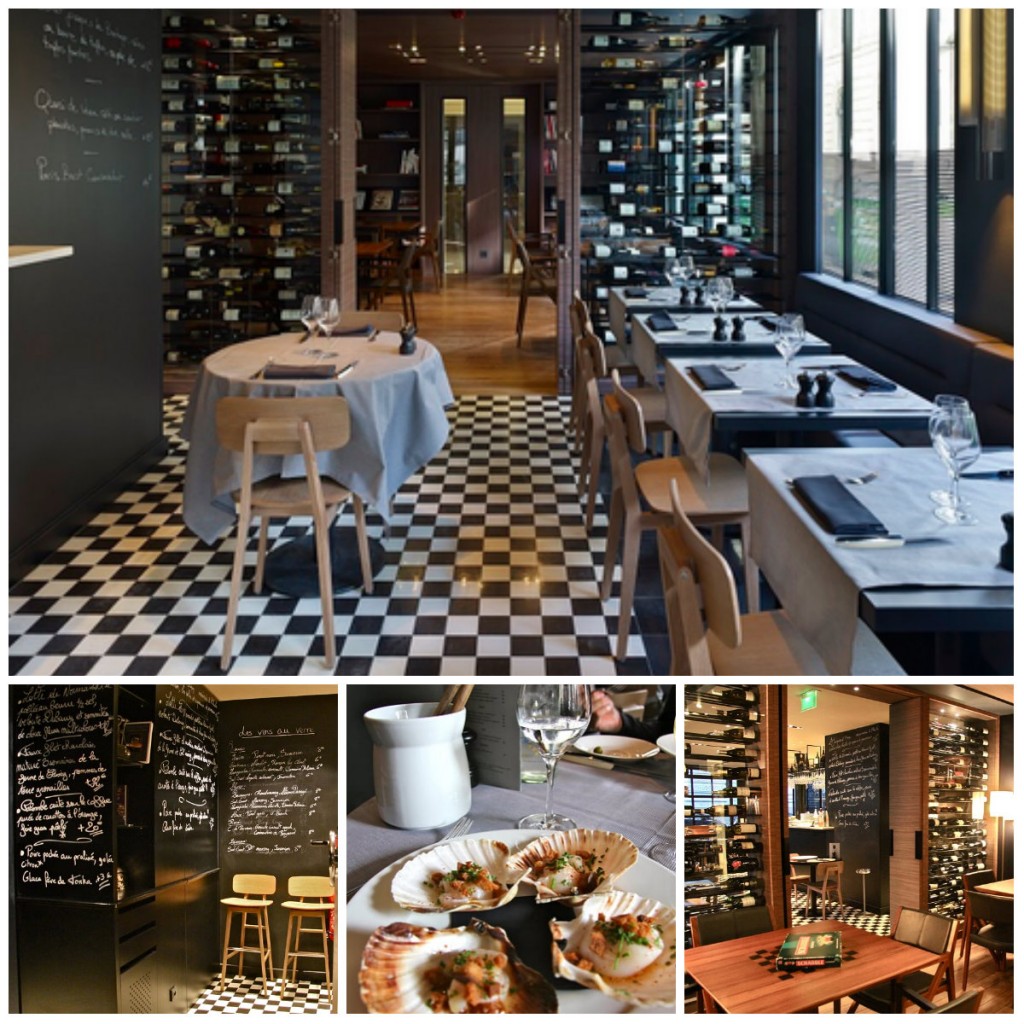 La Régalade Conservatoire – was designed by the renowned architect Jean-Michel Wilmotte, who paid attention to the smallest detail.
The restaurant consist of three zones, the first one being the so-called "bistronomie". The idea is to combine exquisite cuisine (France and Paris in particular are famous for their abundance of high-rated restaurants) and trendy bistro interior. The menu was composed by the chef Bruno Doucet, who learned his art from such masters as Pierre Gagnaire or Jean-Pierre Vigato. He offers a wide range of breakfasts, lunches and dinners.
We happened to be just in time for Saturday lunch. There was a pleasant bustle – some clients revelled in conversation, food and wine, while others, newly arrived and elegant, took their seats by the tables. The waiters, as nimble as circus artists, meandered between the guests and took orders or served dishes.
How does the chef compose the menu? The rule is simple – 37 euros for a set consisting of starter, main course and dessert. No other options available. The dishes can be chosen from either the menu or the blackboard with seasonal offer.
We didn't hesitate much over starters. There were many tempting possibilities such as the traditional French frog's legs fried in butter with cress and mushrooms, creamy risotto with squid ink, prawns and baked ham, or carpaccio de dorada with coriander presto. However, we decided on marinated scallops. The marinade, as well as various herbs and the way of preparation, made them soft and unique in taste. Maciek ordered Greek salad, which turned out to exceed his fanciest expectations and only proved the chef's creative approach to cooking. What the salad had in common with its traditional counterpart was feta cheese, but that's it. I won't reveal anything more except that carrot and mushrooms were essential.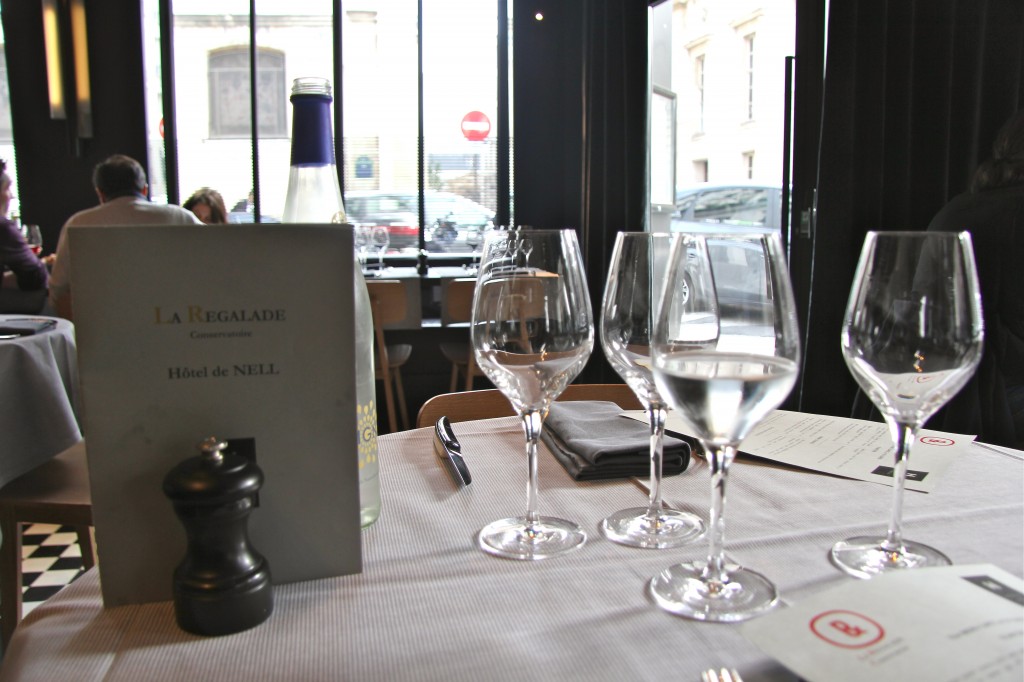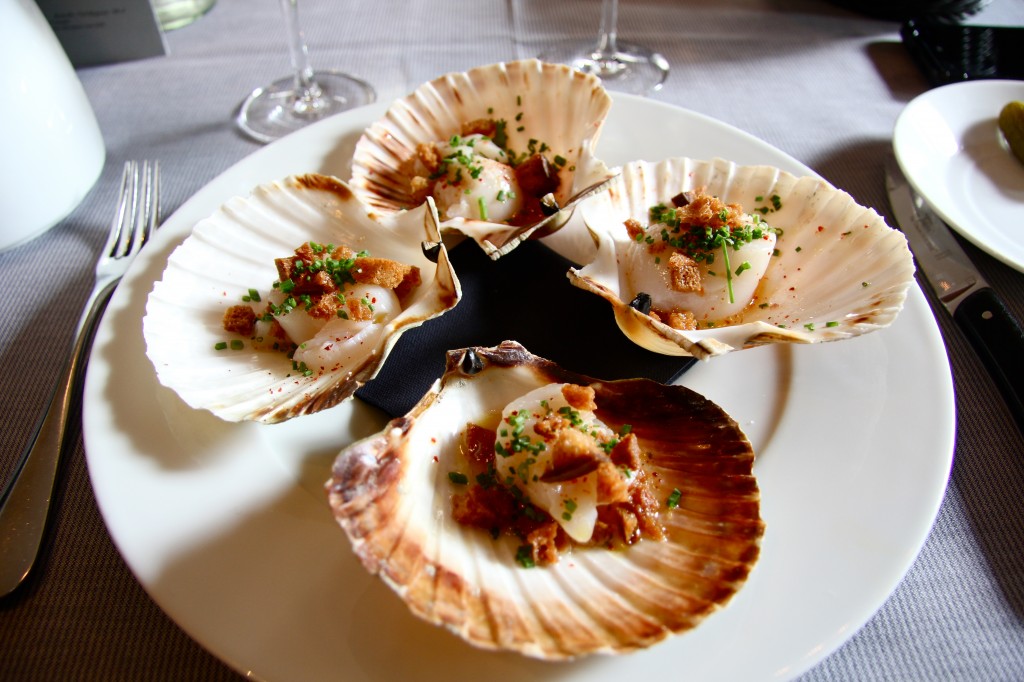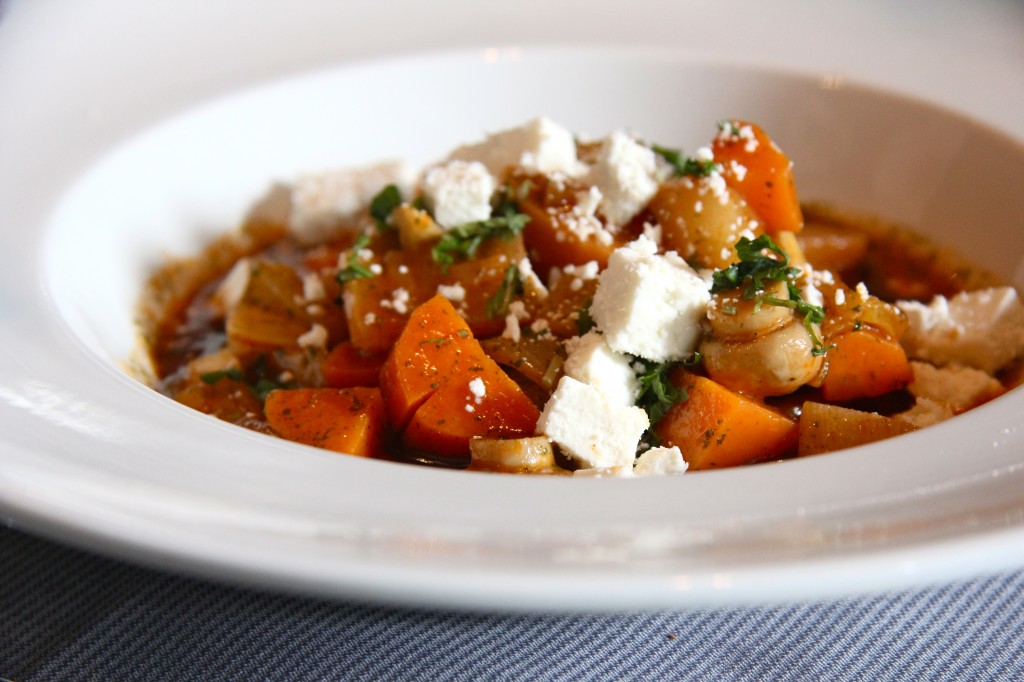 For the main course I chose the dish of the day: fresh fish from Brittany with vegetables, served with lovely little flower petals. However, another fish from the French region is available as a regular option in the menu- cod with semolina, basil and cauliflower. As for the meat, our attention was caught by lamb and Burgundy-style beef cheeks with vegetables, but Maciek chose caramelized pork belly on cabbage. Delicious!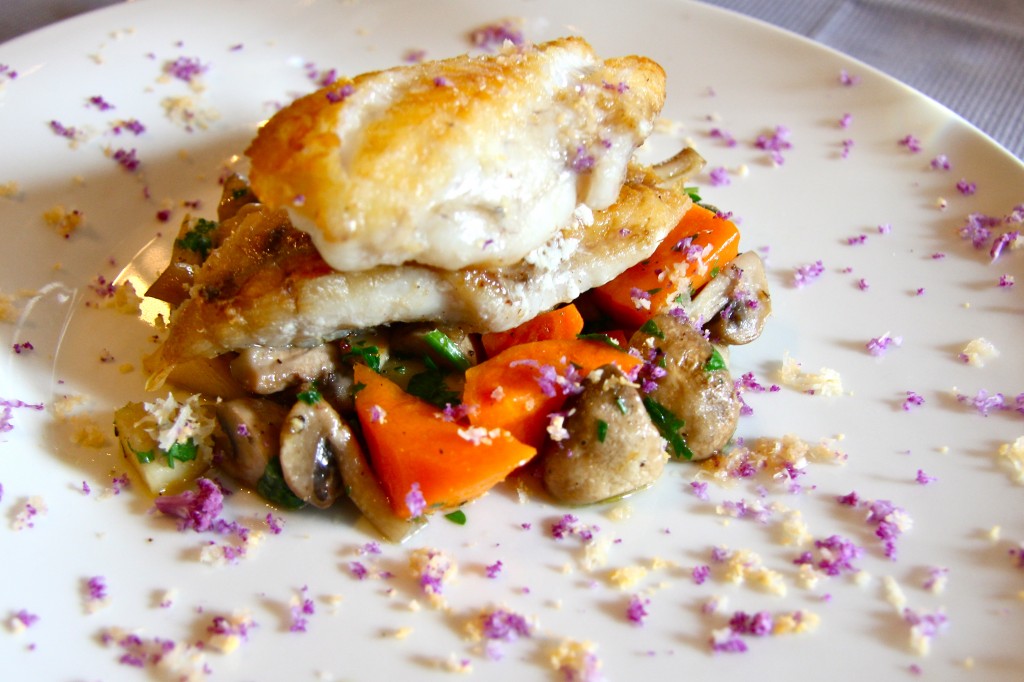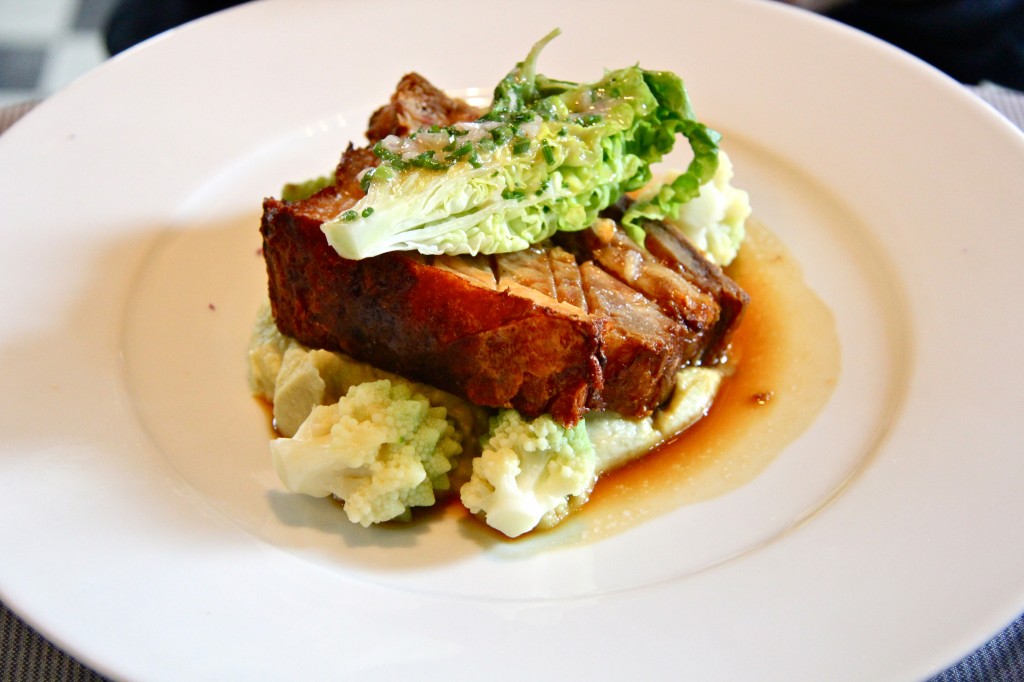 Time for dessert, that is the part I usually skip. After two dishes I find cheese too heavy, fresh fruit to banal and sweets to sweet. However, in La Régalade I discovered something which suited me perfect – delicately caramelised figs. Not too sweet, slightly fruity and originally served.
Another interesting dessert which found its way on our table was rice pudding (advertised as home-made) with caramel and a touch of vanilla. Not only was it mouth-watering, but also served in a clay pot with a wooden spoon.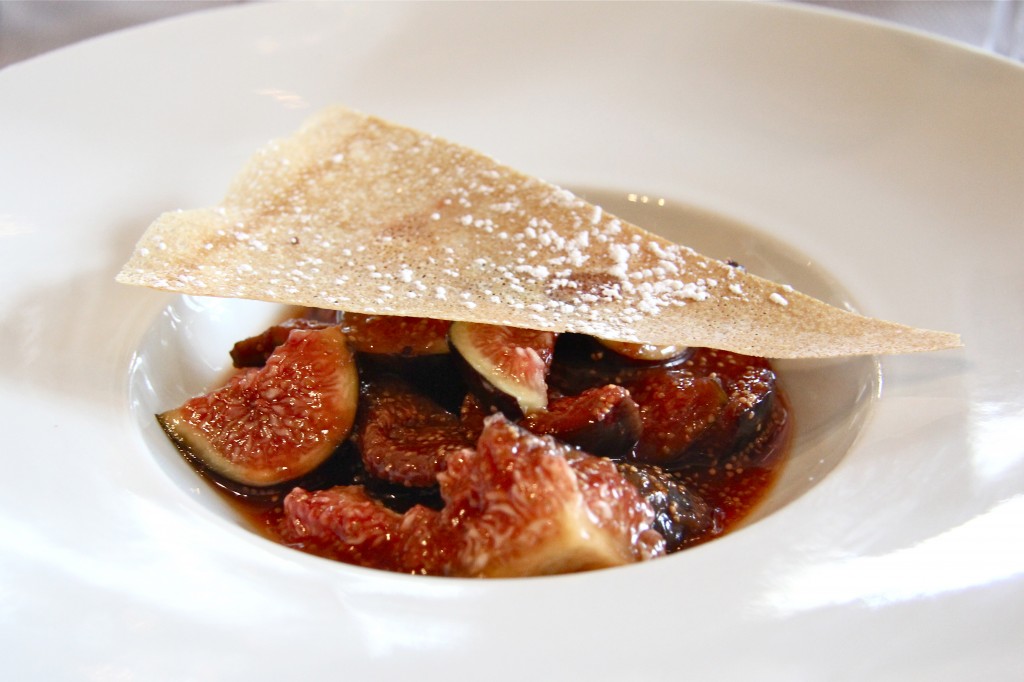 However, La Régalade Conservatoire is something more than just a good place to eat. In another room there is a winery, where we can taste several dozen exquisite wines put on display in a glass cabinet. The third zone is a bar, where the sun shines through the glass rooftop in summer, while a fireplace gives cosy heat in winter. The number and variety of beverages can really make your eyes open wide.
It is very difficult to get a table in La Régalade Conservatoire without previous reservation, so make sure you take care of it while planning the trip.
The restaurant also organizes the upcoming New Year's Eve.
Text and photos: Paulina Grabara
Translation corrected by: Karol Piotrowski
Read also: