No Comments
Italian holidays – Puglia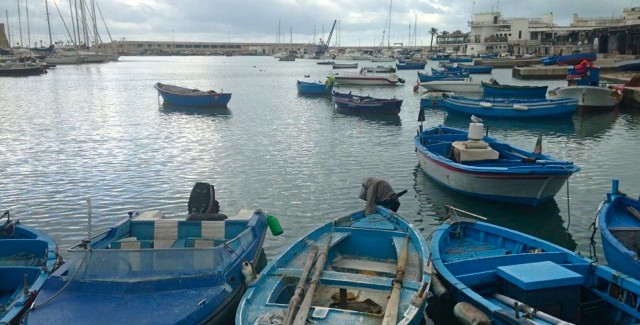 Puglia is easy to find on a map. It's located on a 'Italian shoe heel'. The region there is really differential- not only plains overgrown with olive trees, beaches not worse than in Dominican Republic.
Magda Gościk will tell specially for us about her amazing trip to Apulia.
Magda changed her Warsaw's world to Berlin's start-up. Addicted to checking on the weather paces through Berlin in the free time looking for new places. She can't save money- her savings go for another travels. She's in love in New York for 7 years.
***
It's said that the year goes as its beginning, that's why we decided to travel since the 1st of January going towards the sun- to pizza land, Italy. This time we chose a very popular among Italians region, not so known among foreigners – Puglia.
Whence the idea came from? I love the Internet edition of Conde Nast Traveller. In the free time I flip through the articles looking for new inspirations and ideas for another holidays. This is how I found Polignano a Mare beach, known as one of the most beautiful in the world. Love from the first sight and what's more all of Italians working in my office were really under the impression of that place and region. After such recommendation there was nothing more than writing Apulia as my next holiday destination.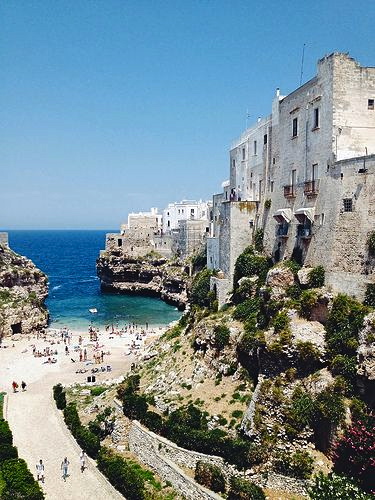 Our holidays were short. We had only 3 days for sightseeing so I spent hours on planning what must be seen, where should I go at least for a short time and which places should I leave for the nest time, because we will be back there for sure! When we were there we used all of the means of transport so we weren't bored at all.
Best way to reach Bari, region capital, is to choose a flight from Rome or a fast train. We couldn't decide, but finally we chose the train and came back by plane. 4 hours in a train it's like Italy in a nutshell. The view was changing fast. First, green fields, later snow slopes and finally azure sea.
Bari welcomed us with a sun and salty air. It's a port town with developed industry and amazing old town.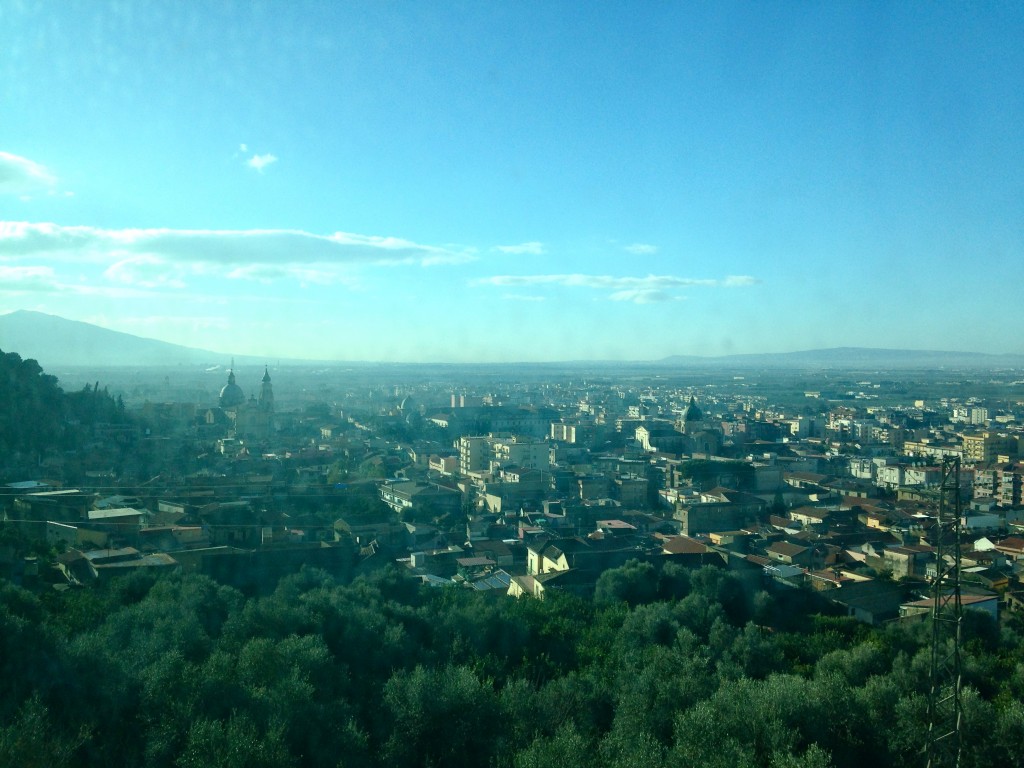 It's worth to start sightseeing from a seaside promenade leading to and old port. It looks like from an old, perfect postcard. Blue boats with fishing nets floating on water and an old theatre (Margherita Theatre) located in the port centre. It's also a must see place for fish devotees that can be bought after taking out the nets.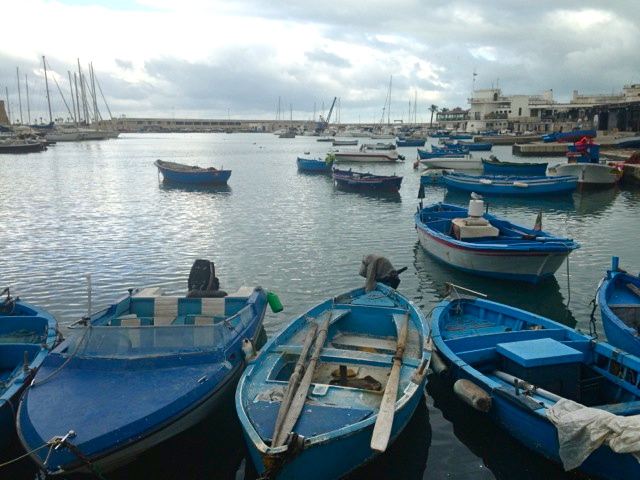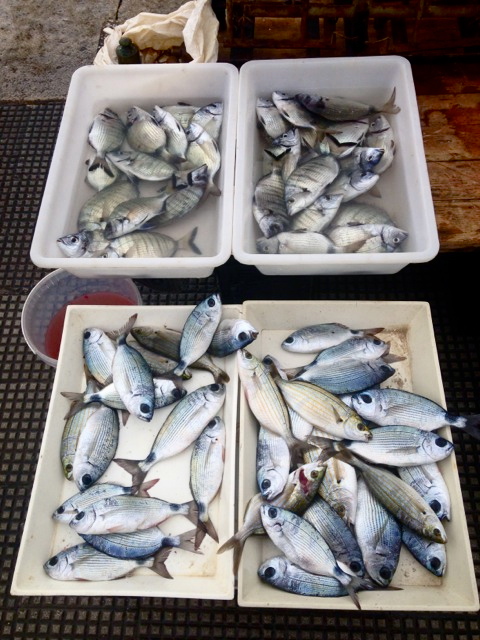 We go to the old town from the port though the narrow streets labyrinth. It's worth to get lost in there to see how do the people live in there because almost all the locals leave front door and windows open. It's worth to remember not to be hungry during the trip, due to the fact that you will try to find only the nearest restaurant that smells perfect instead of adoring beautiful places. Main monuments that have to be seen are: St. Sabine Cathedral located in the very heart of the town, prince Swabian Frederic's II castle and Petruzzell theatre.
In the evening we went to eat some supper which, as it turned out, was the best we've ever had (especially in the 'Where to eat' point).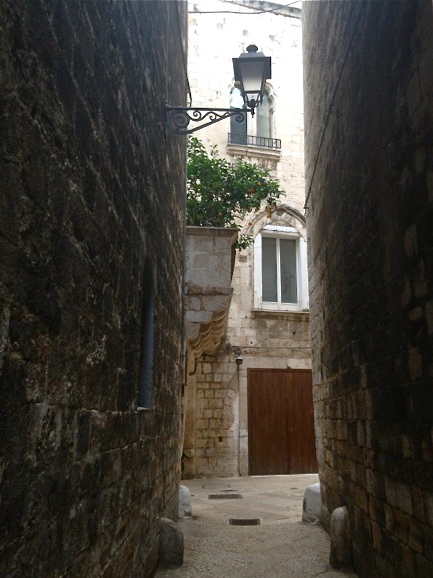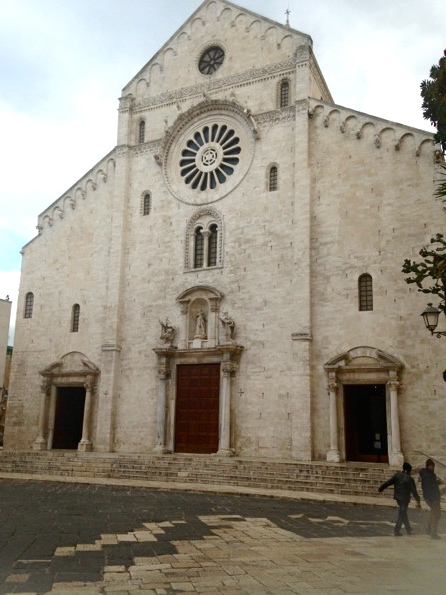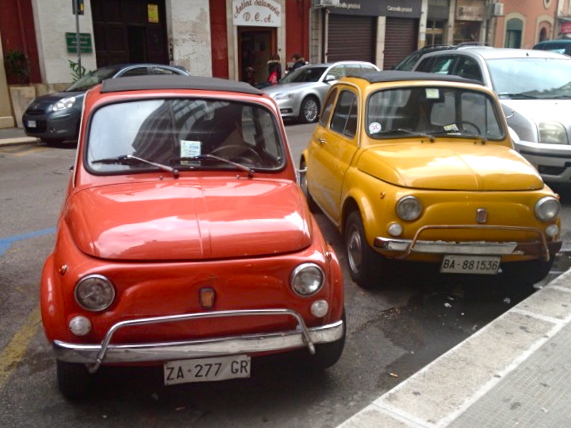 We started second day from breakfast with a view to the sea and port. Next 2 hours we spent on renting a car. It's worth to be ready for a pew 'piccolo problema' while doing formalities in Italy. Finally, with keys in our hands we hit the road.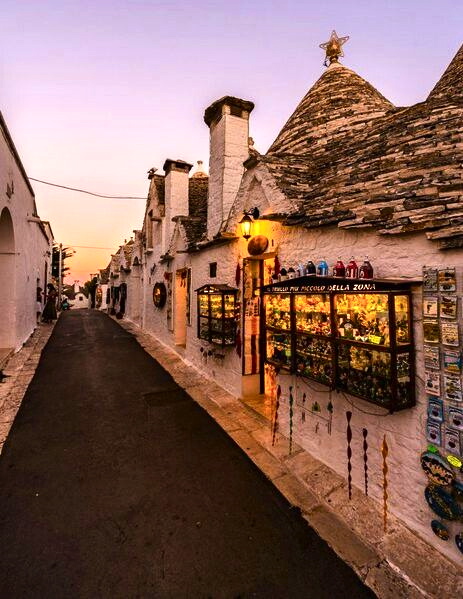 First stop was Arberobello. This place is on the UNESCO legacy list. It's famous for little houses, so called 'trulli'- white, round with cone-shaped roofs. A stroll along the town streets is worth ending at St. Antoine church in the centre and with a coffee at one of the local coffee shops.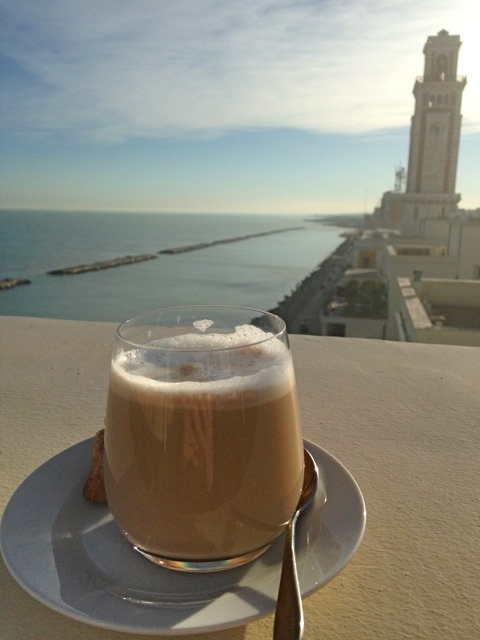 Next place after Arberobello was Lecce located more than 100 kilometres from there on a south region. It was a fast trip for us with coast views and olive groves that made it even faster. Lecce is called a 'South Florence'. The nickname came from the beautiful baroque buildings. You can feel the proximity of Africa in here. Plants are more exotic and you can see big palms every corner. The old town in here is really special. All of the buildings look alike with sand colours what gives this place a great charm. It's also difficult to count all of the churches that we saw. You cannot omit Piazza del Duomo over which excels an amazing cathedral. After few hours of sightseeing you can relax a bit in a town garden.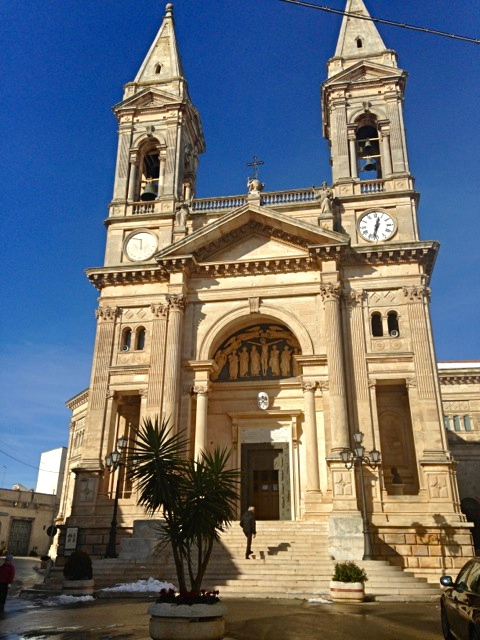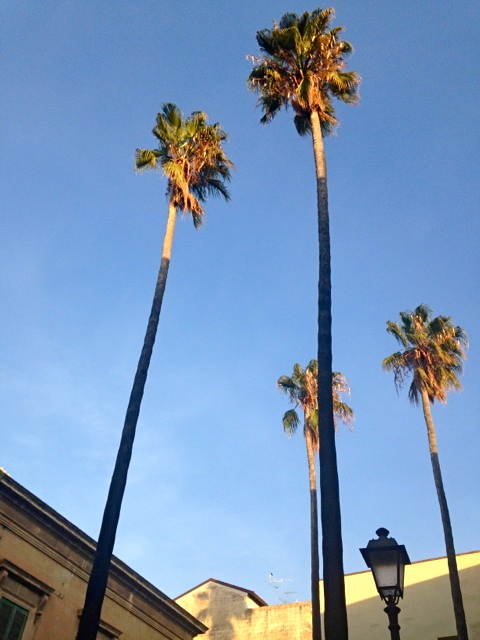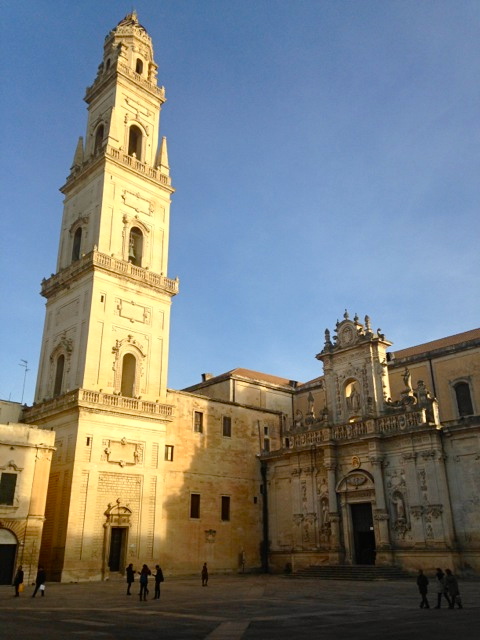 Going to Lecce is a must while going to Puglia. Great, exotic town with a Greek tone (you can hear a Greek language on the suburbs).
Unfortunately time is not on tourists site, so when the sun started going down we headed to Monopoli town, around 40 kilometres from Bari. We were driving there to see a recommended restaurant and as it turned out, it wasn't the most important thing. Walking through the small, narrow streets of that port town is a perfect thing for ending the day. Most of the streets is this narrow that driving there is impossible. We came to basilica by accident and it was one of the most beautiful churches I've ever seen in my Italian trip. The inside almost overwhelms with its decorations.
Third day is the time of saying goodbye to this vivid area. Our trip we ended in a place where it all started- Polignano a Mare. This town has everything- romanticism, drama, beautiful buildings and a the beach located between the cliff. It's worth walking along the viewing routs on the cliff. Beside tourists we can meet local fishermen fishing with rods accosted several meters over water.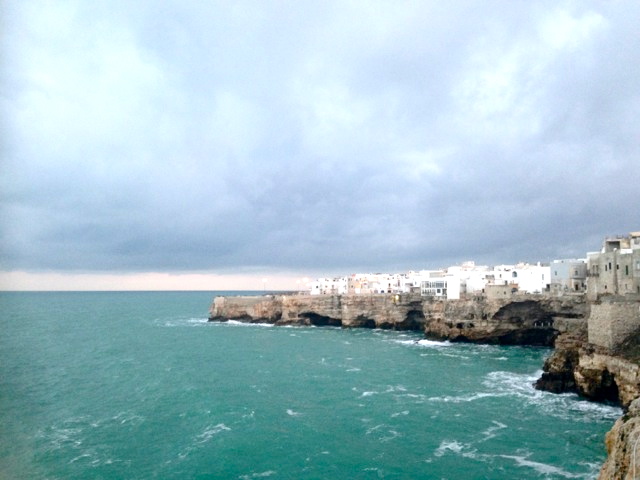 Puglia is a place with some character. Everyone will find something to tell people for few weeks after coming back home. Our trip is a short version of what region offers us to see. We didn't reach white beaches located on the very south, caves, beautiful national park or Matera- town where most of the buildings are cored in stone. All these places we leave for the next trip which, as I suppose, will happen really soon.
Tips:
How to reach
The easiest way is to go to the capital of Italy- Rome by plane and then switch the mean of transport to the train (The Frecciargento) or the plane. There are three planes going to Bari: Alitalia and Vueling going from the main Roman airport Fiumicio, and Ryanair going from Ciampino. Bari airport is around 17 kilometres from the town centre.
Where to live
Hotel Grande Albergo Delle Nazioni (Bari)- located by the very seaside promenade. From the hotel restaurant's, which is on the sixth floor, there is an astonishing view to the sea and port.

In case of staying longer it's worth staying in one of many guest ranches.
Where to eat
BARI:
Cantina di Cianna Cianne (Via Corsioli 5)- MUST SEE PLACE! It looks inconspicuously. Two connected rooms, straight tablecloths in checked white-red pattern and wooden tables. But, from the very beginning we felt there like home. Very nice service and the owner who personally came to welcome us. Superb food and homemade wine. Starters plate is like Apulia on a plate. Meatballs with muli, ricotta cream, chickpeas with vegetables, Italian ham and many other delicacies. Our main course was grilled fish with the octopus. This taste cannot be described. Unfortunately the dessert was backbreaking for us. It's worth going to Bari even just for the restaurants!

La Pesciera (Via de Rossi 159)- accurate place for lunch for hungry people when the others rest during siesta time. We choose seafood. It's worth to taste the traditional pasta with seafood and beans.

Al Pescatore (Piazza Federico II di Svevia 6)- another place which is famous for its seafood. Unfortunately we haven't reached that place yet but it was recommended by many people living in Bari.
LECCE
Crem bar galateria (Viale Marconi angolo viale Lo Re)- special place for those who like coffee and sweets. Espresso has a perfect crème consistency and homemade stuffed chocolates are delightful.
MONOPOLI
O

steria Perrici (Via Orazio Comes 1)- fresh and tasty seafood. Panacotta with a caramel cream is recommended as a dessert.
Additional information
When planning a trip to Bari it's worth to use a bike sightseeing option. While two-hours ride the guide will tell you the whole town history and show you places where tourists won't go (www.veloservice.org/velovebikes/en).
Text and photos: Magdalena Gościk, some photos from Pinterest
Translation: Grzegorz Kryspin
Save
Save
Save
Save
Save
Save