No Comments
Culinary Berlin tour

Spring is a perfect time to visit Berlin. Finally it's warm, we smell the flowers and the benches along the canal are full of sunbathing residents. Every week there are some new restaurants opened so it's difficult to keep up with reading the reviews.


That is the reason form making a list of worth seeing places this spring. The new and old ones. It is time to start the culinary Berlin tour.
1. Wine in the garden- Buchholz (Joachimstraße 20, Mitte)
This magical place is hidden in Mitte district. A part of a furniture shop was rearranged into a café. However my main reason for coming back in there is the walled garden which gives the intimacy feeling. What's interesting is that the owners grow vegetables there which are used for preparing simple and interesting meals. Benches and tables are hidden among the trees and flowerbeds. The wine menu has many German liquors, so if you are interested the staff will help you choose something new. You can simply forget that you are in the city center of a big city. All you have to do is ordering a glass of wine and take a place in the garden.
2. Neapolitan pizza – Standard (Templinerstraße 7, Prenzlauer Berg)   
Said to be the best pizza in Berlin. Of course not for everyone, but pizza lovers have to visit this place because the cake of it is exactly the same as Neapolitan. Despite the fact that menu is small, we can find meat, veggie and Bianca pizza there too. The biggest disadvantage is the long queue which is almost always. The Italians who work there take their time and like their own climate. Is it worth waiting? Definitely yes!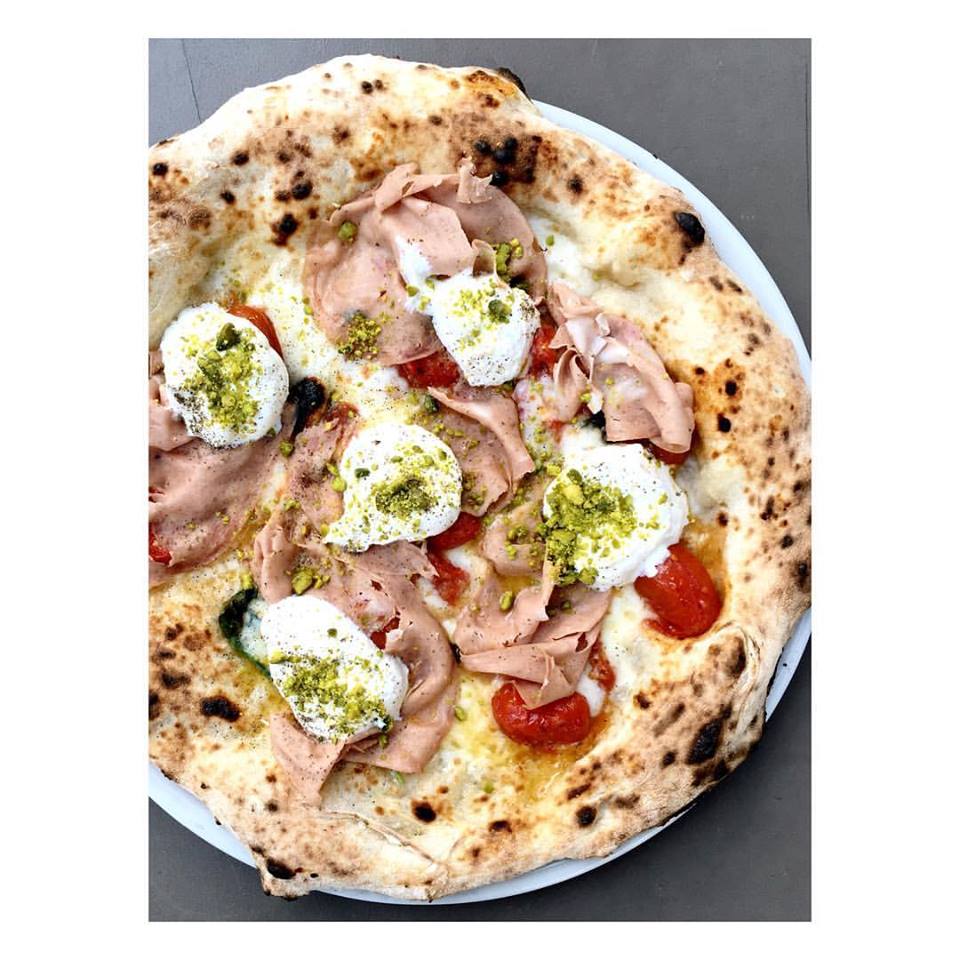 3. Something healthy – Daluma (Weinbergsweg 3, Mitte)   
Super healthy can be super tasty as well. It's this place that persuaded me that green smoothie with a salad is a perfect choice for a lunch. Breakfast consist of homemade granola with goya seeds and chia with fruits. In the afternoon it's worth eating a tasty soup whereas Daluma gives us the delicious smoothies. If you are still not into it, maybe a hard chocolate smoothie will persuade those who like sweets. Yummy! You can also find many juices and snacks worth having takeaway.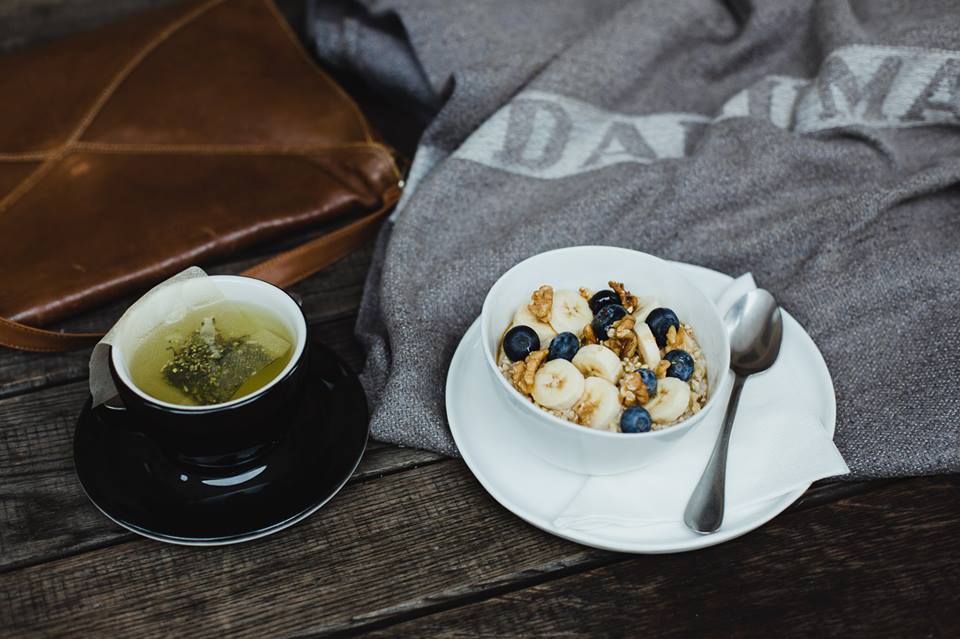 4. Coffee in the pharmacy  – ORA (Oranienplatz 14, Krezuberg)   
Amazing interior! Really beautiful chemist's rearranged into a modern café.  The owners left the inside almost untouched. They only added some café tables. You can also find  there wooden tops, old flasks and chests of drawers where medicine used to be kept. Hopefully menu has nothing to do with the pharmacy. Tasty coffee can be ordered with some snacks like potatoes with caramelized salad or fresh baked Swedish cinnamon rolls.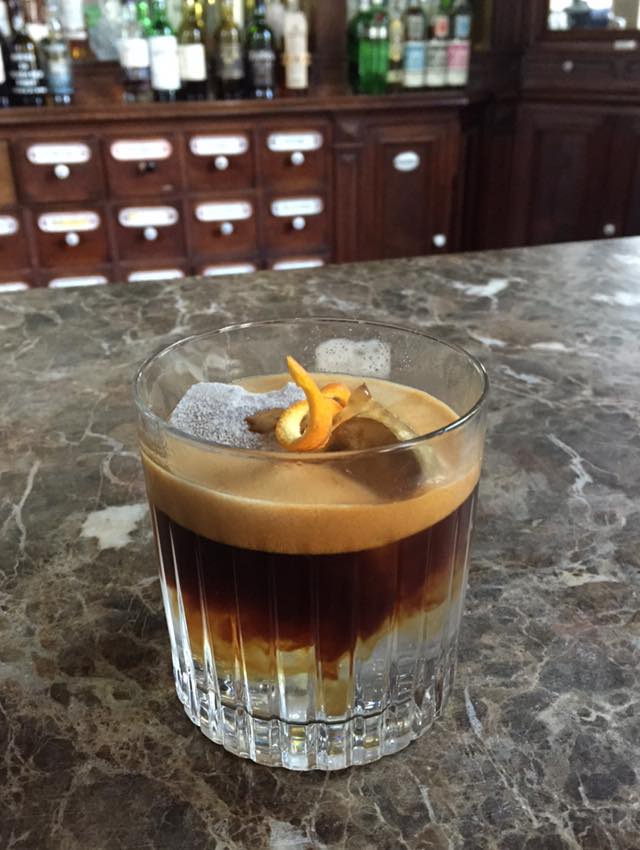 5. Excellent supper – Industry Standard (Sonnenallee 83, Neukölln)   
This premises celebrated its first birthday some time ago. However it's 7 minutes close to my home by bike, I discovered it one month ago. First, book a seat. It's the only problem, but when you get there the rest is easy. They have, by far, the best staff I have ever seen in my life. Food is a big 5 and the kitchen kind is rather modern. Even a fresh Spanish bread with a sheep butter tastes delicious. The most distinctive meal is definitely a smoked salmon with soybean souse and radish. It's simple and good. I still dream of their dessert which is vanilla mousse (similar to panna cotta) with homemade granola and rhubarb. Perfect place for romantic dinners, meeting with friends and every occasion.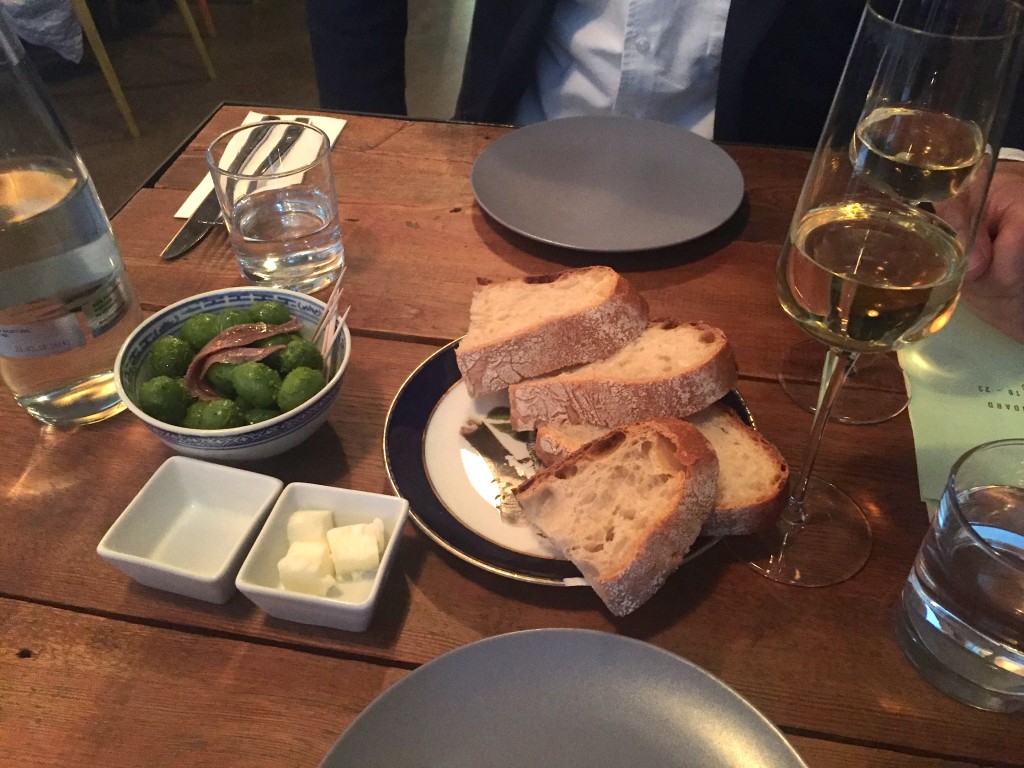 6. World delicacies – Markthalle Neun (Eisenbahnstraße 42-43, Kreuzberg)
I revisited this place with a two year gap. It looks as if every single tourists knew about it and it still hasn't lost its charm. First thing, you can it well in here. Markthalle Neun is an old hall where you can find food from all around the world. Best day for coming is Thursday when they have Street for Thursday or Sunday morning when having Breakfast Market. My best places are Sironi Italian bakery and cheese stalls. Beside that me may find here some Spanish hams, Thai delights, European wines, fresh fish and many other rarities. Ideal place for those who like culinary discoveries and don't mind crowds.
zdjęcie: ©Markthalle Neun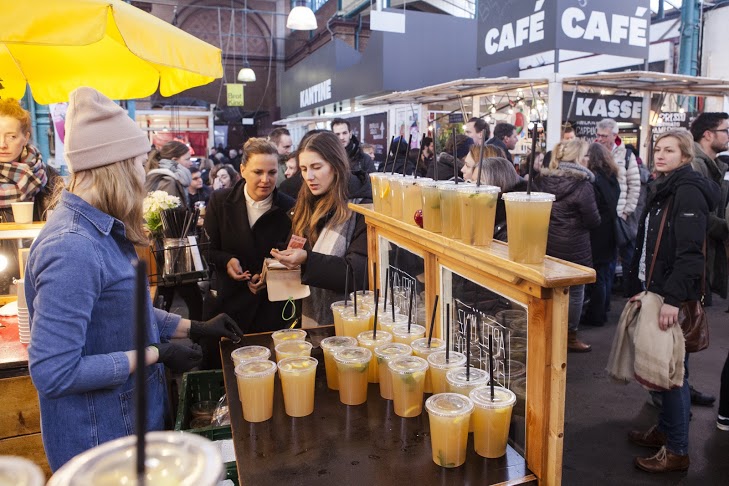 7. Ceviche – Chicha (Friedelstraße 34, Neukölln)  
One of my best Berlin places. I've been there many times and I was never disappointed. Ceviche, specially made raw fish, is served in many ways in here. Additionally we may find a grilled octopus with mashed potatoes, yuquitas- tomato balls staffed with cheese and served with a delicious souse or grill meals in the menu as well. For a drink take pisco (Peruvian brandy). The place is known for its relaxing atmosphere which makes you want to eat a fast snack, when actually you stay for a few hours instead.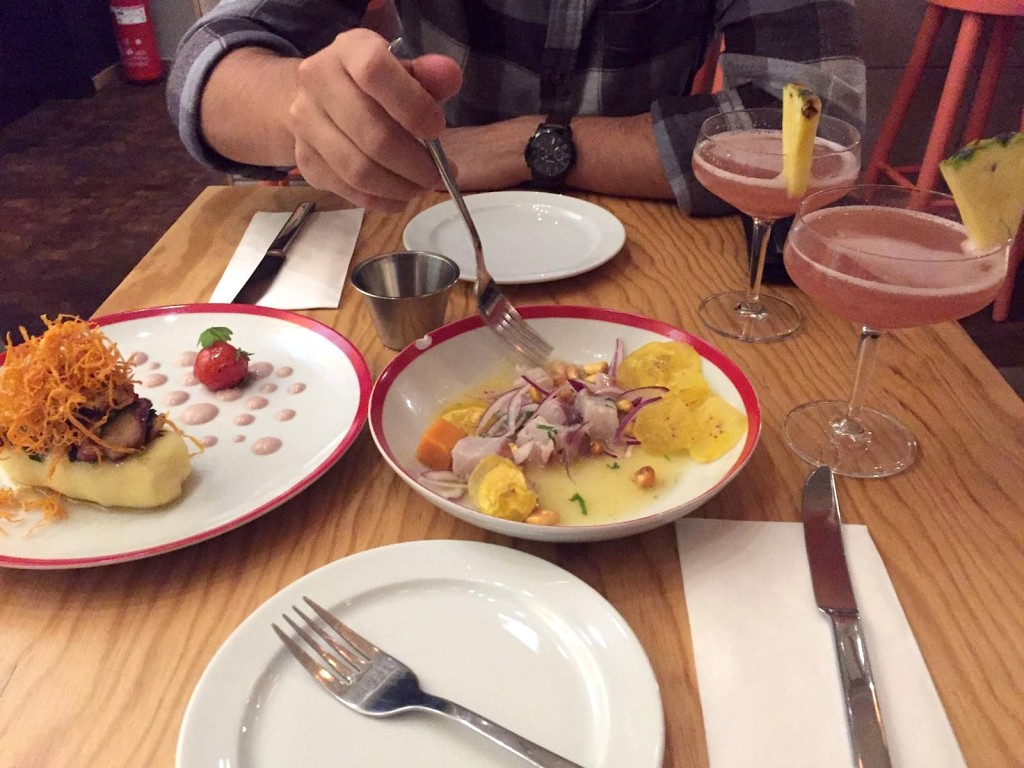 8. Luxurious drink – Pauly Saal (Auguststraße 11-13, Mitte)
The most beautiful restaurant in Berlin from my point of view. It's placed in a former female Jewish school building with a high ceiling, beautiful chandeliers, elegant sofas and white tablecloths inside. It has a one Michelin star, so booking a table is quite a challenge. If you don't want to wait for a few weeks and exceed the limits of your credit cards there is a simple solution to it- a bar inside the restaurant. Along with delicious drinks you may order snacks made by best chefs. Dimmed lights, relaxing music and old climate is a makes it a perfect place for starting an evening in Berlin.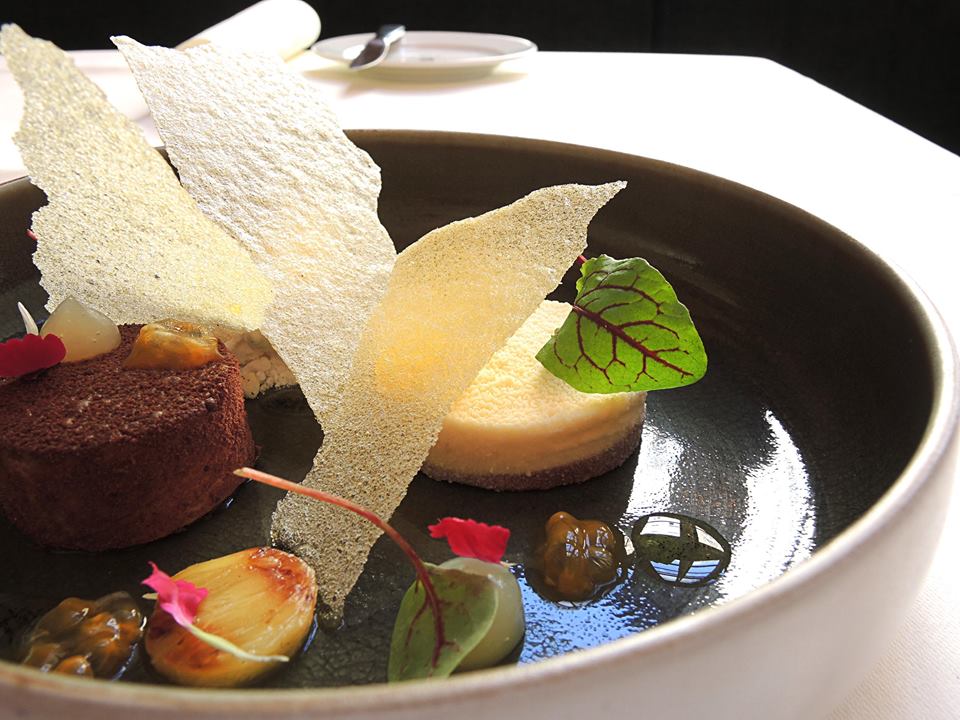 9. Vegan doughnuts – Brammibal's donuts (Maybachufer 8, Neukölln)
It all has started with a group of friends who decided to produce vegan doughnuts. During last year they were present on the eating fairs and their wares were sold before long before closing. Since few days they finally have their small, own residence over the canal. Which to choose? That's the most difficult decision made in there. Lots of kinds take few minutes when you take one or more into your hand. Cookie-cream, white chocolate with pistachios and chocolate with pretzels are my favorite flavors. Sweet paradise!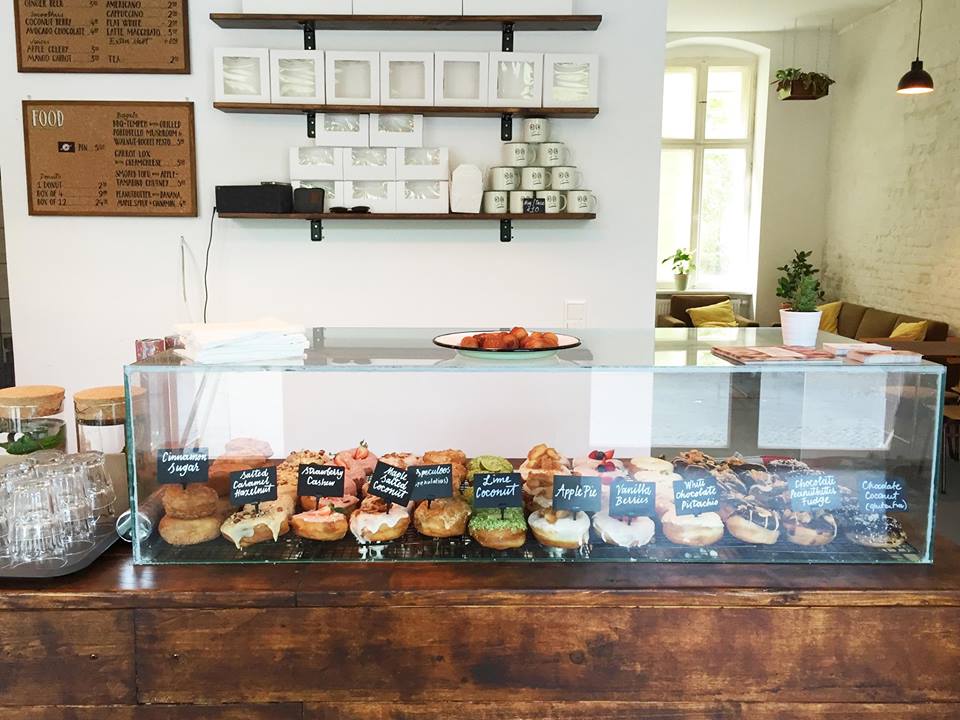 Translation: Grzegorz Kryspin