No Comments
SANS SOUCI WIEN/Austria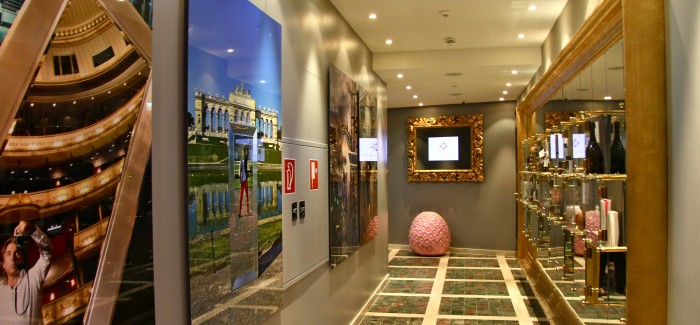 Classic luxury combined with modern art. Sans Souci Wien is located at the heart of one of the most stylish European cities, in a historical building from the 19th century.
The art collection includes original works of Roy Lichtenstein. It complements the hotel's classic interior and goes well with its surroundings: MuseumQuartier, one of the biggest art districts in the world, is located nearby.
The hotel has a long history: when Johann Strauss came to Vienna  in 1858 for the opening night of "Tritsch-Tratsch-Polka", he stayed at the inn, which was there before the hotel. Once named Hotel Hoeller it was opened from 1873 to 1953, with a break during the American occupation after the Second World War. Today, Sans Souci Hotel Wien is the only project realized by yoo Design Studio, a creative team led by the famous Philippe Starck and a developer and visionary John Hitchcox. Since 1999 they have been creating cutting-edge hotel projects and spaces.
In the bar ( called "Le Bar") and at the restaurant "La Veranda" attention has been paid to every little detail, and both places look very inviting. The head chef emphasizes the importance of fresh organic ingredients and local produce: all this results in dishes that are fresh, organic and authentic.
This emphasis on good, organic ingredients is immediately visible during breakfast. The hotel respects the different tastes of its guests: on the tables there is everything from baked goods to couscous and a separate vegetarian buffet. The smells and tastes are also an integral part of the late night visit to the bar, where you can try the very best liquor.
The 63 rooms and suites are both elegant and cosy. Soft bathrobes and slippers, hydrating beauty products: we liked the warm colours, soundproof windows and the extremely comfortable mattress.
Sans Souci Wien is also an oasis of wellness: its offer includes a20 metrelong swimming pool, a spa and a fitness club where you can sign up for an annual membership .
What we liked:
– impressive hotel entrance, hall and reception
– helpful and friendly staff, from the reception to the restaurant and bar
– spectacular bar
– the quality of the used materials
– spacious room with a big comfortable bed
– comfy bathrobes
– variety of sophisticated foods available at breakfast time: couscous, eggplant dip, prosciutto
– mix of classic Viennese style and modern decor– high-speed Internet access
Translation: GB English