No Comments
DE HALLEN/AMSTERDAM/HOLLAND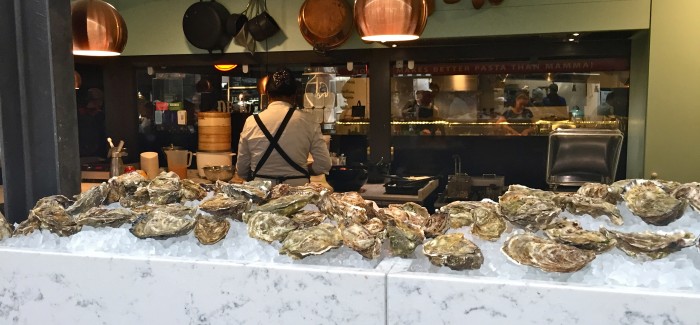 Italian pizza, Vietnamese cuisine, vegan salads and fresh oysters. The former tram depot "De Hallen" with is restaurants, bars and local shops is second to none on my personal list of such places.
Amsterdam has always been one of the cities I wanted to visit most. I fell in love with it at the first sight, but I also learned that little space and tourist overload can be a lethal mixture, not to mention kaleidoscopic weather. That's why when I heard about a tourist-free spot, located in a beautiful post-industrial area (which solves the problem of rain), I didn't hesitate for a single moment.
De Hallen is currently one of the favourite sites among the locals, and it took me no longer than several minutes to know that I'd be returning here during my stay.
De Hallen covers enormous ground, most of which is occupied by numerous small restaurants. I've already seen something like this in New York or Berlin, and yet it's De Hallen that makes it to the top of the list.
Adjacent to a canal, there is a beautifully renovated brick building which used to be a tram depot. Architects responsible for the restoration made sure that all clients, even the most demanding ones, will find something for themselves. That's why apart from bars and restaurants there is also a variety of shops (selling bikes, for instance), a library or a cinema. Moreover, the underground bicycle parking solves the problem of where to leave our two-wheelers.
The food hall provides a wide range of worldwide cuisine. Food stalls stretch along the walls, and at the centre there are tables and barstools where groups of friends spend their Saturday afternoon. The diversity of menus can really give you a headache. Italian pizza, Vietnamese salads and fresh oysters. A bakery, cheese stall, French candy-store. Two bars serve wine and gin from all over
the world. We can also book a table in one of the two restaurants: "Brasserie Halte 3" is an exquisite coffee-house with a choice of lunches, while "Meat West" specializes mainly in grilled food.
De Hallen hosts many cultural events as well, and each Tuesday our supper will be accompanied by jazz music performed live.
While planning a trip to Amsterdam, the idea of renting a bike might be a good one. It takes only 10 minutes' ride to get from the tourist centre to De Hallen, where we can spend a perfect weekend afternoon together with the locals. Obviously, let's not forget we won't be the only ones to be there, so finding a free table might pose a bit of a problem. However, delicious food and excellent wine are worth the effort.
De Hallen
Hannie Dankbaar Passage 33
1053 RT Amsterdam
Open daily from 7 a.m. to 11 p.m. (to 3 a.m. at weekends)
Text and photos: Magdalena Gościk
Translation: Karol Piotrowski