No Comments
X2 VIBE SUKHUMVIT/Bangkok/Thailand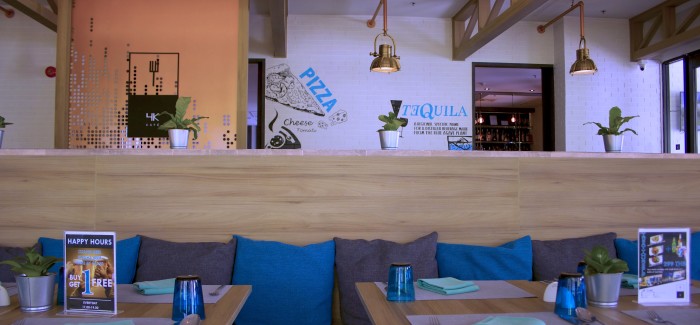 Do you want to stay in Bangkok in a modern interior with unique design for a reasonable price?  During our last trip to the city we discovered a remarkable hotel belonging to X2 Vibe brand, which creates design places, amazing experiences and guarantee affordable luxury. X2 Vibe Sukhumvit Bangkok hotel is a great level of what we call hip.
What we like out the hotel:
Design in the lobby and in the restaurant (called 4K Cafe)
Relaxed and comfortable ambience
Swimming pool area and cafe
Room sizes
Close to the BTS
Price to the quality
Hotel is totally new (!)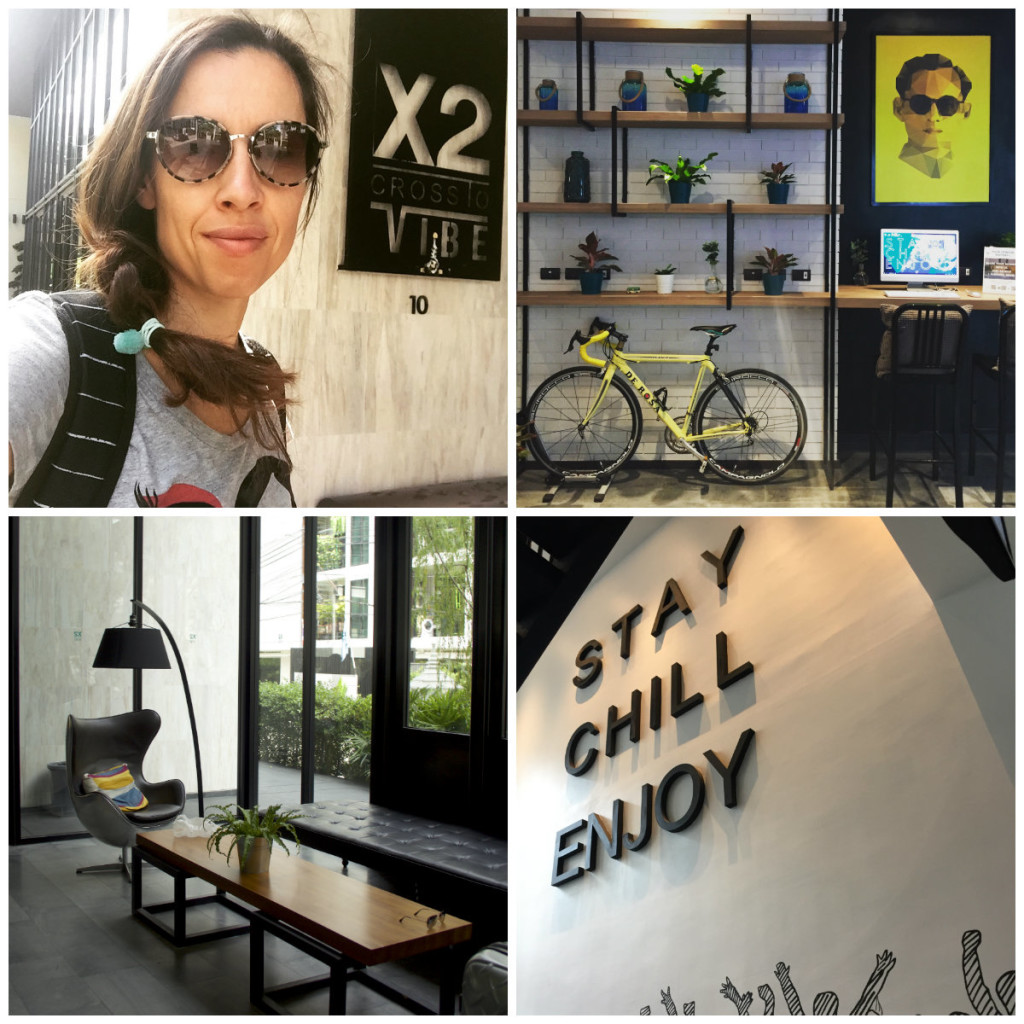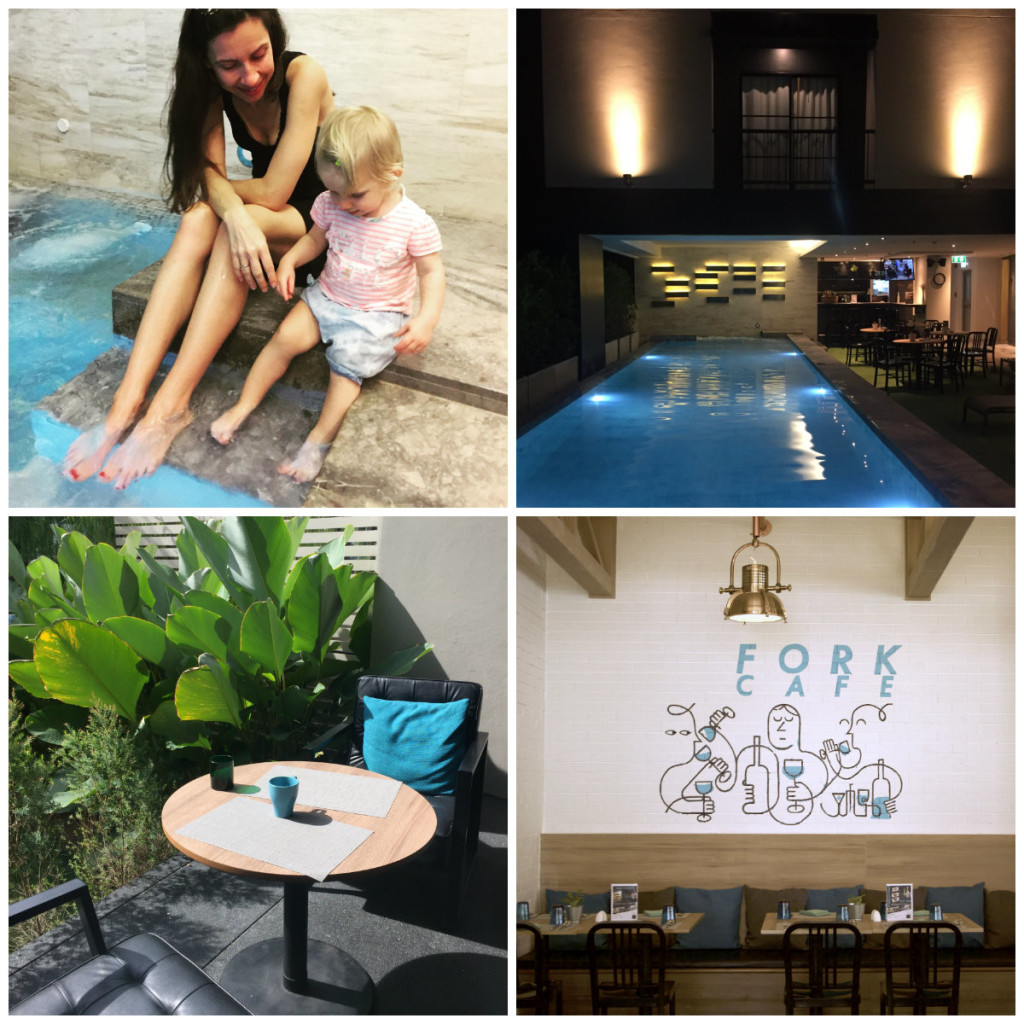 We get in aroung 30 minutes from the airport – we pay around 400baht with all extras (airport pick up and motorway toll). First impression of the hotel is very positive – we are welcomed by the nice sign of X2 VIBES and specious, airy lobby, where I notice the love for design and details: graffiti on the walls, punching bag, modern furniture and lots of characteristic items, which make the space somehow special. I love design hotels and I have written a lot about it, including X2 brand hotels in Thailand, but X2 Vibe is young and vivid what make me feel comfortable and relaxed.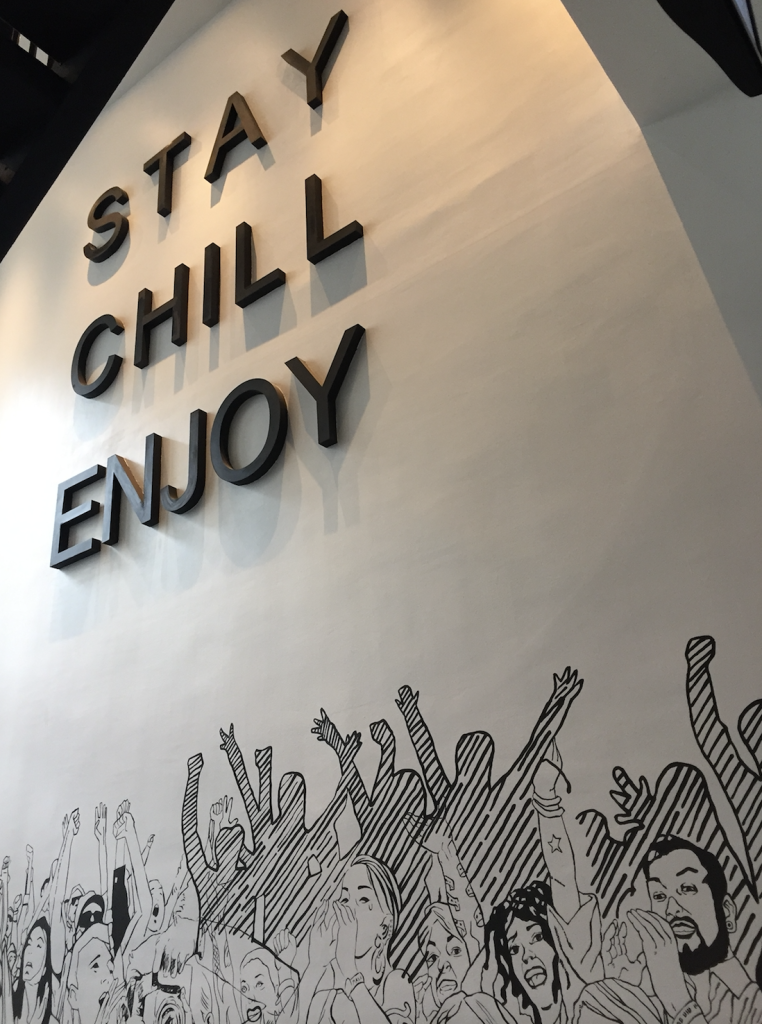 After more than 16 hours flying we have just one dream: shower and sleep. When we realize our room is not ready (we are before the check-in time but together with a 16 months old baby girl) we get a helpful hand in the reception – everything is being organised in a few minutes and we get to the comfy bed.
Even though we stay in a standard room and got a baby cod on request, we still have a lot of place. The space is clean and bright. Except from the double bed and a baby cod, there is a small sofa and long desk with a chair. You can choose either a standard room or a superior (bigger with comfy sofa) and suite with separate bedroom and living room, what gives great privacy (this option seems to be perfect when travelling with kids, as there is a nice big sofa in the living area).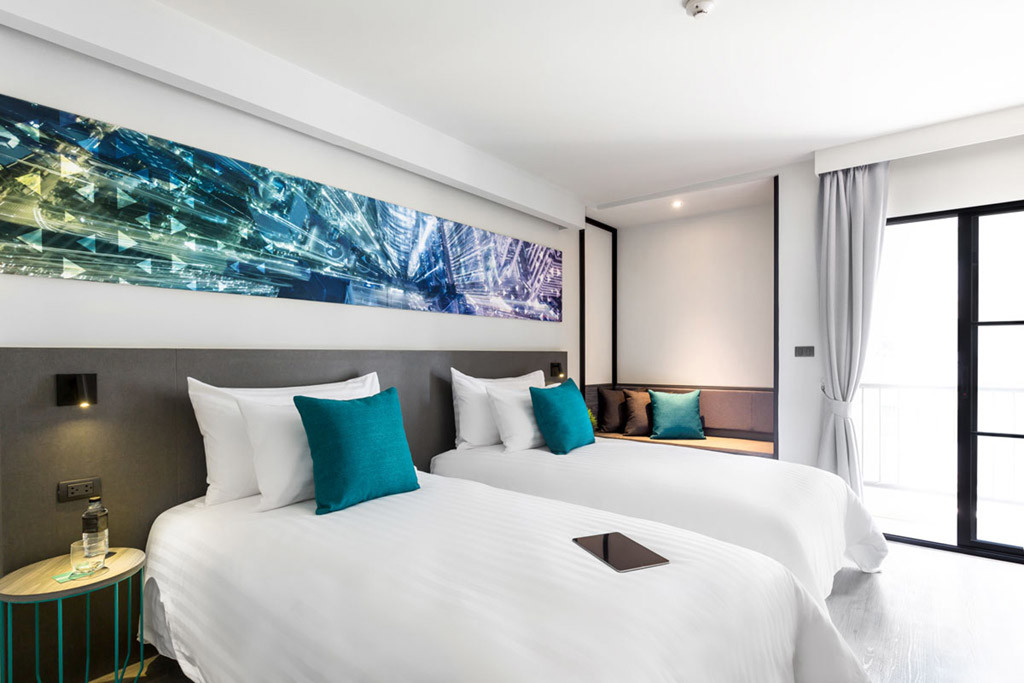 After a few hours of sleeping we are dying to finally get what we love – Thai food. We found a lovely little restaurant just next to the hotel (I am so sorry but I didn't write down the name). They serve good local food – I ordered papaya salad and chicken with cashew nuts and it was delicious. The prices for the restaurant were also reasonable – around 150 baht for a main dish.
After coming back to the hotel we decided to relax. Together with our little daughter we went to the swimming pool area – the space is modern and takes us automatically into relaxation mode: you can swim or calm down in the jacuzzi, lay down on large floor cushions or simply enjoy the privacy and escape from the big city hustle and bustle having a refreshing drink in the 4K Cafe.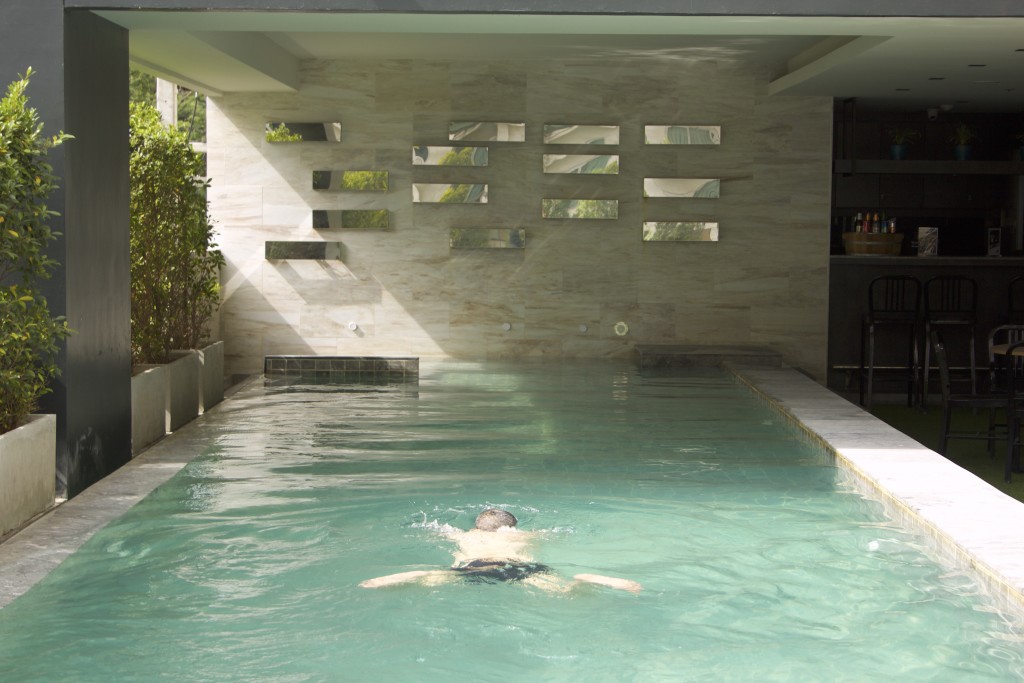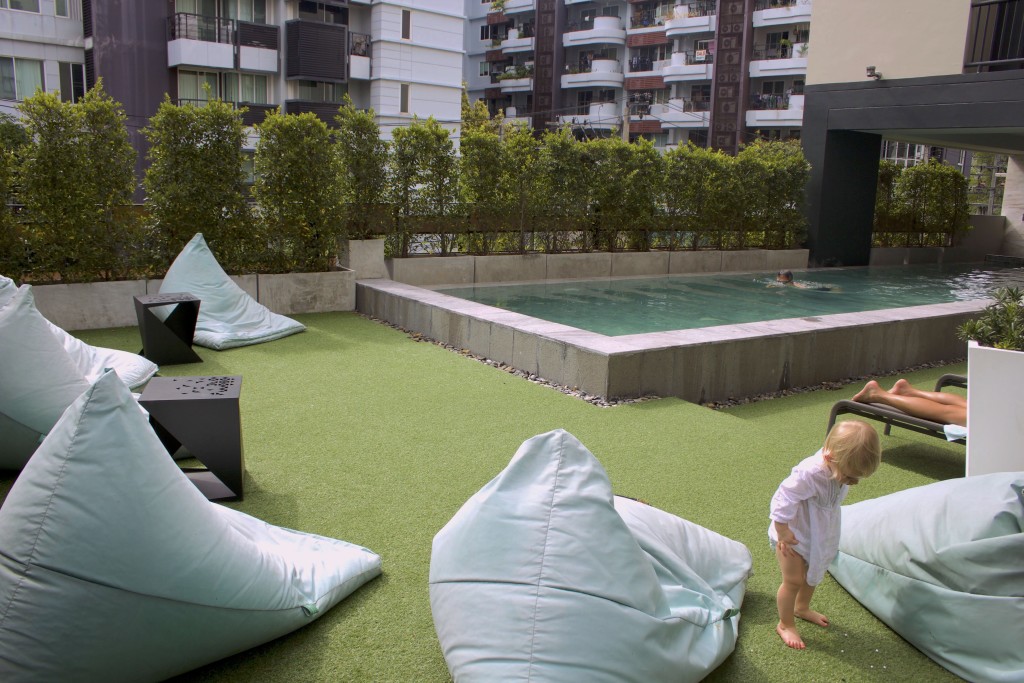 There is a fitness room just next to the pool what gives a nice view while you are training (at least I always find myself more motivated in the nice surrounding). Guests can also enjoy the time in the spa.
Perfect place to hide from the heat is a hotel lobby. For fun, playing table soccer or maybe punching a boxing bag 😉 Design makes the place unique -it is just a nice place to surf in the internet or relax before the next Bangkok attractions.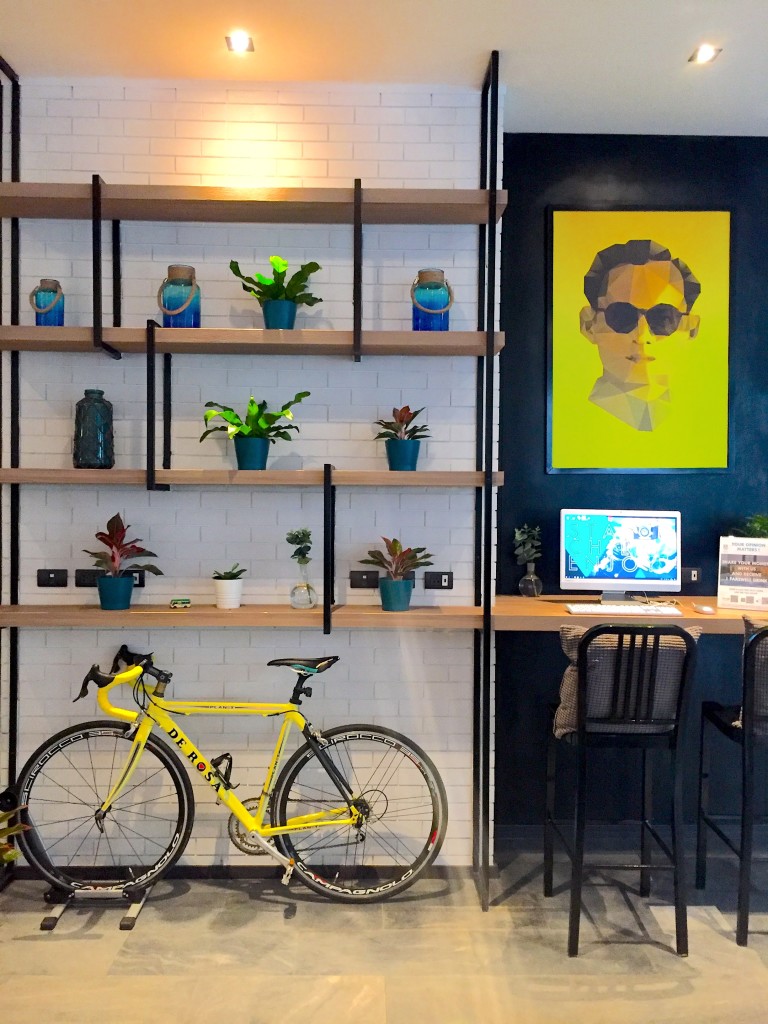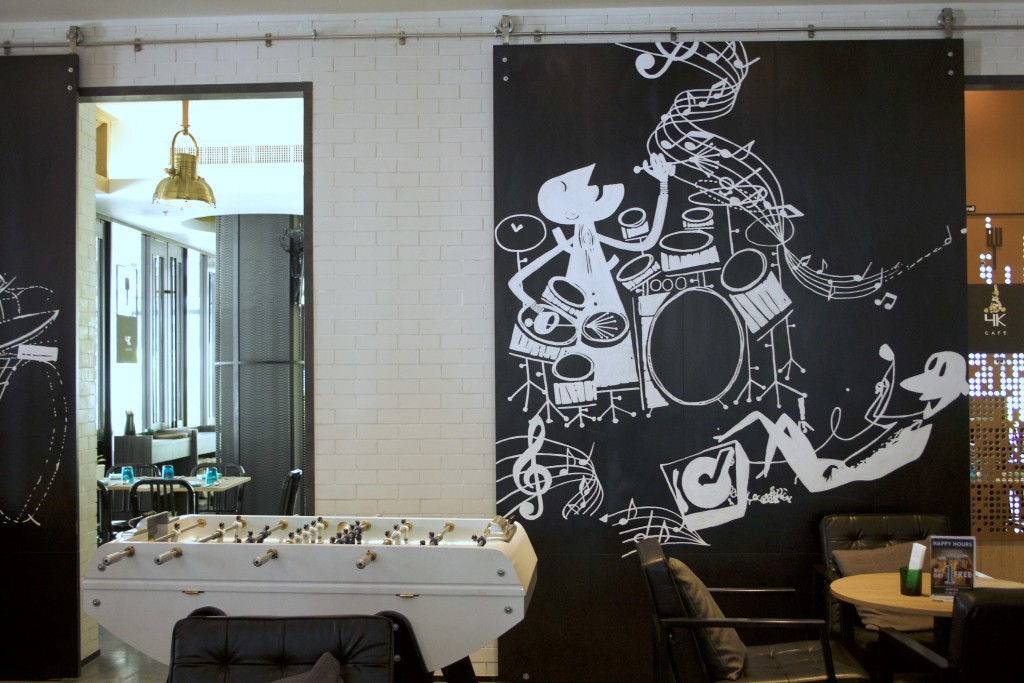 We all suffer jet lag in the night, but thanks to that we explore the surrounding of the hotel. We find a few 7-Eleven convenience stores near the hotel (how many stores do they have in Thailand? They seem to be everywhere!). There is also a BTS station a few minutes' walk (X2 Vibe hotel offeres a fre shuttle I guess every hour if you don't want to walk in the heat. However, we do and we discover many food stalls along the street: you can taste everything, from beef to chicken, from soups to noodles. We can also buy fresh coconuts (around 30 baht) and other fresh fruits.
Next day we start with a breakfast – the 4K restaurant is very modern with hip paintings/graffiti on the walls. If you don't want to stay inside you can enjoy the meal on the terrace (you will definitely enjoy beautiful green plants).
But coming back to the point – Breakfast. There is something I love about hotel breakfasts and always I hope the hotel will satisfy me. So did X2 Vibe Sukhumvit Bangkok with the Asian and European food selection: noodle soups, thai noodle dishes and veggies and sausages, eggs variations and of course pastries and fresh fruits. Enjoy.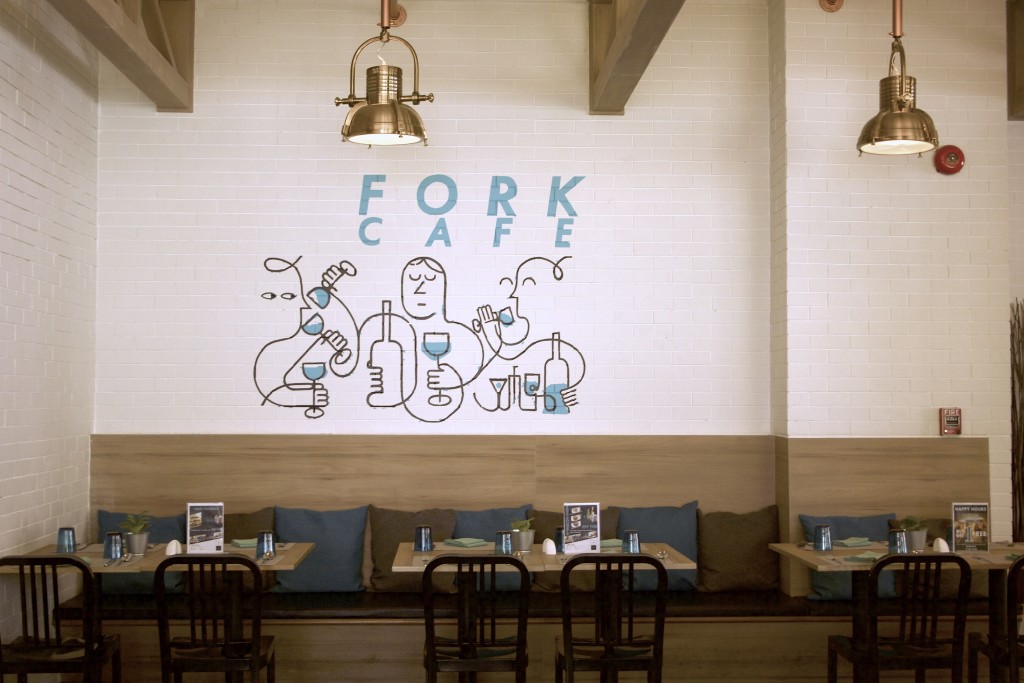 Więcej informacji: www.x2vibe.com/hotel/bangkok
Facebook: https://www.facebook.com/X2vibebangkok/,
Instagram: https://www.instagram.com/x2vibebangkoksukhumvit/