No Comments
Luxury is intimacy. Parisian Hotel Particulier Montmartre.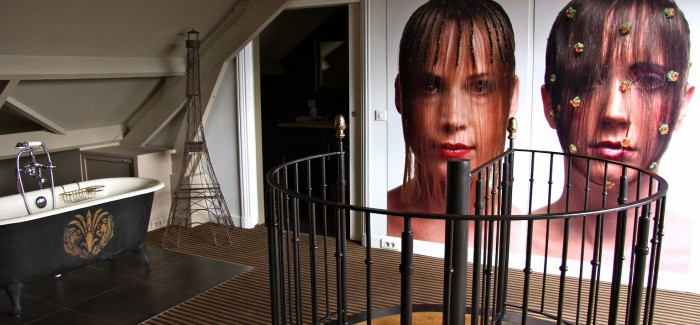 POLISH In the noisy Parisian district Montmartre, a villa with apartments and a well-maintained garden has been turned to a hotel. Historic heart of this artistic district vibrates around, taking this hotel out of that tempo. This rhythm is stable, a little bit slowed down, perfectly comfortable.
Hotel Particulier Montmartre is located in the famous artistic district, between famous Avenue Junot and Rue Lepic. This private villa has been converted into a hotel with 5 apartments. Every space has been interpreted in a poetic way, in a totally different aesthetic and takes us to a world of a fairy imagination. The design of the apartments reflects the need to create something special, original. Wallpapers, materials, illumination and unique bathrooms- everything emphasizes the attachment to detail.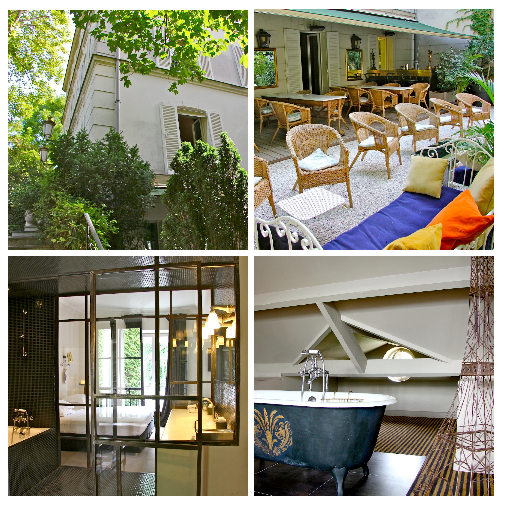 In Hotel Particulier Montmartre the choice of a suit may have a key meaning because it will take us for a journey that we will never forget.
Junior Suite "Vegetale" are plant motives (sensuous wallpaper with overexposed to light, watercolour painted tees), violet and earth colours. Additionally there is furniture in the '60-ies style. Reflexions, brightness, the play of lights and trees- on the wallpaper and from garden that is overlooked by the wide window in the room.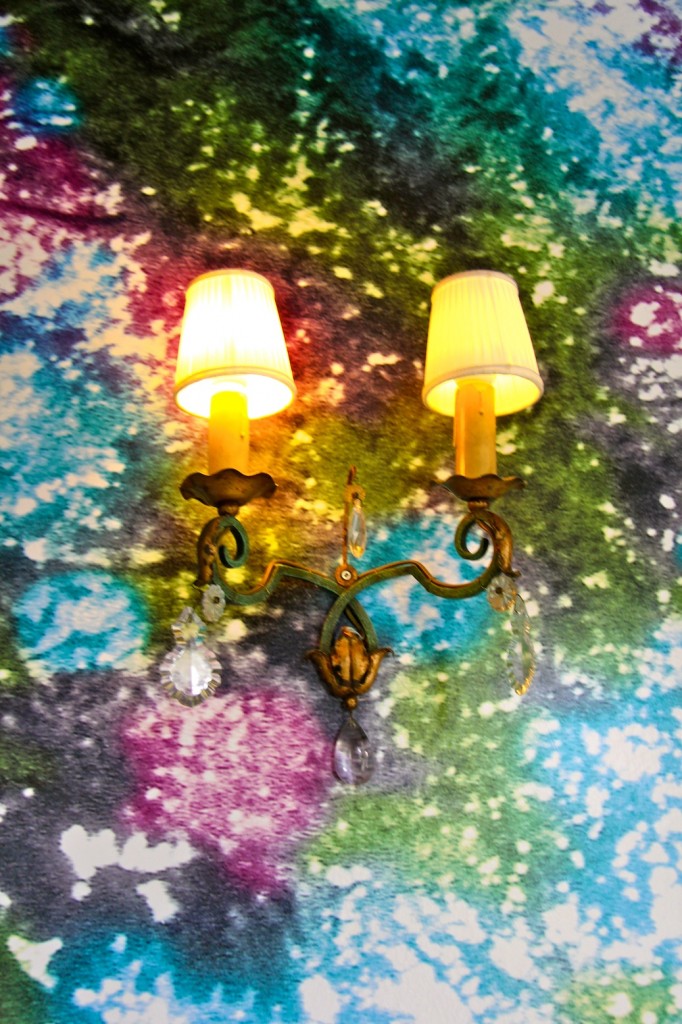 Junior Suite "Vitrine" is a decoration from the movies Charbol from the '70-ties. Wide brown- caramel wallpapers, grandma's draperies. In a glass cabinet we can find erotic objects Philippe Mayaux, which breaks the classic sound of an apartment. In the bathroom there is a surprise- hamman.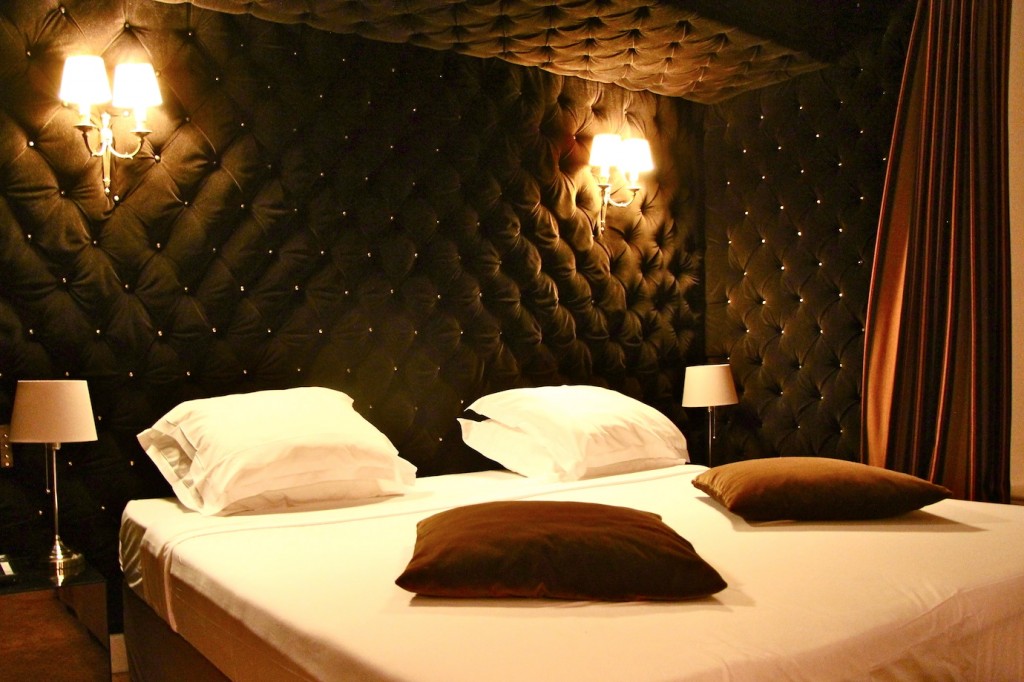 Junior Suite Superiore "Trees with Ears" is a decoration, that relates to the Asian legend about telling a secret to a tree (thanks to a microphone hidden in a wall in a bathroom it is possible to overhear it, sitting in a saloon). Japanese silk, golden and violet carpets, the motive of a golden leaf.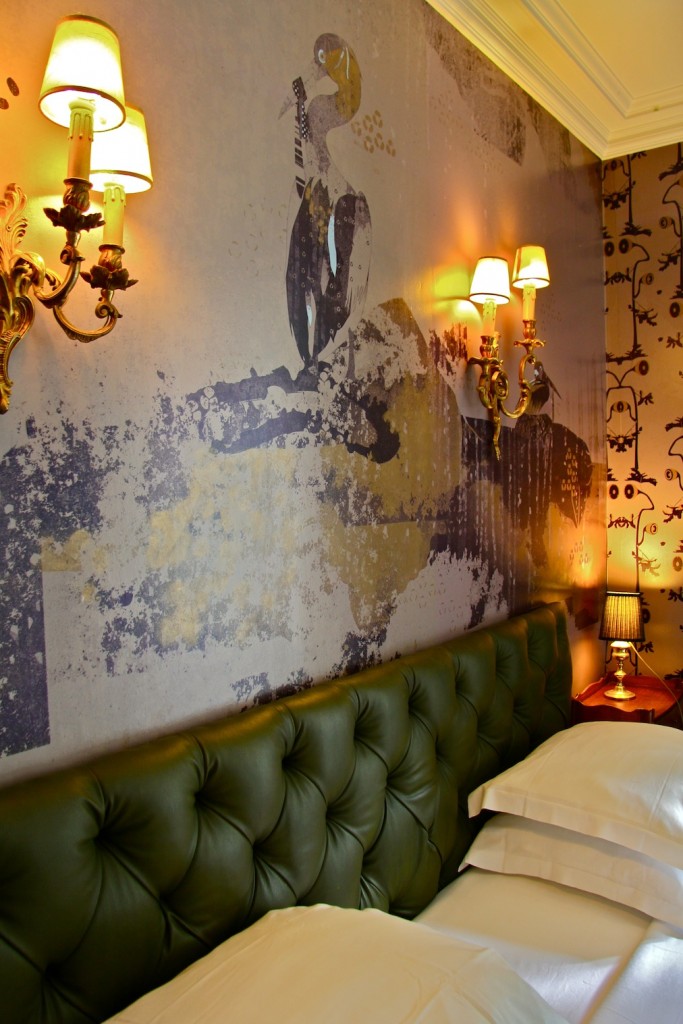 Junior Suite Superiore "Poems and Hats" through the dominating grey and black brings a thought about the world of haberdashery. Printouts of Oliver Saillard's poems hang from the lamps. Bathroom is located in glass cage, designed by an architect Methieu Paillard. Black tiles, porcelain extras and white towels create a climate from black and white movies.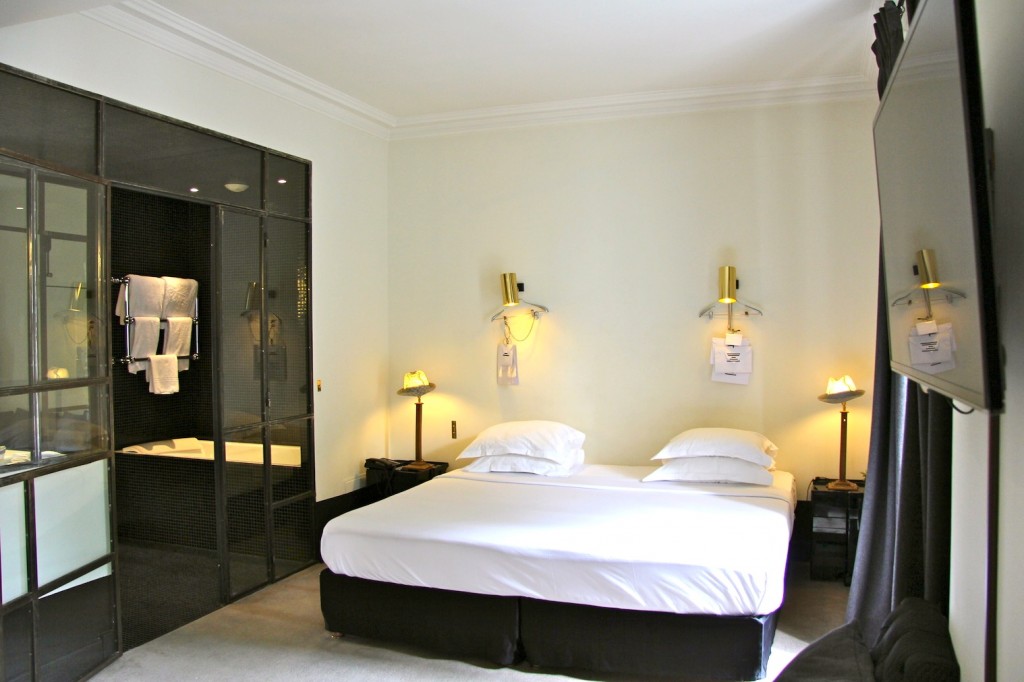 Deluxe Suite "Curtain of Hair" is a true pearl. It is possible to reach that apartment located on the last floor thanks to curly, metal stairs. With the help of a window in the roof we can see different districts of Paris and look and the moon during the night. Barbie's eyes painted on the walls are hidden in different parts of the apartment. On the wall by the stairs an artist Ntacha Lesuer have painted two female faces- hair and hypnotic make-up are visible. In the saloon we can find a bath, over a meter high Eiffel tower, plush toys or a lamp in a cage.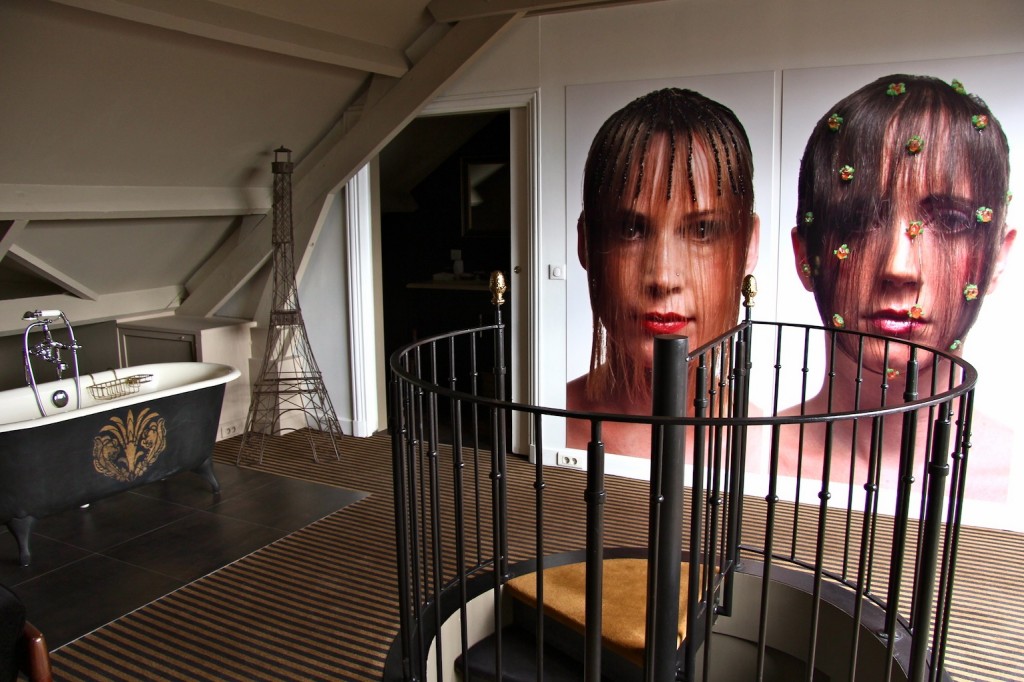 Not only in apartments, but also in lobby and saloon, the art works are an integral part of the interiors. They are not exposed like in a museum or gallery. The apartments let us to feel at home.
The garden designed by Louise Benech and a petanque pitch, visible my bathroom window make a really big impression. Among the green, in a big distance that guarantees intimacy there are tables- XIX century villa in a quiet surrounding, where we can here only bird singing is a perfect place for a glass of wine. Parisians take advantage of it as well. In the bottom part of the garden there is a bar, in which we drink a cocktail sitting on comfortable couches. In the hotel there is also a restaurant- in an intimate climate we can eat a brunch during a weekend or evening dinner.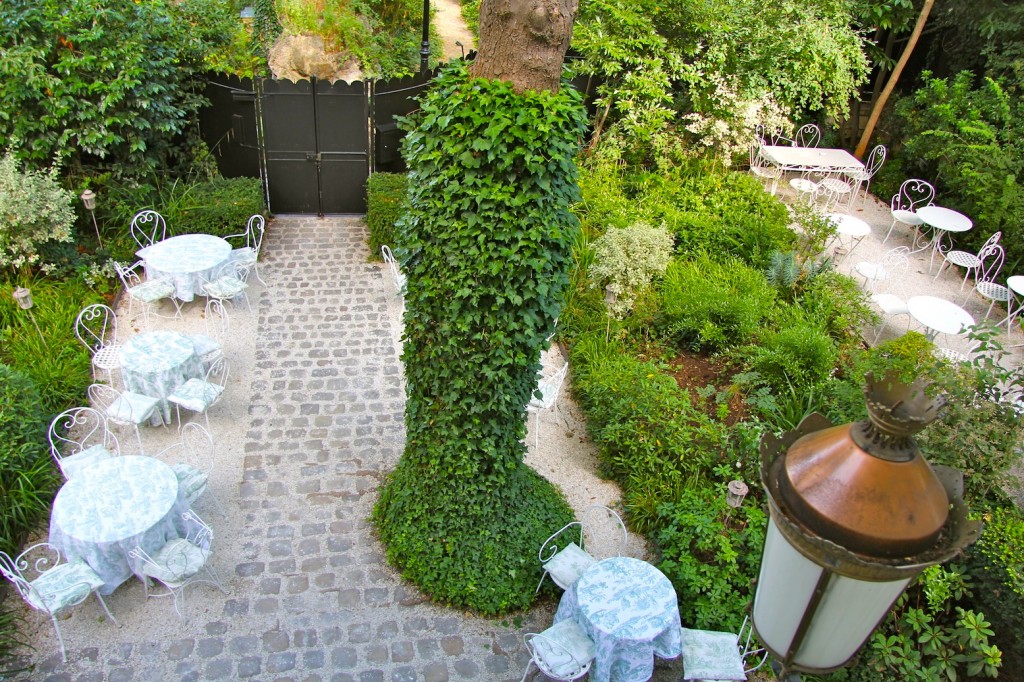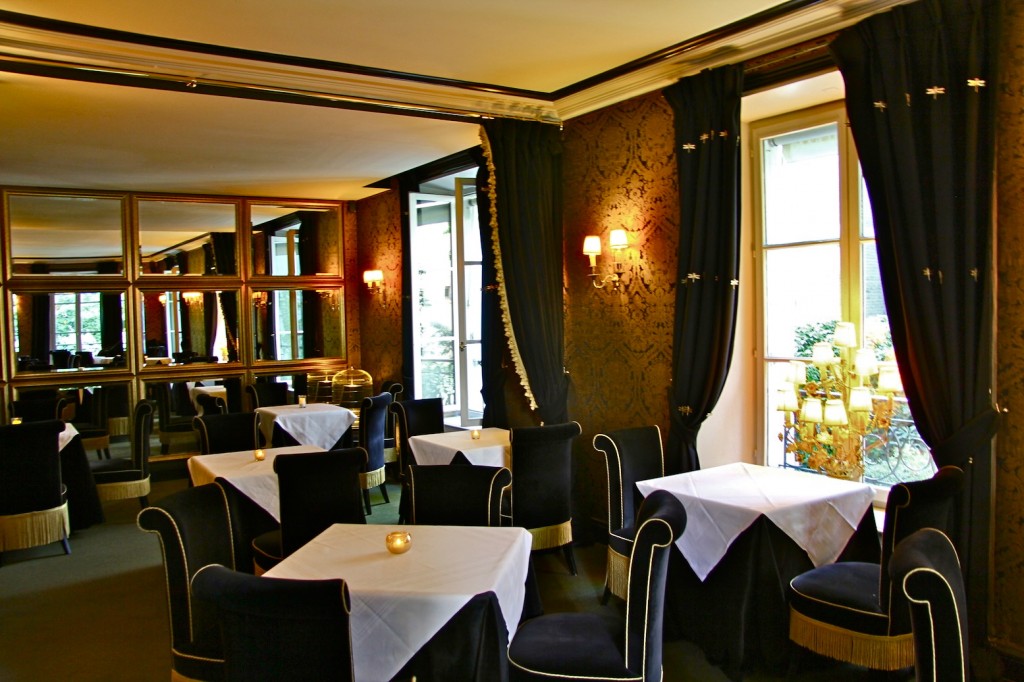 What we liked:
–          Idea of turning a villa into a hotel
–          Intimacy (famous people are visiting this place, looking for some privacy)
–          Aperitif in a garden
–          Petanque pitch
–          Personal, unique decorations for every apartment and a history that they tell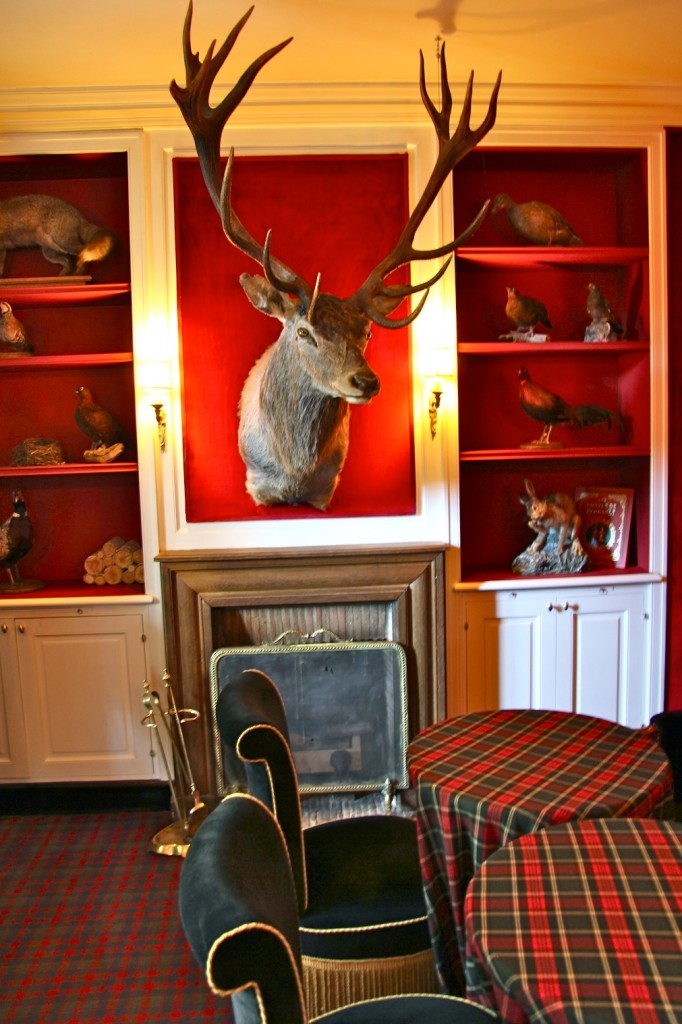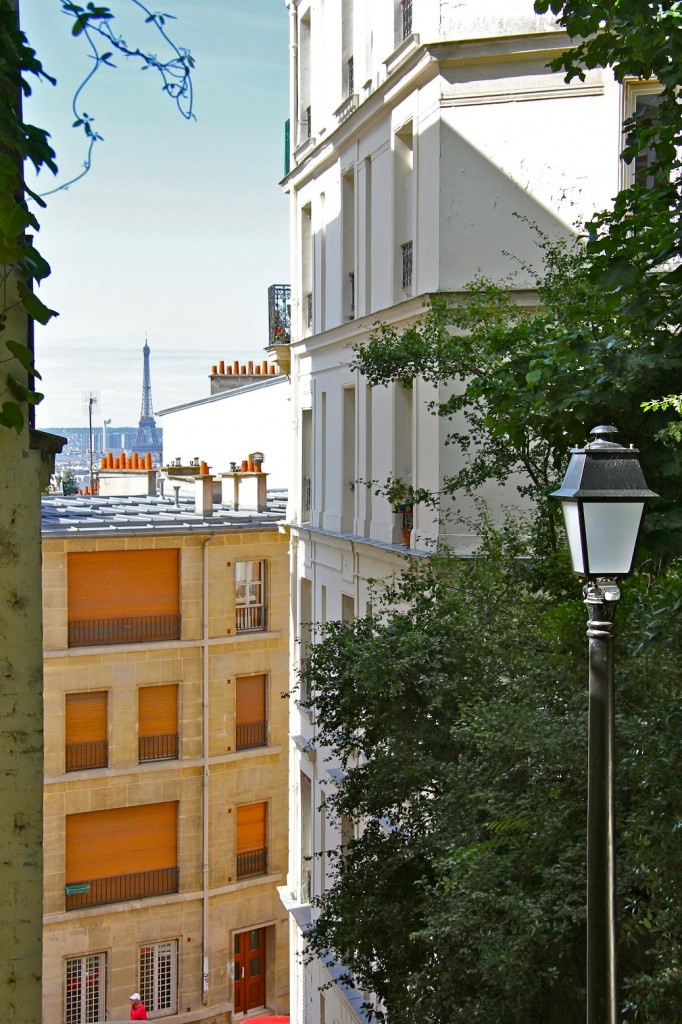 PARTNER STYLISH TRAVELLERS English Version Lang LTC Language School